Remembering the 88 Czechoslovak pilots who flew in the Battle of Britain.
Připomínáme si 88 československých pilotů, kteří létali v bitvě o Británii
The Battle of Britain took place between 10 July and 31 October 1940 with some 2,938 Allied airmen flying in that conflict.
Bitva se odehrála v období mezi 10.červencem a 31. říjnem 1940. Dosud známe jména 2 938 letců, kteří se tohoto konfliktu zúčastnili.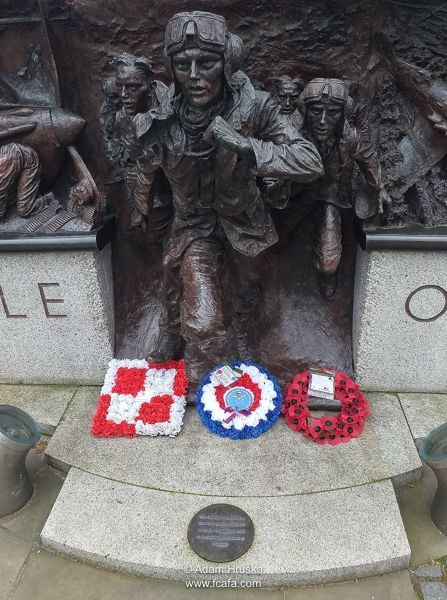 Of these 88 were Czechoslovak, who flew mainly in 310 (Czechoslovak) and 312 (Czechoslovak) Squadrons as well as some British RAF Squadrons. Eight of whom lost their lives in that battle.
Osmdesát osm z nich byli Čechoslováci sloužící především u 310. a 312. perutě. Další naši letci pak působili u některých britských a jedné polské perutě RAF. Osm z nich zaplatilo tuto bitvu životem.
The names of those 2,938 are on display and the London Battle of Britain Monument, in panels according to their nationality.
Jména všech 2.938 leců najdeme rozdělená podle národností na panelech umístěných na London Battle of Britain Monument.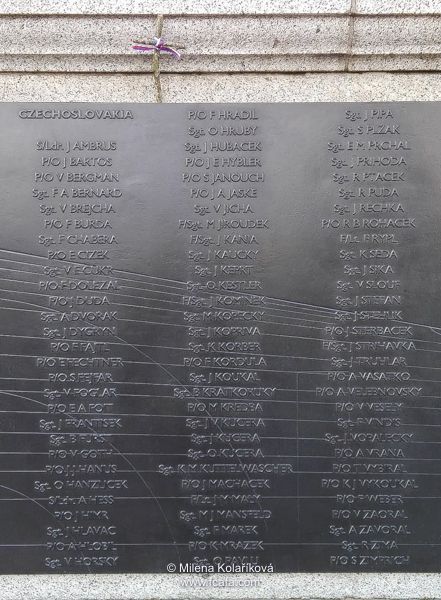 and also on The Foxley-Norris Wall at the National Battle of Britain Memorial, at Capel-le-Ferne, Kent, in alphabetical order.
a také na The Foxley-Norris Wall v Národním památníku bitvy o Británii v kentském Capel-le-Ferne, zde jsou uvedena v abecedním pořádku.
The 88 Czechoslovaks are:
Těmi 88 Čechoslováky jsou:
AMBRUŠ, Ján P/O
310 Sqn

BARTOŠ, Jindřich P/O
C de G
312 Sqn

BERGMAN, Václav P/O
C de G
310 Sqn

BERNARD, František Sgt
C de G
238, 60 Sqns

BREJCHA, Václav Sgt
43 Sqn

BURDA, František P/O
C de G
310 Sqn

CHÁBERA, František Sgt
C de G
312 Sqn

ČÍŽEK, Evžen P/O
C de G
1 Sqn

CUKR, Václav Sgt
C de G
253 Sqn

DOLEŽAL, František P/O
C de G
1 Sqn

DUDA, Josef F/Lt
C de G
312 Sqn

DVOŘÁK, Alois Sgt
310 Sqn

DYGRÝN, Josef Sgt
85, 1 Sqns

FAJTL, František P/O
C de G
1, 17 Sqns

FECHTNER Emil P/O
DFC
310 Sqn
† 29/10/40

FEJFAR, Stanislav P/O
C de G
310 Sqn

FOGLAR, Václav Sgt
245 Sqn

FOIT, Emil P/O
85, 310 Sqns

FRANTIŠEK, Josef Sgt
DFM and bar, C de G
303 Sqn
† 08/10/40

FÜRST, Bohuslav Sgt
310, 605 Sqns

GÖTH, Vilém, P/O
510, 310 Sqn
† 25/10/40

HANUŠ, Josef Jan P/O
C de G
310 Sqn

HANZLÍČEK, Otto Sgt
C de G
312 Sqn
† 10/10/40

HESS, Alexander S/Ldr
DFC, C de G
310 Sqn

HIMR, Jaroslav P/O
56, 310 Sqns

HLAVÁČ, Jaroslav Sgt
C de G
310, 56 Sqns
† 10/10/40

HLOBIL, Alois P/O
C de G
312, 238 Sqns

HORSKÝ, Vladimír Sgt
310, 238 Sqns
† 26/09/40

HRADIL, František P/O
310, 19 Sqns

HRUBÝ, Otakar Sgt
C de G
111 Sqn

HUBÁČEK, Josef Sgt
C de G
310 Sqn

HÝBLER, Josef P/O
310 Sqn

JANOUCH, Svatopluk P/O
C de G
310 Sqn

JAŠKE, Josef P/O
C de G
312 Sqn

JÍCHA, Václav Sgt
C de G
310, 1 Sqns

JIROUDEK, Miroslav F/Sgt
C de G
310 Sqn

KAŇA [Kania], Jozef F/Sgt
303 Sqn

KAUCKÝ, Jan Sgt
310 Sqn

KEPRT, Josef Sgt
C de G
312 Sqn

KESTLER, Oldřich Sgt
111 Sqn

KOMÍNEK, Josef Sgt
310 Sqn

KOPECKÝ, Miroslav Sgt
C de G
310, 111 Sqns

KOPŘIVA, Josef Sgt
310 Sqn

KÖRBER, Karel Sgt
32 Sqn

KORDULA, František P/O
310, 1, 17 Sqns

KOUKAL, Josef Sgt
310 Sqn

KRÁTKORUKÝ, Bedřich Sgt
1 Sqn

KREDBA, Miroslav P/O
310 Sqn

KUČERA, Jaroslav Sgt
245 Sqn

KUČERA, Jiří V. Sgt
C de G
310, 238 Sqns

KUČERA, Otmar Sgt
111 Sqn

KUTTELWASCHER, Karel Sgt
C de G
1 Sqn

MACHÁČEK, Jiří P/O
310, 145 Sqns

MALÝ, Jaroslav F/Lt
310 Sqn

MANSFELD, Miloslav Sgt
111 Sqn

MAREK, František Sgt
C de G
310, 19 Sqns
† 14/09/40

MRÁZEK, Karel P/O
310, 43, 46 Sqns

PAVLŮ, Otto Sgt
1 Sqn

PÍPA, Josef Sgt
43 Sqn

PLZÁK, Stanislav Sgt
C de G
310, 19 Sqns

PRCHAL, Eduard Sgt
C de G
310 Sqn

PŘÍHODA, Josef Sgt
1 Sqn

PTÁČEK, Rudolf Sgt
43 Sqn

PŮDA, Raimund Sgt
310, 605 Sqns

ŘECHKA, Josef Sgt
C de G
310 Sqn

ROHÁČEK, Rudolf P/O
310, 601, 238 Sqns

RYPL, František P/O
310 Sqn

ŠEDA, Karel Sgt
C de G
310 Sqn

ŠIKA, Jaroslav Sgt
C de G
43 Sqn

ŠLOUF, Václav Sgt
C de G
312 Sqn

ŠTEFAN, Jan Sgt
1 Sqn

STEHLÍK, Josef Sgt
C de G
312 Sqn

ŠTĚRBÁČEK, Jaroslav P/O
310 Sqn
† 31/08/40

STŘIHAVKA, Jaromír Sgt
85, 310 Sqns

TRUHLÁŘ, Jan Sgt
C de G
312 Sqn

VAŠÁTKO, Alois F/O
C de G
312 Sqn

VELEBNOVSKÝ, Antonín P/O
85, 1 Sqns

VESELÝ, Vlastimil P/O
C de G
312 Sqn

VINDIŠ, František Sgt
310 Sqn

VOPÁLECKÝ, Josef Sgt
C de G
310 Sqn

VRÁNA, Adolf P/O
C de G
312 Sqn

VYBÍRAL, Tomáš P/O
C de G
312 Sqn

VYKOUKAL, Karel P/O
C de G
310, 111, 73 Sqns

WEBER, František P/O
310, 145 Sqns

ZAORAL, Vladimír P/O
310, 501 Sqns

ZAVORAL, Antonín Sgt
310, 151, 1 Sqns

ZIMA, Rudolf P/O
310 Sqn

ZIMPRICH, Stanislav P/O
310 Sqn