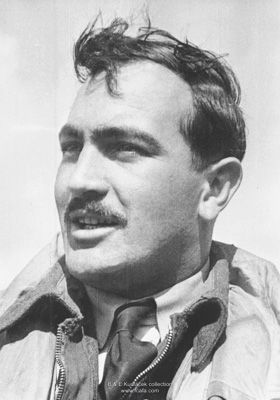 František BERNARD
One of the Few
…………….* 23.07.1914, Starý Ehrenberky.
…………….† 17.06.1980, New Zealand.
Pre WW2:
František Antonín Bernard was born on 23 July 1914 in the village of Starý Ehrenberky, formerly Alt Ehrenberg, near Šluknov in the Děčín District in the Ústí nad Labem Region of North Eastern region of Czechoslovkia. He was the son of Franz Anton Bernard and wifeAntonia. After five years of schooling in the town school he continued his education for a further three years of higher education at the Municipal school. On graduation he began training as an aircraft mechanic.
Czechoslovak Air Force:
In 1936 František joined the NCO Military Aviation School at Chleb for training to become an aircraft mechanic. The following year he was selected for pilot training and transferred to the Military Aviation Academy at Prostějov for elementary flying instruction.
František successfully completed that course in 1937 and was selected for fighter pilot training and sent to the Military Academy at Hradce Králove. By the time of the German occupation of Czechoslovakia, in March 1939, he had been promoted to the rank of desátnik [Corporal] and had achieved 269 flying hours experience.
To Poland:
After the German occupation, the Czechoslovak military was quickly disbanded by the Germans and all personnel dismissed. For the military personnel and many patriotic Czech citizens, this was a degrading period. Many wanted to redress this shame and humiliation and sought the liberation of their homeland. Germanisation of Bohemia and Moravia began immediately. But by 19 March 1939, former senior officers of the now-disbanded Czechoslovak military had started to form an underground army, known as Obrana Národa [Defence of the Nation]. One of their objectives was to assist as many airmen and soldiers as possible to get to neighbouring Poland where Ludvík Svoboda, a former distinguished Czechoslovak Legionnaire from WW1, was planning the formation of Czechoslovak military units to fight for the liberation of their homeland. Within Czechoslovakia, former military personnel and civilian patriots covertly started to arrange for former Air Force and Army personnel to be voluntarily smuggled over the border into Poland to join these newly-formed Czechoslovak units.
Having been denied the chance to resist the occupying Germans, František was one of the many Czechoslovak airmen and soldiers who saw it was their duty to go to Poland from where they could fight to achieve the liberation of Czechoslovakia. Usually, this was by crossing the border from the Ostrava region because of the close proximity of the 'new' Polish border since Poland had occupied the Český Těšín region of Czechoslovakia on 10 October 1939.
Once in Poland, they then reported to the Czechoslovak Consulate in Krakow and were sent to Bronowice Małe, a now derelict former Polish Army barracks from the Austro-Hungarian era, on the outskirts of Krakow which was then being utilised as a temporary transit camp for the escaped Czechoslovak military and was already well inhabited with them.
Disappointment in Poland:
However, at this time, the Polish Authorities, whilst recognising the new puppet State of Slovakia, showed little interest in the Czechoslovak military who were escaping across their border in groups and would not allow independent Czechoslovak units to be established on its territory as they were concerned about antagonising neighbouring Nazi Germany. Only after lengthy negotiations between Czechoslovak Diplomats in France and Great Britain, and the French Government, did the French agree to admit 4,000 Czechoslovaks into the French Foreign Legion – French law did not allow for foreign military units to be on its territory in peacetime, and the Czechoslovak escapers would be required to join the French Foreign Legion for a five-year period with the agreement that, should war be declared, they would be transferred to French military units. The alternative was to be returned to occupied Czechoslovakia and face German retribution for escaping – usually imprisonment or execution with further retribution to their families.
Next onto France:
On 25 July 1939, František and 189 other Czechoslovak military escapees were taken by train to the Baltic port of Gydnia, Poland. The following day they boarded the 'SS Kastelholm' and sailed to Calais, France. Part of the voyage down the Baltic Sea was very rough, even to airmen who were used to flying in turbulent conditions, and so the 'SS Kastelholm' stop at the Danish port of Frederikshaven to re-supply was a welcome relief for the Czechoslovaks onboard. After a five-day voyage, they arrived in Calais on 31 July 1939.
France:
Initially, František and his fellow escapees were transferred to Place Ballard, the Foreign Legion's recruitment depot at Paris, to undergo medical checks, whilst the necessary documentation was prepared for their enlistment into the Legion. During this time they attended French classes and any free time was usually spent in Paris exploring the sights and practising their newly-learnt French with the girls they met. František was accepted to join the Legion on 24 August 1939 at the rank of Soldat, but before arrangements were completed to transfer the Czechoslovaks to the Legion's training base at Sidi bel Abbes, Algeria, war was declared and instead František and the other Czechoslovak airmen were transferred to the l'Armée de l'Air at their recruitment centre at Dugny, near Paris. On 10 September, at the rank of Soldat, he was transferred to Centre d'Instruction de Chasse at Chartres, the l'Armée de l'Air training airbase, about 50 miles South-West of Paris, for retraining on French equipment, firstly on the Potez XXV and Morane-Saulnier MS.230 elementary trainers and then the Morane-Saulnier MS-406c fighter aircraft
The Germans commenced their invasion on Western Europe on 10 May 1940, by invading Holland, Belgium, Luxembourg and then moving Westwards into France. By this time František had completed 38 flying hours in training at Chartres, but with the now urgent need for operational fighter pilots to defend France, he and fellow Czechoslovaks, Stanislav Plzák, Karel Šeda and Josef Hýbler were was posted to GC II/2, at Chissey, on 13 May, which was equipped with ME-406C aircraft. The following day they were joined by Bohumír Fürst.
However, the rapid advance of the German forces during the Battle for France meant that GC II/2 was constantly having to re-locate westwards to avoid capture; to Feurs on 15 June, St Etienne-Boutéon on 16 June, St Symphorien d'Ozon on 17 June and Montpellier-Fréjorques on 23 June, then to Perpignan.
Following the capitulation of France the Czechoslovak airmen in GC II/2 were released from their l'Armee d'Air service, on 21 June, and travelled by coach to Port Vendres about 190 km away near the Spanish border, for evacuation. There they boarded the 'General Chanzy' which sailed on 24 June 1940 to Oran, Algeria. From there they went by train to Casablanca, Morocco where they were able to board the ship ' Gib-el-Ders' which took them to Gibraltar. Here they transferred to the 'Neuralia' which sailed in a convoy of 30 ships to England, arriving at Liverpool on 12 July 1940.
RAF:
From Liverpool, the Czechoslovaks were transferred to their tented transit camp in the grounds of Cholmondeley Castle, near Chester. The Battle of Britain was now in progress and there was an urgent need for fighter pilots. As a trained pilot he was quickly transferred to the Czechoslovak RAF Depot, Cosford, where, on 6 August 1940, he was admitted to the Volunteer Reserve of the RAF, with the rank of Sgt, and began his RAF training and also English language classes. On 6 August 1940, František was posted to the newly-formed 310 (Czechoslovak) Sqn at Duxford training on Hawker Hurricane fighter aircraft. When 310 (Czechoslovak) Sqn became operational on 17 August, no aircraft were available for further training flights and so the squad of 20 semi-trained pilots, including František, were posted to 6 OTU to complete their Hurricane training.
He completed his re-training on 10 September and was posted, with fellow Czechoslovak Rudolf Roháček to 601 (County of London) Sqn which was equipped with Hurricane Mk Is and were stationed at Exeter. With 601 Sqn, on 17 September 1940. he made his first operational flight in the Battle of Britain, taking-off at 13.55 in Hurricane V6630, the flight lasting just 30 minutes with no enemy sighted.
On the 28 October František and Roháček were was posted to 238 Sqn at Middle Wallop, which was also equipped with Hurricane MkIs. Whilst there he achieved his first 'kill'; a half share, with F/Lt Morris, of a Ju88, from II/KG 77, shot down near Arundel, West Sussex, at 12:30 on 23 March 1941.
Returning to base, František saw a Heinkel He 111 and fired a burst from his machine guns, but it managed to escaped into cloud.
| Date: | Time: | Hurricane: | Action: |
| --- | --- | --- | --- |
| 23.03.41 | 12:30 | | ½ share with F/Lt Morris of a Ju88, from II/KG 77, shot down near Poling, West Sussex. |
| 10.06.41. | 10:30 | Z2662, GZ- | ½ share of a He 111 H, from Wekusta 51, shot down into the Irish Sea off Carnsore Point |
On 1 May 1941 he was posted to 32 Sqn which was stationed at Angle, in South Wales, and equipped with Hurricane MkIIa fighter aircraft. With 32 Sqn, František achieved his 2nd and final 'kill' of WW2; a half share of a Heinkel He 111 H, from Wekusta 51, a Luftwaffe Meteorological Reconnaissance Unit, shot down into the Irish Sea off Carnsore Point, near Rosslare, Eire, at 10:30 on 10 June 1941. From his combat report:
I was Black 1 of Black Section 32 Squadron, which took-off from Angle at 0950 hours having been ordered to fly to Linney Head at 25,000 feet. When over Linney Head we were vectored on a course of 330°. We flew on this course for about 10 minutes and where then ordered to reduce height to 20,000 feet. After another few minutes we were informed by the controller that there was a bandit 20 miles South of us flying East at 10,000 feet. We then changed course to the South East and reduced height to 10,000 feet. After 5 minutes we sighted Bandit 5 miles to the South-West of us flying East at about 12,000 feet. I identified the e/a as a Ju 88, and having informed Black 2 I went into the attack. I climbed to 12,000 and turning in order to get the sun behind me I made a starboard quarter attack. I opened fire at a distance of 360 yards closing to 200 yards firing a 5 second burst. I noticed a small amount of smoke issuing from the port engine of e/a which then turned NW in the direction of the Irish Coast. I broke away and made a starboard beam attack, firing a short burst of 2 seconds frpm 300 yards closing to 250 yards. I then broke away to make another starboard beam attack again firing a short 2 second burst from 300 yards closing to 250 yards. During this attack I noticed my bullets striking along the fuselage and starboard wing of the e/a. After breaking away from this attack I observed Black 2 make a diving quarter attack which set e/a's starboard engine on fire. I saw Black 2 break away and down from e/a and watched him until Black 2 pulled out of his dive, and commence to climb again in the direction of the e/a.
I then made an astern attack from 300 yards closing to 200 yards firing a 5 second burst which exhausted my ammunition. I saw several small objects fly from fuselage and port wing of e/a, which was then gradually loosing height. It appeared to be endeavouring to make a landing on he sea near the Irish coast but eventually crashed approx 100 yards inland about ½ mile north of Carnsere Point, whereupon it exploded and disintegrated. I climbed and called Black 2 three times without reply. I then returned and landed at Angle at 1107 hours.
I claim 1 Junkers 88 destroyed: one half by myself, and one half by F/O Remy (Black 2).
Unfortunately František's wingman F/O Maurice Remy (Black 2), a Frenchman whose real name was Lt Roger Emile Motte was lost in this combat. His Spitfire made a forced landing in neutral Eire and was interned. He was released in October 1943, and posted to 345 Sqn.
Whilst returning from a night patrol in Hurricane Z5222,GZ-N, on of 25 August 1941, František was unable to return to his home base at Fairwood Common because of poor weather conditions and was diverted to Angle airfield, Pembrey. The flare path at Angle airfield was still under construction. On landing in the dark, at 21:45, his aircraft hit a steam roller which had been parked just seven yards from the edge of the runway. No blame was attached to František for this crash.
On completion of his operational tour, he was posted on 18 October 1941,to the Central Flying School for a flying instructor course. His next posting, on 13 December 1941, was to No 6 Operational Training Unit (6 OTU) as a flying instructor.
Commissioned :
He received his commission, at the rank of P/O, on 9 April 1942 and on 8 June 1942 he was posted to No 3 Service Flying Training School (SFTS) at Shellingford, again for flying instructor duties.
František returned to operational flying on 6 August 1942 with 313 (Czechoslovak) Sqn until 22 June 1943 and was promoted to the rank of F/O on 9 October 1942. From 22 June 1943, he was posted to 1648 Flight until 16 March 1944 when, at his new rank of F/Lt, his final RAF rank, he was posted to No 1684 (Bomber) Defence Training Flight at RAF Little Horwood, Bucks. There, equipped with Tomahawk aircraft he simulated aerial battles to train new bomber crews.
On 5 May 1944 he was posted to HQ 19 Fighter Group as a temporary Liaison Officer with the Czechoslovak Inspectorate General (CIG). On 22 May 1944, František returned to operational flying when he was posted to 310 (Czechoslovak) Sqn, now stationed at Appledram, Sussex, as Flight Commander of 'B' Flight which was in preparation for D-Day. He remained with 310 (Czechoslovak) Sqn until the end of the war.
On 2 March 1945, 310 Sqn participated in Ramrod 1479, the escorting Lancaster and Halifax bombers for a raid on Cologne. František was flying Spitfire MH372, NN-S. On the return flight, due to lack of fuel he had to land at B-65 a temporary airfield at Maldeghem – 20 km north of Bruges. On landing at 11:17 his aircraft was caught in a strong cross-wind, causing the left undercarriage leg to be damaged, resulting category AC damage.
Post WW2 :
He returned to Czechoslovakia in August 1945, at the Czechoslovak Air Force rank of poručík (P/O). František remained in that service until the following February when he was demobbed, at the rank of nadporučík (F/O), and returned to civilian life.
Escape from Communism :
Following the Communist take-over of Czechoslovakia in February 1948, a friend who was a Police Officer warned him that his name was on a list of former RAF airmen who were due to be arrested.
Taking the hint, with fellow former RAF airman Vojtěch Smolík, he escaped on foot over the border into the American Zone of Germany. After security vetting by the American authorities, he was transferred to a Displaced Persons Camp in Germany whilst he considered his future life in the West. He decided to return to England where he was able to re-join the RAF in 1950.
Rejoining the RAF :
He was posted to Kenya in response to the Mau Mau Uprising – a colonial war – there and for distinguished flying in that conflict was Mentioned in Dispatches, on 6 March 1953. Subsequently, on 1 January 1957, during the same conflict he was awarded the Air Force Cross. He retired from the RAF, with the rank of F/Lt on 23 July 1964 and emigrated to New Zealand.
Unfortunately little of his life in New Zealand is known, only that he died there on 17 June 1980.
Medals :
1939 – 45 Star with Battle of Britain clasp
Air Crew Europe Star with Atlantic clasp
Defence Medal
War Medal
Válečný kříž 1939 and 4 bars
Za chrabrost and 2 bars
Za zásluhy I.stupně
Pamětní medaile se štítky F–VB
Croix de Guerre avec Palme
Remembered :
Czech Republic :
Prague – Klárov:
In November 2017, his name, along with the names of 2507 other Czechoslovak men and women who had served in the RAF during WW2, was unveiled at the Winged Lion Monument at Klárov, Prague.
Staré Křečany :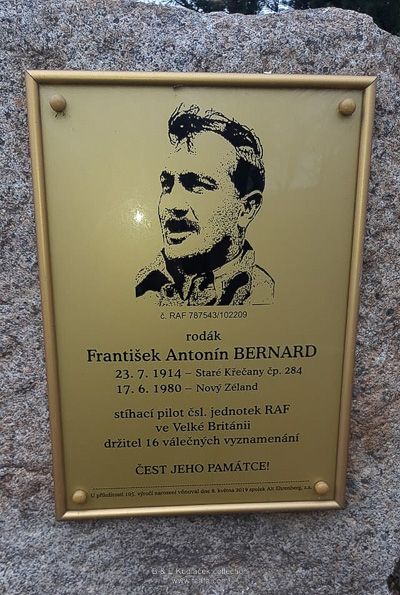 Žatec :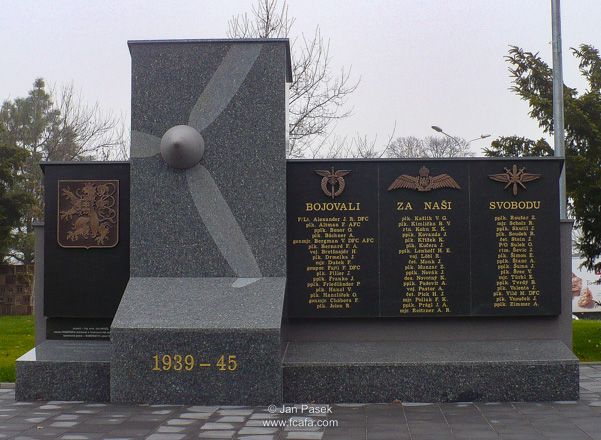 Great Britain :
He is commemorated, along with the other 2938 Battle of Britain aircrew, on the Christopher Foxley-Norris Memorial Wall at the National Battle of Britain Memorial at Capel-le-Ferne, Kent:
He is also commemorated on the London Battle of Britain Memorial: