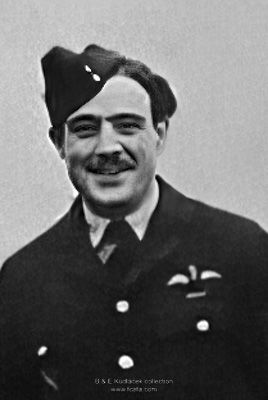 Antonín Zavoral
One of the Few
…………….* 14.01.1917, Třebechovice pod Orebem.
…………….† 31.10.1941, English Channel off Dunkirk.
Pre WW2:
Antonín Zavoral was born on 14 January 1917 at Třebechovice pod Orebem, in the Hradec Králové region of Czechoslovakia, about 70 miles East of Prague. There he completed his primary and secondary education.
In October 1935, now aged 18, he was accepted for his compulsory military service as a cadet at the Military Aviation Academy at Prostějov. He was selected for pilot training and successfully completed the course. In April 1937, Antonín decided to remain in the military as a career and was posted to the 4th Air Regiment at Hradec Králové, serving as a fighter pilot in their 41st Squadron. From January 1938 the squadron was redeployed to Prague-Kbely airbase and equipped with Avia B-534 bi-plane fighter aircraft.
At the beginning of 1938, whilst attempting an emergency landing in a Avia B-534, he crashed and sustained injuries resulting in him being discharged from military service in October 1938 for health reasons. By this time, he had achieved 280 flying hours.
German Occupation:
Following the Munich Agreement of 30 September 1938, when the Germans were ceded the Sudeten regions of Czechoslovakia, the Germans completed their occupation of the country on 15 March 1939. In a meeting the day before, Hitler told Dr Emil Hácha, the Czechoslovak president, that German troops would commence occupation of Czechoslovakia at 06:00 that morning and that he had two options; either surrender Czechoslovakia to Germany, in which case the "entry of German troops would take place in a tolerable manner" and "permit Czechoslovakia a generous life of her own, autonomy and a degree of national freedom", or if he refused "resistance would be broken by force of arms, using all means".
Under such pressure, Emil Hacha, had ordered all Czechoslovak military to stand down, remain in their barracks and not resist the entry of German military when they crossed over the border into Czechoslovakia, on 15 March, to complete their occupation. The Germans quickly disbanded the Czechoslovak military and all personnel were dismissed with Germanisation of Bohemia and Moravia beginning immediately with the Slovakia region being given 'independence' but it was, in reality just a puppet state of Nazi Germany.
For many of the military personnel and patriotic Czech citizens, this was a degrading period. Many wanted to redress this shame and humiliation and sought the liberation of their homeland. Just four days later, on 19 March 1939, former Senior officers of the now-disbanded Czechoslovak military started to form an underground army, known as Obrana Národa [Defence of the Nation]. Obrana Národa also worked in co-operation with Svaz Letců, the Airman Association of the Czechoslovak Republic. One of their objectives was to assist as many airmen and soldiers as possible to get to neighbouring Poland where they could be formed into military units to fight for the liberation of their homeland. These two organisations provided money, courier and other assistance to enable airmen to escape to Poland. Usually, this was by crossing the border from Czechoslovakia's Ostrava region which was adjacent to the Polish border.
To Poland:
Antonín was one of those who decided to escape and enlist in one of those units. He covertly crossed over the border to Poland, then travelled to Kraków, where he reported for duty at the Czechoslovak Consulate.
However, there, like all previous escapees from Czechoslovakia, Antonín was to find out that there was no enthusiasm from the Polish authorities to have Czechoslovak military units assembled on their territory they had no wish to provoke neighbouring Nazi Germany. This Polish attitude caused some of the Czechoslovak escapees to become discontented and disillusioned, with some considering returning to their homeland. Fortunately, patriotic speeches by General Ludvík Svoboda, a Legionnaire veteran from WW1 and Senator Vojtěch Beneš, brother of former Czechoslovak President Eduard Beneš, now exiled in in Britain, averted this return.
Instead, negotiations between the Czechoslovak Consulate, Kraków, his counter-part in Paris and the French authorities resulted in the offer that the Czechoslovak escapees would be allowed to travel to France. However as French law did not permit foreign military units to be based on its soil in peacetime, the Czechoslovaks would be required to enlist in the French Foreign Legion for a period of five years but with the promise that if war were declared the Czechoslovaks would be released from their French Foreign Legion service and would join French military units. The alternative was that Czechoslovaks who would not accept these terms would be returned by the Polish authorities to Nazi-occupied Czechoslovakia and face German retribution for escaping – usually imprisonment or execution with further reprisals to their families.
During this interim period, Antonín and the other Czechoslovak escapees were billeted at Malý Bronowice, a former Polish army camp on the outskirts of Kraków, whilst arrangements were made for their transportation, by sea, to France. Shortly after, with other he went by train to Gydnia on the Polish Baltic coast, where they boarded a ship which took them to France.
France:
On arrival in France the Czechoslovak escapees were taken by train to the French Foreign Legion's recruitment centre at Nanterre, near Paris, for medical checks and acceptance into the Legion and then transfer to their training base at Sidi-bel-Abbès, Algeria. Fortunately for Antonín, war was declared before he could be sent to Algeria and instead he was transferred to the l'Armée d'Air at their Paris recruitment centre. On 6 October 1939 he was posted, at the rank of Caporal, to the Centre d'Instruction de Chasse (CIC) at Chartres airbase, for re-training on French fighter aircraft and to learn rudimentary French.
The Germans commenced their Blitzkreig invasion on Western Europe on 10 May 1940, by invading Holland, Belgium and Luxembourg and then continuing Westwards into France. By this time, Antonín had completed 29.45 flying hours in training at Chartres, but there was now an urgent need for operational fighter pilots to defend France. Because of the rapid advance of the Germans during the Battle of France, he was not posted to an operational unit in l'Arme d'Air. Instead, on 16 May with nine other Czechoslovak pilots, Antonín was assigned, at the rank of Sergent, to Patrouille Défense Aérienne du Territoire (DAT) to defend Chartres airbase against Luftwaffe attack. There they joined fellow Czechoslovak Stanislav Zimprich and on 20 May they were joined by another four Czechoslovak airmen. The unit was equipped with Morane-Saulnier MS-406c fighter aircraft.
During the Battle of France Antonín achieved combat success:
| Date: | Time: | Type Flown: | Action: |
| --- | --- | --- | --- |
| 11.06.40 | 11:10 | MS-406 | Do 17 victory near Ablis, North-East of Chartres |
On 13 June 1940, with the French capitulation imminent, Antonín and the other Czechoslovak airmen were released from their l'Armée de l'Air service so that they could be evacuated to England from where they could carry on the fight against Nazi Germany. With other Czechoslovak airmen, he reached Bordeaux where they boarded the 'Kmicic' formerly the 'Robour III' and sailed on 19 June to Falmouth, England. They arrived on 23 June.
RAF:
After arriving at Falmouth, the Czechoslovak airmen were transferred to RAF Innsworth, Gloucestershire, for security vetting. Antonín was accepted into the RAF Volunteer Reserve, at the rank of Sgt and, at the beginning of July, transferred to the Czechoslovak airmen's Depot at Cosford, near Wolverhampton. From there, after basic training and English lessons, he was posted to 6 OTU at Sutton Bridge, near Peterborough, on 28 September for training on Hurricane fighter aircraft.
Antonín's retraining there was completed on 14 October 1940 and with fellow Czechoslovaks P/O's Evžen Čížek, František Běhal and Sgt Jan Štefan from 6 OTU, he was posted to 1 Sqn stationed at RAF Wittering, near Peterborough. The squadron, after being heavily engaged in the Battle of France and the Battle of Britain, had, on 9 September, been redeployed from their 11 Group base at RAF Northolt, to RAF Wittering, part of 12 Group. The squadron was now officially a 'C' type unit, which meant that while they were being rested, and retaining a few experienced pilots, was given an influx of new pilots to bring up to operational standard and then had to pass them onto them to operational squadrons in the battle area.
Antonín made his first flight with 1 Sqn on 15 October, a non-operational flight in Hurricane L1731 for local reconnaissance, taking-off at 15:30, returning to base at 16:25. By 31 October 1940, the recognised final day of the Battle of Britain, he was to make a further 18 flights, but only two were operational. The first was on 27 October, a scramble and patrol, in Hurricane P3042, taking-off at 14:10 and returning at 14:30 with no enemy aircraft encountered. The second was later that day, also in P3042, taking-off at 15:50 and returning at 17:00, again without any sightings of Luftwaffe aircraft.
On 15 December 1940, 1 Sqn was redeployed back into 11 Group's Order of Battle and stationed at Northolt before moving to Kenley, near Croydon, on 5 January 1941. Their role here was primarily to carry out defensive patrols over South-East England as well as protecting Allied shipping in the English Channel. However, RAF Fighter Command was now also starting to take the offensive in the aerial war and began 'Rhubarb' patrols over Northern France. These patrols were usually undertaken by just two fighters when there was low cloud so that they could escape into cloud in the event of their being attacked. The purpose of these 'Rhubarb' patrols was to seek targets of opportunity over Northern France and attack them, hopefully Luftwaffe fighters trying to defend those targets could be engaged into combat. 1 Sqn was one of the RAF squadrons who engaged in those patrols and in which Antonín participated.
On 8 April 1941, Antonín was posted to 312 (Czechoslovak) Sqn, who were deployed at RAF Valley, near Anglesey, in North Wales and equipped with Hurricane Mk I's. Here their role was the defence of Merseyside and the Irish Sea from enemy air and sea activity.
Antonín was assigned to the squadron's 'A' Flight and two days later made his first operational patrol, with 312 Sqn, in Hurricane Mk I P3888. It was a patrol at 5,000 feet led by P/O František Peřína, taking-off at 16:35 and returning at 18:10.
The squadron was redeployed to Jurby on the Isle of Man on 25 April 1941. There, on 11 May 1941, four Hurricanes took-off at 08:15 for a formation training flight to Speke and back. The formation was led by P/O Ivo Tonder and Antonín was flying Hurricane Mk I, V7063. On the return flight the visibility was poor and Antonín became disorientated after becoming separated from the rest of the formation. He made a 'belly' landing near Baymans Lane Ferry, Banks, and was uninjured in the accident. However, a RAF investigation of the accident established that the primary cause of the accident was the pilot's separation from his Section Leader and that he had neglected to follow instructions for conduct when lost, and in bad visibility. This finding concluded with the recommendation that Antonín should be reprimanded for his conduct in this incident.
Antonín was posted to 607 Sqn, on 13 October 1941, who were now deployed at Manston, Kent. They were equipped with Hurricane Mk IIb's which were used in a Hurri-bomber role and undertook anti-shipping operations and cross-channel fighter sweeps.
On 31 October 1941, 8 Hurricanes from 607 Sqn took-off at 16:05 to attack about 50 barges reported in the canal East of Bourbourville, with Antonin flying Hurricane IIB, BE403. They made rendezvous with 4 Hurricanes from 615 over base with two Spitfire squadrons from the Kenley Wing. The formation flew to France at sea level, with 607 Sqn leading, followed by 615 Sqn with the Spitfires behind. Then at 16:30, The French coast was sighted East of Plage de Gravelines and the formation flew East to a point just West of Dunkirk where a sharp right hand turn over the coast was made. Intense flak opened up from Grande Fort Phillipe – badly splitting up the formation. Antonin's Hurricane was seen to go down with black smoke streaming from it, crashing into the English Channel off Dunkirk. His body was never recovered.
Sgt Antonín Zavoral was 24 years old and is commemorated on panel 55 at the Air Forces Memorial at Runnymede.
Medals:
1939 – 45 Star with Battle of Britain clasp
Air Crew Europe Star
Defence Medal
War Medal
Válečný kříž 1939
Za chrabrost and bar
Za zásluhy I.stupně
Pamětní medaile se štítky F–VB
Remembered:
Czech Republic :
Prague – Dejvice:
He is named on the Memorial for the fallen Czechoslovak airmen of 1939-1945, at Dejvice, Prague 6.
Prague – Klárov:
In November 2017, his name, along with the names of 2507 other Czechoslovak men and women who had served in the RAF during WW2, was unveiled at the Winged Lion Monument at Klárov, Prague.

He is also remembered in the Remembrance book at St Vitus Cathedral, Prague.
He is remembered on the Memorial Plaque at the Vojenský Ústřední Archiv, Prague.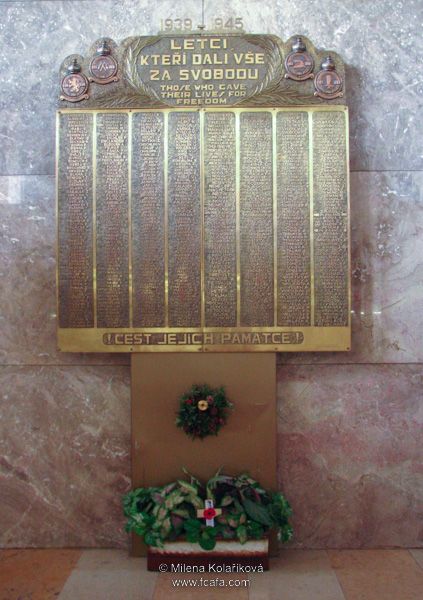 Týniště nad Orlicí:
In Týniště nad Orlicí, where he grew up, He is named on a memorial plaque for the fallen Czechoslovak RAF airmen from that District.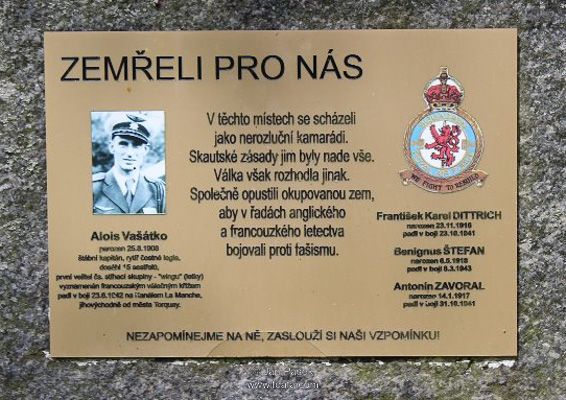 Great Britain :
He is commemorated, along with the other 2938 Battle of Britain aircrew, on the Christopher Foxley-Norris Memorial Wall at the National Battle of Britain Memorial at Capel-le-Ferne, Kent:
He is also commemorated on the London Battle of Britain Memorial:
He is remembered on the Memorial Plaque at Bohemia House, formerly the Czech Club, London.