Miroslav KREDBA
One of the Few
…………….* 29.01.1914, Libichov, Mladá Boleslav.
…………….† 14.02.1942, Bristol Channel, UK.
Pre WW2:
Miroslav Kredba was born on 29 January 1914 at Libichov, near Mladá Boleslav, a town some 45 km North-East of Prague.
On reaching 18, he was required to do his compulsory military service and so, on 1 October 1932, Miroslav joined the Czechoslovak Air Force and was sent to their Military Aviation Academy at Prostějov for his basic military training. On completion he was selected for a pilot training course. On graduating from the course he then was selected for training as a fighter pilot. On completion of his compulsory military service, Miroslav decided to make his career in the Air Force and was posted to the 4th Air Regiment who were stationed at Prague-Kbely and equipped with Avia B-534 bi-plane fighter aircraft. By the time of the German occupation, he had achieved the rank of Kapitan.
German Occupation:
Following the German occupation of Czechoslovakia on 15 March 1939, the Czechoslovak military were disbanded and personnel sent home. But, by 19 March 1939, former Senior officers of the now disbanded Czechoslovak military started to form an underground army, known as Obrana Národa [Defense of the Nation]. One of their objectives was to assist as many airmen and soldiers as possible to get to neighbouring Poland where they could be formed into military units to fight for the liberation of their homeland. Within Czechoslovakia, former military personnel and civilian patriots covertly started to arrange for former Air Force and Army personnel to be smuggled over the border into Poland to join these newly formed Czechoslovak units.
Obrana Národa also worked in co-operation with Svaz Letců, the Airman Association of the Czechoslovak Republic. These two organisations provided money, couriers and other assistance to enable airmen to escape to Poland. Usually this was by crossing the border from the Ostrava region into neighbouring Poland. By the end of August 1939 a total 690 airmen had successfully escaped.
It was dangerous work for those assisting with these escapes; to be captured usually resulted in execution with family and relatives being imprisoned or sent to concentration camps.
By the time Germany invaded Poland, on 1 September 1939, six ships had sailed from Gydina to France carrying 1212 Czechoslovak military personnel, including 477 airmen.
The Balkan Route:
Britain and France declared war on Germany on 3 September 1939, and escape to Poland was then no longer possible Czechoslovaks wanting to escape to France to join military units had to use alternative routes, the most common of which was 'the Balkan route': through the now German puppet-state of Slovakia, and then usually to Romania, then on to Yugoslavia to ports on the Adriatic. Here they would be assembled into groups and be transported by ship to Greece or Turkey.
Miroslav was one who used this route and covertly crossed the border into the pro-Nazi puppet state of Slovakia and from there, through Romania and Yugoslavia. Here, with other escaped Czechoslovak military they boarded a ship which took them to France, via Istanbul and Beirut arriving at Marseille, France, on 24 May 1940.
France:
In France he was transferred to the Czechoslovak Depot at Agde. The Germans, however had invaded France on 10 May 1940, and their rapid advance forced the French military to constantly retreat westwards during the Battle of France. Whilst Miroslav had been accepted into l'Armée de l'Air the rapid German advance had prevented any training on French aircraft.
With the French capitulation imminent, the Czechoslovak airmen were released from French military service so that they could be evacuated to England. With other Czechoslovak airmen, Miroslav managed to travel the 450km to Mérignac airbase at Bordeaux. From where, on 17 June 1940, with a group of 38 Czechoslovak airmen, led by kpt.let. Ferdinand Secký, they boarded the last BOAC flight, a four-engined Armstrong Whitworth aircraft, G-ADSV, AV1160, to leave the bomb-damaged airbase. After a flight lasting 5½ hours, at a low altitude of between 150 to 200 mtrs, they safely landed at 21:30 at RAF Hendon, England.
RAF:
After security vetting, Miroslav transferred to the Czechoslovak Depot at RAF Cosford and was accepted into the RAF Volunteer Reserve, at the rank of P/O. Since the French capitulation, Luftwaffe air raids were increasing with the Battle of Britain considered as having started on 12 July 1940. That same day Miroslav and 23 other Czechoslovak were posted to the newly formed 310 Sqn (Czechoslovak) at Duxford, thus becoming one of the squadron's founding members. The following day nine more pilots arrived and on 17 August a further 20 pilots arrived.
At Duxford, they were re-trained on Hurricane Mk I fighter aircraft and also given rudimentary English lessons. F/O Ladislav Češek, a Briton of Czech origin, was engaged as an interpreter to assist in overcoming the language barrier and Mr Louis de Glehn was brought in to give English lessons, three times a week, to the Czechoslovak pilots. For these pilots it was reminiscent of only a few months earlier when they were in France and had joined l'Armée de l'Air, converted to French aircraft and had learnt French before they could become operational pilots in that Air Force.
The squadron was declared operational on 17 August 1940 and made its first operational patrol in the Battle of Britain later that afternoon. Miroslav completed his Hurricane conversion and was passed for duties as an operational pilot, undertaking his first patrol on the morning of 20 August, flying Hurricane Mk I P3148, thus becoming one of the 88 Czechoslovak pilots who flew in the Battle of Britain.
During the Battle of Britain, he made seven operational flights and participated in combat but without achieving success – but was shot down twice.
First in a dog-fight over the Thames Estuary, at 13:30 on 31 August. That day 310 Sqn, led by F/Lt Gordon Sinclair DFC, was ordered to patrol over North Weald at 10,000 ft. and 12 Hurricanes took-off at 13:00 from Duxford. Once airborne they were ordered to patrol Hornchurch at the same height. Miroslav was in 'B' Flight, flying Hurricane P8814, NN-Y, and led by F/Lt Jerrard Jefferies. Approaching Hornchurch, from the North East, at 13:15 a Luftwaffe formation of between 15 to 20 Do 215 bombers, from II/KG 3 Blitz were sighted flying a northerly course at 220 mph. The Do 215s were protected by 10/20 Me109s flying above and below the bombers. They were flying in a tight formation and on sighting the Hurricanes turned East. F/Lt Sinclair DFC ordered the squadron to climb to 12,000 feet and to attack using pre-arranged tactics: 'A' Flight taking the port beam from above and side. The initial attack succeeded in breaking the close formation and after repeating these tactics on the broken formation at least two Do 215 were destroyed and as a result of individual combat a further two Do 215's were destroyed. 'B' Flight then engaged and two Luftwaffe aircraft were shot down. In the initial stage of this attack, 'B' flight suffered little damage, but subsequently when more dispersed and individual attacks resulted in considerable machine-gun fire from the enemy rear gunners was experienced and the Hurricane's aircraft suffered some damage. Miroslav was shot down during this combat and forced to bale out of his Hurricane, and landed, uninjured near Hornchurch. His Hurricane crashed into the Thames Estuary. Miroslav reported back to Duxford the same day from Hornchurch.
Whilst this combat had proved successful for 310 Sqn, it was not without loss: P/O Jaroslav Štěrbáček's Hurricane was seen to go down very steeply crashing at Wennington near Romford, Essex. Jaroslav managed to bail out and landed in the Thames Estuary and is believed to have drowned; his body was never found. Thus he became the first Czechoslovak RAF airman to be killed in WW2.
The second time Miroslav was shot down was on 5 September.
That day, ten 310 Sqn Hurricanes, led by F/Lt Jefferies took off from Duxford at 14:45 to patrol over North Weald at 20,000 ft, with Green Section, including of P/O Miroslav Kerdba, Sgt Josef Hubáček and with Sgt Josef Kaucký, bringing up the rear of the formation. Miroslav was flying Hurricane Mk I NN-N P3148. At 15:40, the formation was attacked by four Me109s and sustained substantial damage. In that combat Miroslav was wounded in his shoulder and had to make a forced landing near Epping in his damaged Hurricane, resulting in him having to go to hospital. His Hurricane was substantially damaged but was repaired and returned to operational service. Kaucký's Hurricane was badly shot up but managed to return safely back to Duxford, where Kaucký found that he had been slightly wounded in the leg.
With his hospitalisation and subsequent recuperation due to his shoulder wound, Miroslav he was unable to return to operational flying until 7 November 1940.
The Battle of Britain had concluded on 31 October 1940, whilst Miroslav continued his operational tour with 310 Sqn, flying uneventful operational patrols over southern England, thus was unable to achieved any combat success.
In February 1941, he was promoted to the rank of F/O and on 29 May 1941, appointed Flight Commander of the squadron's 'B' Flight, replacing F/Lt Crelin W. Bodie, DFC, a British Officer. That June, he was again promoted, this time to the rank of F/Lt.
On 26 June 1941, 310 Sqn was redeployed to Martlesham Hearth, Suffolk, and again flew uneventful operational patrols over Southern England. The squadron was pulled out of front-line operations and and redeployed to a quieter operational area. They moved to Dyce, Scotland on 19 July 1941. Here their operational activities were protecting the Scottish North-East against Luftwaffe attacks from Norway, and in particular Aberdeen and the Royal Navy port at Scapa Flow, in the Orkney Isles.
On 15 December 1941, 310 Sqn was redeployed South to resume frontline operational flying. That day 17 Mk V Spitfires, led by Sq/Ldr František Weber, took off from Dyce for the flight to their new base at Perranporth, Cornwall, with Miroslav flying Spitfire Vb AB988. The weather was bad, forcing, the eight aircraft he was leading to stop over at RAF West Hartlepool. In the poor visibility, Miroslav overshot the runway and his Spitfire became entangled in some barbed wire fencing, causing it to flip onto its nose. This flung forward in the cockpit injuring his nose: he was taken to West Hartlepool hospital for treatment. He was later able to continue his journey by train to Perranporth, arriving on 20 December.
310 Sqn commenced operational from Perranporth on 24 December 1941. Here their role was providing fighter escort to shipping convoys in the Western approach of the English Channel and Bristol Channel as well as escort for Allied bombers on raids over Northern France.
Last Flight:
On the morning of 14 February 1942, Miroslav, F/O Vladislav Chochlín and Sgt Josef Dygrýn, took off at 06:20 to practise night landings and take offs. The visibility was poor and Miroslav was flying Spitfire NN-X AD414. For some unknown reason, just after the Spitfire had become airborne, it veered 40 degrees off to the left but having failed to make enough height, its starboard undercarriage wheel hit the top of the aircraft dispersal blast pen North of 'A' Flight dispersal hut throwing the aircraft into the ground some yards ahead towards the cliffs. The starboard wing crashed into an earth mound and broke off the wing and along with an undercarriage wheel. The remainder of the aircraft was thrown about 100 yds further ahead landing on its belly. Whilst Miroslav had been strapped, to his seat in the cockpit, and the seat was thrown forward in the impact, crushing him into the cockpit front screen. His head was badly fractured and also both legs, killing him instantly.
F/Lt Miroslav Kredba was buried on 18 February 1942 in grave 12, row 1 at St. Illogan Cemetery in Camborne Redruth, Cornwall. He was 28 years old.
Medals:
1939 – 45 Star with Battle of Britain clasp
Válečný kříž 1939
Za zásluhy I.stupně
Pamětní medaile se štítky F–VB
Remembered:
Czech Republic :
Prague – Klárov:
In November 2017, his name, along with the names of 2507 other Czechoslovak men and women who had served in the RAF during WW2, was unveiled at the Winged Lion Monument at Klárov, Prague.
At his birth village of Libichov he is remembered on the war memorial.
At Sýčina, there is a memorial plaque at the family tomb.
Great Britain :
He is commemorated, along with the other 2938 Battle of Britain aircrew, on the Christopher Foxley-Norris Memorial Wall at the National Battle of Britain Memorial at Capel-le-Ferne, Kent:

He is also commemorated on the London Battle of Britain Memorial: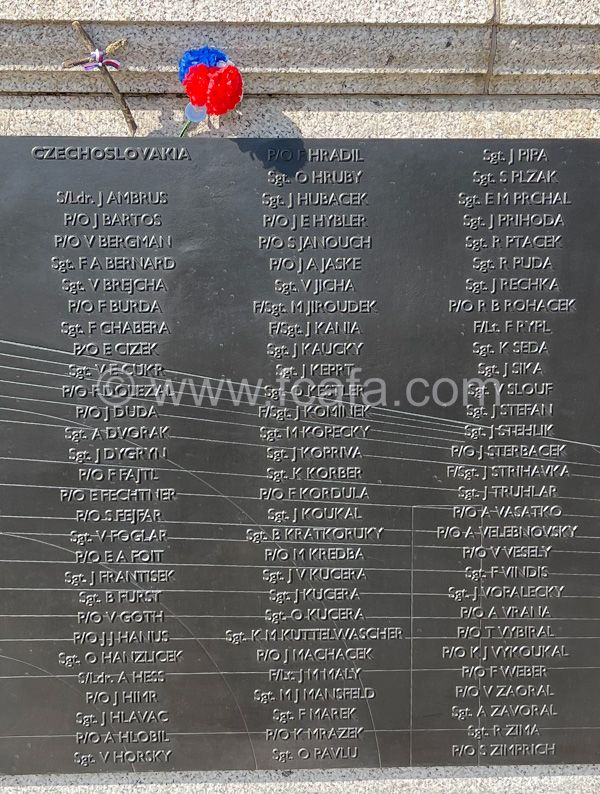 He is named on the WW2 memorial plaque at the Memorial Hall, Perranporth, Cornwall.