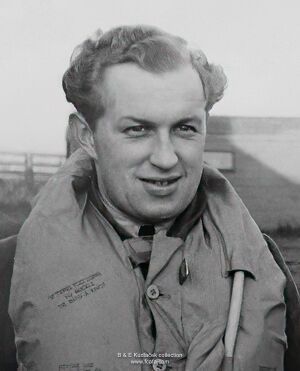 Miloslav MANSFELD
One of the Few
…………….* 14.12.1912, Dalovice.
…………….† 21.10.1991, London, UK.
The Early Years
Miloslav Jan Mansfeld was born on 14 December 1912 in Dalovice, a village near Mladá Boleslav, about 30 miles north east of Prague. In 1914, his father Jan died of cholera in Galicia on the Russian front in WW1; this caused Albina, his widowed mother, to start a greengrocery business in Německý Brod so that she could support herself and Milslav. Albina remarried and with her new husband Alois masek, ran a pub at the railway station at Zelenč, on the Eastern side of Prague. On completion of his education, instead of joining his mother's business, Miloslav began training as a car mechanic at at Merrel's a Škoda car dealer in Prague, but soon he aspired to become an airman.
Czechoslovak Air Force
In October 1930, having reached the age of 18, Miloslav joined the Czechoslovak Air Force as a cadet at the Military Aviation Academy at Prostějov, where he trained as a pilot in two-seater biplanes.
On 1 July 1932, on completion of his training, having achieved the rank of četař (Sgt), he was posted to the 72nd Squadron of the 6th Air Regiment at Milovice. Between May and June 1934 he returned to the Military Aviation Academy at Prostějov for fighter pilot training. He completed his training and on 1 July 1934 was posted to the 91st Night Fighter Squadron of the 6th Air Regiment at Prague-Kbely airbase which was equipped with Letov S16 aircraft.
Between May and June 1935 he attended a night-flying course at the airbase. On 1 April he was assigned as an instructor to the Regiment's Training Squadron. Whilst Czechoslovakia had a thriving aviation industry for its Air Force, they did not produce bomber aircraft and so Russian SB-2 bombers were purchased.. During 1937 Miloslav travelled six times to Russia to ferry twin-engined SB-2 bombers back to Czechoslovakia , where they entered military service as Avia B71s. From 1 January 1939 until the German occupation, he was posted as a test pilot to the Vojenský technický a letecky ústav [VTLÚ], the Aeronautical Research Centre for the Czechoslovak Air Force, at Letňany airbase, Prague.
The Germans occupied Czechoslovakia on 15 March 1939. The Czechoslovak President, Emil Hacha,ordered all Czechoslovak military to stand down, remain in their barracks and not resist the occupation. The Germans disbanded the Czechoslovak military and all personnel were dismissed. Just four days later, on 19 March 1939, former Senior officers of the now-disbanded Czechoslovak military started to form an underground army, known as Obrana Národa [Defence of the Nation]. Obrana Národa also worked in co-operation with Svaz Letců, the Airman Association of the Czechoslovak Republic. One of their objectives was to assist as many airmen and soldiers to get to neighbouring Poland where they could be formed into military units to fight for the liberation of their homeland. These two organisations provided money, courier and other assistance to enable airmen to escape to Poland. Usually, this was by crossing the border from Czechoslovakia's Ostrava region.
To Poland
Miloslav was one of the many Czechoslovak airmen and soldiers who saw that it was their patriotic duty to go to Poland from where they could participate in efforts to achieve the liberation of Czechoslovakia. On 3 June 1939, with the assistance of the two underground organisations, Miloslav travelled with five other ex-Czechoslovak Air Force airmen, by train to Ostrava. This was in south east Czechoslovakia and adjacent to the Český Těšín region which had been annexed by Poland following the Munich Agreement of September 1939. There they were met by a former presidential guard who guided them to the Polish border from where they crossed into Poland. Shortly after crossing the border they were detained by Polish police and taken to the local Police Station. Here their details were taken and as the Police station was small and unable to accommodate the six, they were permitted, under parole not to try and return to Czechoslovakia, to leave the Police station and stay in a nearby hotel that night. The following day they returned to the Police station and were taken to Těšín Police station for further questioning. They were there for a week before they were released and travelled to Krakow where they reported for duty at the Czechoslovak Consulate.
In Poland, Miloslav, like all the other escapees from Czechoslovakia, found that there was no enthusiasm from the Polish authorities to have Czechoslovak military units assembled on their territory as the Poles had no wish to provoke neighbouring Nazi Germany. This Polish attitude caused some of the Czechoslovak escapees to become discontented and disillusioned, with some considering returning to their homeland. Fortunately, patriotic speeches by General Ludvík Svoboda, a Legionnaire veteran from WW1 and Senator Vojtěch Beneš, brother of former Czechoslovak President Eduard Beneš, now exiled in in Britain, averted this return.
Instead, negotiations between the Czechoslovak Consulate, Krakow, and the French authorities resulted in the offer that the Czechoslovak escapees would be allowed to travel to France. However as French law did not permit foreign military units to be based on its soil in peacetime, the Czechoslovaks would be required to enlist in the French Foreign Legion for a period of five years but with the promise that if war was declared the Czechoslovaks would be released from their French Foreign Legion service and could enter into French military units. The alternative was that Czechoslovaks who would not accept these terms would be returned by the Polish authorities to Nazi-occupied Czechoslovakia and face German retribution for escaping – usually imprisonment or execution with further reprisals to their families.
In the interim, whilst arrangements were made for their journey to France, they were transferred to Małe Bronowice, a former Polish army barracks on the outskirts of Krakow. With other Czechoslovak military colleagues, Miloslav left Małe Bronowice by train for the Polish Baltic port of Gdynia where, on 17 June 1939, they boarded the 'Sobieski' which sailed, via Dover, where the Czechoslovak military were not permitted to disembark, to Boulogne in France, arriving on 19 June.
France:
The Czechoslovak escapees were met at Boulogne by the Air Attaché from the Czechoslovak Consulate, Paris. Each escapee was given 20 francs to cover their immediate needs and after two days there, they went by train to Palace Bollard, Paris, the Legion's recruitment centre. Here medical examinations were undertaken, documentation completed and elementary French lessons given. On 26 June, Miloslav joined the French Foreign Legion, at the rank of Soldat and transferred to Fort St Jean at Marseille. On 31 June, they boarded the 'Sobieski', a transport ship which sailed to Oran, Algeria, and then onto the Legion's training base at training base at Sidi-bel-Abbès, , where they were assigned to the 1st Battalion of their 1st Regiment.
When WW2 was declared by the Allies, the Czechoslovak Air Force airmen were transferred to l'Armée de l'Air. In Miloslav's case, this was to Oran and then Blida, their training bases in Algeria. On 27 November 1939 they returned to mainland France for further training at CIC Châteauroux about 230 km south-west of Paris. On 8 February 1940 he was posted for further training to Istres airbase, 60 km northwest of Marseilles. He returned to Algeria, on 21 May 1940, at the rank of Caporal Chef, when he was posted for bomber training on obsolete twin-engined MB-200, which he knew from the Czechoslovak Air Force, and later the more modern MB-210 aircraft at Tafaraoui airbase, about 20km south of Oran.
The war on mainland France was going badly for the Allies and French capitulation was imminent. In Oran, the Czechoslovak airmen learned that Winston Churchill, the British Prime Minister, appealed to all the evacuated Czechoslovak airmen to come to Britain and continue their fight against the Germans from there. The Armée de l'Air released the Czechoslovak airmen from their service and told them to report to British Officers who would assist with arrangements to get them by train to Casablanca, Morocco, and then to Britain.
From Oran, the Czechoslovak airmen travelled for four days by train across the Sahara Desert to Casablanca from where they boarded the 'Gib-el-Dersa' which sailed at 15:12 on 29 June 1940, to Gibraltar, arriving at 11:00 on 30 June. Here they changed ships to the 'Neuralia' and sailed on 2 July, in a convoy of about another 30 ships, for Liverpool, arriving on 12 July 1940. Like most of the Czechoslovaks, Miroslav's path first led to the Czechoslovak resettlement camp at Cholmondeley Park, near Chester.
RAF:
The Battle of Britain was now in progress and there was an urgent need for fighter pilots. As a trained pilot he was quickly admitted to the voluntary reserves of the RAF, at the rank of AC2, on 25 July and transferred to the Czechoslovak RAF Depot, Cosford, for training and English lessons. On 21 September, having reached the standard required by the RAF, and also promoted to Sgt, he was posted to 6 OTU at Sutton Bridge for re-training onto Hurricanes. He completed his re-training on 5 October 1940 and was posted to 111 Sqn at Drem in Scotland.
Two days later he made his first flight with the squadron, flying Hurricane V7365, with fellow Czechoslovak Sgt Otmar Kucera for a 30min formation flight led by P/O Peter Simpson. Four further training flights, including dog-fighting, beam and head-on attacks and gun firing were undertaken for the next four days. His first operational flight in the Battle of Britain came on 13 October when he was scrambled at 13:05, a flight that lasted 45 minutes but during which no enemy aircraft sighted.
With 111 Sqn, together with P/O Peter J. Simpson (Yellow 1) and fellow Czechoslovak Sgt Otmar Kucera, (Yellow 2) and himself flying Hurricane V7361 (Yellow 3), Miloslav achieved his first combat success with a shared victory of a He III at around 13:10 on 13 November 1940. The German plane was flying at 750 feet and crashed into the North Sea about 30 miles East of Aberdeen. Miloslav's combat report of this interception is:
I was flying Yellow 3 when our section was told to intercept bandit flying SE about 5 miles out to sea off Aberdeen. I heard Yellow 1 shout 'Tally ho' and remained in my position until after his attack in case e/a turned to port. I went into attack, after Yellow 2, and saw my bullets entering fuselage and main plane of e/a. In my second attack which was from astern after my first attack the rear gunner stopped firing after Yellow 1 had finished his third attack from the beam. I also followed up a with a beam attack allowing plenty of deflection and letting e/a go right I had full sight. I had quite a little ammunition left so did another attack from astern. I broke away and after a little while e/a sank into the sea.
The three 111 Sqn Hurricanes, were undamaged in the combat and landed back at Dyce at 13:40, having fired a total of 5990 rounds in that combat.
Miloslav was promoted to the rank of W/O on 1 March 1941 and seeking more operational activity he volunteered for night-fighting, resulting in his posting, on 23 April 1941, to 54 OTU at Church Fenton for training on twin-engine night-fighters. He was commissioned at the rank of P/O on 14 July 1941 and five days later was posted, to 68 Sqn at High Ercoll, near Telford, Shropshire. They were commanded by W/Cdr John 'Max' Aitken, DSO, DFC, and were equipped with twin-engined Beaufighter night-fighters.
His 1st operational night patrol with the squadron was on the night of 3/4 August. Later, on the night of 11 December Miloslav achieved his 1st combat success with 68 Sqn when he shot down two He IIIs from III /KG 40 and damaged a third. Promotion to the rank of F/O came on 14 June 1942. On 22 October 1943, he was promoted to the rank of F/Lt and assigned as Deputy Flight Commander for 'B' Flight.
On completion of his operational tour, he was posted, on 15 May 1943 as an instructor to 51 OTU at Cranwell. On 6 September he was posted to 3 Flying Instructors School at Castle Coombe. He returned to 68 Sqn, now at Coltishall, on 10 October 1943, commencing his 2nd operational tour. On 10 October was appointed 'A' Flight Commander until 1 May 1945. In July 1944, the squadron was re-equipped with Mosquito NF XVII fighters.
He was the most successful twin-engined Czechoslovak fighter pilot of WW2, achieving a total of 8 confirmed kills, 2 probables, an E-boat probable and 2 V1s in 488 operational flying hours, 386 of which were at night. On 1 June 1945, Miroslav was promoted to the rank of S/Ldr and he returned to Czechoslovakia on 16 August 1945.
Post WW2:
Miloslav remained in the Czechoslovak Air Force and initially was posted to their Air Force Headquarters at Prague. On 1 February 1946 he was appointed Commander of the 24 Squadron of the 1st Air Regiment at Plzeň. Later that year, from 10 May to 13 July, with 12 other Czechoslovak pilots, he returned to the UK to attend Course 136 at 13 OTU at RAF Middleton St George for retraining on Mosquito FB.Mk.VI aircraft.
Having completed the course, he returned to Czechoslovakia. On 28 October 1946 Miloslav promoted to the rank of Staff Captain and posted as instructor at C-3 retraining course at České Budějovice airbase. Between December 1946 and May 1947 he was sent to England three times to collect Mosquito PRP aircraft and ferry them back to Czechoslovakia. He was then posted to the 3rd Air Regiment at Brno airbase.
Communism:
The rising power of communism was beginning to emerge in Czechoslovakia during 1947 and from that November Miroslav, with his Western views, was , becoming alienated from his pro-Communist superiors. This culminated, after the Communist coup d'état of February 1948, with him being placed on special leave on 12 April, to remove him from an active role in the Czechoslovak Air Force. Miroslav was aware that when he was placed on waiting leave, on 1 June, this was now just a matter of time before he would be arrested by the StB, tried on fabricated charges of being politically unreliable as he had served in the West during WW2 and was now classed as an 'undesirable' person in Communist Czechoslovakia. The usual Court outcome following such charges was to be sentenced to imprisonment.
To avoid that situation, Miloslav, along with fellow former RAF colleagues Jaroslav Doležal, Karel Pošta, Stanislav Peroutka and Václav Raba crossed at night through the forests at Sumava, over the border to the American Zone of Germany. To enable them to see each other in the dark they wore white bands on their jackets.
On 17 July the Czechoslovak Air Force declared that he was a deserter, demoted him from his rank of Staff Captain to a private and stripped him of his Czechoslovak medals.
In Germany they had to undergo security checks with the American authorities and once cleared were permitted to travel to England, in July. Initially they were based at RAF Cosford, whilst they decided on their future; whether to rejoin the RAF or join the Air Forces of Canada or Australia. Miloslav chose to re-join the RAF, and upon acceptance, at his former rank of S/Ldr, was posted to 13 Sqn, a photo-reconnaissance unit equipped with Mosquito PR Mk 34 aircraft. With this squadron he flew operationally in Egypt and Cyprus. In 1952 the squadron was re-equipped with Gloster Meteor PR Mk 10 jets. On 1 January 1953 he was awarded the Air Force Cross for his Middle East Service and later, on 13 June 1957 he was awarded the Queen's Commendation for Valuable Service in the Air.
Civvy Street:
He retired from the RAF on 30 September 1958, and so, after 28 years of military service, he returned to civilian life. He joined Beaverbrook Newspapers, owned by press mogul Lord Beaverbrook, the father of Max Aitkin, his former Commanding Officer in 68 Sqn during WW2. There Miloslav was Distribution Manager for their Daily Express newspaper until his retirement in 1970.
During his retirement he was actively involved with the Czechoslovak RAF exiles community who had also escaped from Communist Czechoslovakia and had now rebuilt their lives in the West. Following the Velvet Revolution in Czechoslovakia in November 1989, he returned to his homeland in June 1991 for the Memorial Air Show at Roudnice nad Labem where he met many of his former RAF colleagues who had lived in Communist Czechoslovakia. His health was failing which meant that he was unable to attend the RAF Rehabilitation Ceremony in Prague on 13 September 1991. Instead, on 10 September, the Defence Attaché from the Czech Embassy, London, visited him in hospital at Hampstead, London, to present him with his Rehabilitation Certificate and inform him that he had been awarded the rank of Major General in the Czechoslovak Air Force.
Miloslav Mansfeld, died in hospital on 21 October 1991, aged 78. He is interred in the Czechoslovak ex-Servicemen's section at Brookwood Cemetery, Surrey.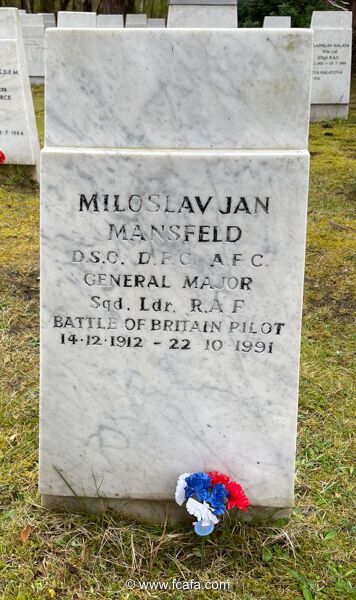 Medals:-
Distinguished Service Order
Distinguished Flying Cross
Air Force Cross
1939 – 45 Star with Battle of Britain clasp
Air Crew Europe Star with Atlantic clasp
Defence Medal
War Medal
Válečný kříž 1939 and 4 bars
Za chrabrost and 4 bars
Za zásluhy I.stupně
Pamětní medaile se štítky F–VB
Za svobodu II. tř.
Remembered:
Czech Republic:
Prague:
Prague – Klárov:
In November 2017, his name, along with the names of 2507 other Czechoslovak men and women who had served in the RAF during WW2, was unveiled at the Winged Lion Monument at Klárov, Prague.

A street in the Černý Most suburb of Prague is named "Mansfeldova" in his honour.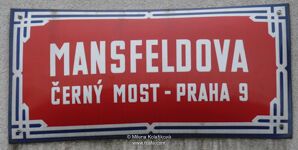 Great Britain:
He is commemorated, along with the other 2938 Battle of Britain aircrew, on the Christopher Foxley-Norris Memorial Wall at the National Battle of Britain Memorial at Capel-le-Ferne, Kent:
He is also commemorated on the London Battle of Britain Memorial: