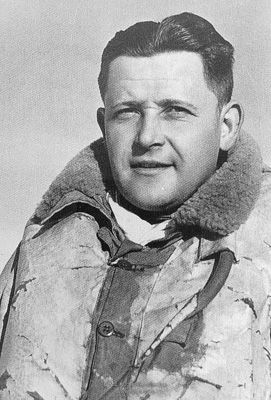 Václav Šlouf
One of the Few
…………….* 08.10.1911, Dvorec u Nepomuku, Plzeň.
…………….† 13.04.1976, Weston Super Mare, UK.
Pre WW2:
Václav Šlouf was born on 8 October 1911 at Dvorec u Nepomuku near Plzeň, Czechoslovakia. He was the eldest son of Václav and Karolina Šlouf, and six years later his brother Karel was born. He studied for five years at primary school followed by four years at secondary school. He then joined Škoda at Plzeň where he learnt to be a machine operator. He then attended Technical College for one year to continue his training as a machine operator.
During his training at Škoda, he became interested in aviation and joined the Západočeský Aeroklubat Plzeň-Bory airfield where he undertook pilot training and achieved his sports pilots licence. For his military service, in October 1929 he was selected to join joined the Military Aviation Academy at Prostějov as a cadet.
On graduation in 1931 he was posted to the 9th Observation Sqn of the 3rd (M. R. Štefánik) Air Regiment based at Piešťany, Slovakia. There he qualified as a military pilot on 1 November 1931 and on 1 May 1932 was promoted to the rank of svobodník (LAC), with a further promotion on 30 June 1932 to desátník (Cpl). Whilst he was rated as an excellent pilot by his Commanding Officer, he was also very undisciplined and during his service he frequently committed disciplinary offences, which were violations of flight safety measures. These numerous offences resulted in him being reprimanded, but this had little effect on him. Finally, his Commanding Officer had had enough and on 31 October 1932, he was discharged from the Czechoslovak Air Force to the Army. First to the 3rd Company of the 17th Regiment at Trenčín and later to the 5th Company of that Regiment.
Return to civilian Life:
After completing a six-week course there, Václav was released to the military reserve on 24 November 1934 and back to civilian life returning to his former employers at Škoda to work.
Despite then being a civilian, he did not abandon his interest in aviation and returned to the Západočeský flying club where he also worked as a flying instructor. Václav also began participating sport aviation events, initially just in Czechoslovakia where he was a regular competitor, but then onto international competitions held in Europe where he become famous for his aviation skills. However, not all finished without incident, one such being the 1937 Italian Tourist Aircraft Race II Raduno de Littorio For this competition he was flying a twin seater Beneš-Mráz Be-50 sports aircraft , OK-EAA, with Jan Placák as co-pilot. For some 90km, the flight was over the Adriatic Sea. During the flight, near Venice, the nut holding the propellor nose cone came loose, causing the nose cone to be thrown back onto the propellor blades breaking them off. This resulted in a violent reaction with the engine, nearly causing it to be sheared off from its mounts. This fractured the fuel line and aviation fuel to be leaked into the cockpit, quickly covering the floor pan. At that point, neither of the pilots wanted to contemplate what would happen if there were a fire. They had no choice but to ditch the aircraft into the sea. Václav sighted a fishing boat and attempted to make an emergency landing near it. As As soon as the aircraft touched the sea, it immediately flipped over onto its back. Placák was thrown from his seat into the sea. But Václav, who had been flying the aircraft until the last moment, was trapped underwater in the cockpit. From there, he saw the wing above him in the water, grabbed out to reach it and dragged himself out of the cockpit, and managed to reach the surface. He was immediately seized by the hands of the fishermen who pulled him into their fishing boat. Václav kept shouting and pointing with his finger that another airman was in the water, but then he realised Placák was already safely on the boat.
Despite this incident, he continued competition flying, the next race was the Ralley in France in August 1938, where he finished 14th out of an international field of over 100 aircraft. During this period, at the Západočeský flying club, in his capacity as a flying instructor, Václav was actively involved with the '1000 pilots for the Republic' pilot training scheme.. This was an initiative, instigated by the Czechoslovak Government who had concerns about the growing threat of Nazi Germany, to train new pilots for 'sport aviation' which was actually covertly the first step in the training of pilots for the Czechoslovak Air Force. During this time, he trained some 140 new pilots – 47 of whom were later to serve in the RAF during WW2.
1938 Mobilisation:
In May 1938, Czechoslovakia partially mobilised its military forces, to counter the build-up of German forces along its border.
The threatening overtures by neighbouring Nazi Germany regarding the Sudeten regions – the German speaking areas – of Czechoslovakia caused the Czechoslovak Government to declare a mobilisation on 23 September 1938. As a military reservist, Václav had to return to the Army but now the Air Force Commander did not want to loose a skilled pilot so he was transferred back to the Air Force where he rejoined his old regiment, the 3rd (M. R. Štefánik) Air Regiment. Here he joined the Regiments 16th Observation Sqn of the 3rd Air Regiment, which was stationed at Tri Duby airbase, Slovakia and equipped with twin-seat Letov Š-328 biplane reconnaissance aircraft.
Following this threat, Prime Ministers Chamberlain and Daladier, of Britain and France respectively, met in Munich in September 1939 with Hitler and Mussolini. The outcome of this was the Munich Agreement of 30 September 1938 wherein the Sudeten regions were ceded to Germany. Eduard Benes, the Czechoslovak president, was not invited to participate in the discussion concerning the future of his country. He was merely told by Chamberlain and Daladier to either accept the agreement or Czechoslovakia would have to defend itself without any support from Britain and France.
Occupation 1939:
Despite assurances given by Hitler at the Munich Agreement that he had no further interest in territorial gains for Germany, just a few months later he demanded that the remains of Czechoslovakia become part of Germany.
When the Germans occupied Czechoslovakia, on 15 March 1939, it became a German Protectorate and Slovakia became a German 'puppet' state. The Czechoslovak Air Force and Army was disbanded and all personnel demobilised. As a Czech he was returned to the German Protectorate. By this time Václav had achieved 1,700 flying hours.
To Poland:
Germanisation of Bohemia and Moravia began immediately after the occupation, but just four days later, on 19 March 1939, former Senior officers of the now-disbanded Czechoslovak military had started to form an underground army, known as Obrana Národa [Defense of the Nation]. Obrana Národa worked in co-operation with Svaz Letců, the Airman Association of the Czechoslovak Republic. One of their objectives was to assist as many airmen and soldiers as possible to neighbouring Poland where they could be formed into military units to fight for the liberation of their homeland. These two organisations provided money, courier and other assistance to enable airmen to escape. Usually, this was by crossing the border from the Ostrava region into Poland.
Like many of his former Air Force colleagues, Václav could not reconcile himself to the Munich surrender and subsequent occupation. Amongst the now demobilised former members of the Czechoslovak military, rumours were being heard that Czechoslovak military units were being formed in Poland for the purpose of fighting for the freedom of their homeland. Václav was one of many who responded to this news and investigated further. He was put in contact with the Obrana Národa [Defence of the Nation] an underground organisation formed since the German occupation in order to get military personnel to Poland.
Václav was one of the many Czechoslovak airmen and soldiers who saw it was their patriotic duty to voluntarily go to Poland from where they could participate in efforts to achieve the liberation of Czechoslovakia.
Václav covertly left Czechoslovakia on 8 June 1939 by illegally crossing the border into Poland and then onto the Czechoslovak Consulate at Kraków, where he reported for duty. Unfortunately, here he was to find that the information about Czechoslovak military units being assembled in Poland had been incorrect; the Polish authorities would not permit it as they were concerned about antagonising Nazi Germany and provoking it to attack Poland.
The Czechoslovak Consulate however had been in negotiations with France, a country with which Czechoslovakia had an Alliance Treaty. Under French law, foreign military units could not be formed on its soil during peacetime. The Czechoslovak escapees, however, could be accepted into the French Foreign Legion with the agreement that should war be declared they would be transferred to French military units. The Czechoslovaks would, however, have to enlist with the French Foreign Legion for a five-year term. The alternative was to be returned to occupied Czechoslovakia and face German retribution for escaping – usually imprisonment or execution with further retribution to their families.
To France:
In the interim, whilst arrangements were made for their journey to France, they were transferred to Bronowice Małe, a former Polish army barracks on the outskirts of Kraków. On 26 July Václav and 189 other Czechoslovak military escapees left Bronowice Małe. They boarded the express train at Kraków railway station and travelled to the Polish Baltic port of Gydnia for their onward travel to France.
But, by now, now the Polish Authorities realised that conflict with Nazi Germany was now inevitable and just a question of when and began to make preparations for the defence of Poland; this included trying to stem the large number of Czechoslovak airmen and soldiers who were now being taken to France. This latest group of Czechoslovaks, was now then the fourth which was departing to France. At Gdynia, they airmen were approached by Polish Officers who asked that they stay, and join the Polish Air Force – but would only offer them non-commissioned military rank which the Czechoslovak Officers refused to accept.
The following day the Czechoslovaks boarded the 'SS Kastelholm', a 921 tonnage Swedish coastal-cruising ship and they sailed to France. Part of the voyage down the Baltic Sea was very rough, even to airmen who were used to flying in turbulent conditions, and so the 'SS Kastelholm' stop at the Danish port of Frederikshaven to re-supply was a welcome relief for the Czechoslovaks onboard. After a five-day voyage, they arrived in the early hours of 30 July 1939 at Calais.
France:
Initially, Václav and his fellow escapees were transferred to Place Ballard, the Foreign Legion's recruitment depot at Paris, to undergo medical checks, whilst the necessary documentation was prepared for their enlistment into the Legion. During this time they attended French classes and any free time was usually spent in Paris exploring the sights and practising their newly-learnt French with the girls they met. On 23 August 1939, he was accepted into the Foreign Legion, at the rank of soldat, and now awaited transfer to the Legion's training base at Siddi-bel-Abbes, Algeria.
However, on 3 September 1939, war was declared before he was sent to Algeria. Instead, on 9 October he was released from the Legion's service and transferred to l'Armée d'Air at their Paris recruitment centre and then on to Centre d'Instruction de Chasse for re-training on French equipment and to learn rudimentary French at Chartres airbase.
He completed his re-training on 11 December 1939, and with the rank of Caporal-chef (Sgt) he was assigned to GC III/3. They were based at Ochey airbase at Toul and equipped with MS-406C fighter aircraft and from 25 May 1940 re-equipped with Dw-520 fighter aircraft.
During the Battle of France he achieved combat success:
| Date: | Time: | Type Flown: | Action: |
| --- | --- | --- | --- |
| 11.05.40 | 18:30 | MS-406 | a shared Me109 near Maastricht, Belgium |
| 13.05.40. | 05:35 | MS-406 | a shared Hs126, north of Namur, Belgium |
| 19.05.40. | 10:20 | MS-406 | He111 shared, near Estrées-St-Denis |
| 19.05.40. | 17:15 > 18:30 | MS-406 | Do215 shared, west of Valenciennes |
After the He III was shot-down on 19 May his own MS-406C was attacked and badly damaged. Initially he tried to return to return to his airfield but with a cockpit full of smoke he feared that the aircraft might explode in a forced-landing. Instead, at an altitude of 500 mtrs he bailed-out and landed safely near the airfield. He was returned to the airbase and resumed operational flying – with a victory – that afternoon.
With the rapid advance of the German forces, GC III /3 were constantly retreating South-West through France. At one point, close to where GC III /3 were then based, the Germans were about to overrun another nearby airfield where there were a few airworthy fighter aircraft. There was a call for volunteers to go to the airfield and bring back the planes to safely before the Germans could destroy them. Václav was one of the pilots who at once volunteered to go. With Václav squashed behind the pilot of the MS206, they took off to the nearby airfield where those fighter aircraft were scattered around. After his MS206 touched down, it taxied to the nearest of those aircraft. Václav got out of the MS206, and waving a goodbye, ran across to the fighter. He grabbed the propeller and gave it a few turns and then jumped into the cockpit and tried to start it. There was no response from the engine! He attempted this a few more times but with no success. Frustrated, he jumped down and spotted a farmer driving a tractor in the next field. Running over to the farmer, he pulled out his service pistol and, at gun-point, marched the farmer over to the fighter and told him to turn the propeller while he attempted to start it. After a couple of tries the engine came to life and he quickly turned the plane into the wind and took off. As he became airborne he had a view of the German forces closing in on the airfield.
By 16 June, GC III /3 were now at La Salanque airbase near Perpignan in South-West France from where they flew their aircraft to Maison Blanche airbase, Algeria. In l'Armée de l'Air service, Václav had flown 91.3 operational hours.
The Czechoslovak airmen of the unit were released from l'Armee d'Air service and they travelled by train for four days to Casablanca where they boarded the 'Royal Scotsman' on 9 July which took them to Gibraltar where they transferred to the 'David Livingstone' which sailed to England, arriving at Cardiff at 05:00 on 5 August 1940.
RAF:
On arrival in England, Václav was based initially at the Czechoslovak transit camp at Cholmondeley and on 14 August 1940 was accepted into the RAF Volunteer Reserve at the rank of AC2. He was then transferred to the Czechoslovak Airmen's Depot at RAF Cosford for his basic RAF training and rudimentary English lessons. On 6 September, at the rank of Sgt, Václav was posted to the newly formed 312 (Czechoslovak) Sqn, becoming one of its founding members. The squadron were stationed at Duxford and equipped with Hurricane I's. There, with the other Czechoslovak pilots, some still in l'Armee d'Air uniform, posted to the squadron, Václav re-trained on Hawker Hurricane fighter aircraft.
On 26 September, 312 Sqn were redeployed to Speke airfield, Liverpool, where their role was the defence of Liverpool and its docks. The squadron was declared operational on 2 October 1940 and Václav flew in the closing stages of the Battle of Britain. He made his first operational flight of the battle – a scramble at 14:25 on 12 October in Hurricane Mk I V6846, the flight lasting 15 minutes with no enemy aircraft encountered. Before the Battle of Britain's accepted conclusion date of 31 October 1940, he had made four more scrambles, all of which were uneventful.
Václav was promoted to the rank of Flight Sergeant on 1 March 1941 and on 26 November that year, received his commission at the rank of P/O.
Having completed his first operation tour, for his rest period he was posted, on 13 June 1942, as a flying instructor to 53 OTU [53 Operational Training Unit] who were now based at RAF Llandow, near Cardiff in South Wales and also at RAF Rhoose, its nearby satellite landing ground. At 53 OTU, new pilots were attending training courses, initially on two seater Miles Magister training aircraft before advancing onto single seater Spitfire fighter aircraft. On graduating from their course, they would be posted to operational squadrons in RAF Fighter Command. This was a role he clearly did not like as unusually, after only two months he managed to get himself posted back, on on 28 August 1942, to 312 Sqn, now deployed at Churchstanton, Somerset for operational flying duties and the start of his 2nd Operational Tour.
Whilst at Churchstanton, 312 Sqn were primarily involved, with other fighter squadrons, in providing fighter cover for Allied bombers on bombing raids over northern occupied France. These raids, known as 'Ramrods' were primarily intended to destroy a ground target and also inflict losses by the escorts on German fighters trying to intervene.
On 7 November 1942, 312 Sqn and 313 Sqn, also deployed at Churchstanton, along with 310 Sqn, from Ibsley – the Czechoslovak Wing – participated in Ramrod 36 – the escort of USAAF bombers on a bombing raid on the submarine U-Boat pens at Brest, France. That day, Václav was flying Spitfire EP518 and both 312 Sqn and 313 Sqn, took-off from Churchstanton at 11:40, and meeting up with 310 Sqn over the English Channel, and before proceeding towards Brest. For that flight Václav was Blue section leader and accompanied by F/Sgt Miroslav Liškutín as Blue 2.
Nearing Brest, the Czechoslovak Wing were about 5 miles away approaching the rear of the bombers from the East at an altitude of 19,000 feet. The Czechoslovak Wing Leader radioed the Bomber Leader warning him that they were about 5 miles away and would be approaching to give close escort, but no reply was received. At about 1½ miles away, Wing Leader again radioed the Bomber Leader, again no reply was received. As the Czechoslovak Wing was passing to the rear of the bombers, they were fired upon from from the Liberator gunners. Wing Leader called the Bomber Leader with the message "Cease fire, friendly fighters" but again no response only intercom chatter from the bombers of "Messerschmitts". At this point Vaclav, flying Spitfire Mk Vb EP518, was mistaken for an enemy aircraft and was fired upon by the Liberator gunners. Václav was able to complete the mission, landing back at Churchstanton at 13:45 where it was found that his Spitfire had received five hits, causing Cat B damage.
On 1 July 1943, he was appointed Flight Commander of the squadron's 'B' Flight. They were then deployed at RAF Skeabrae, in the Orkney Isles and equipped with Spitfire Vc's. Squadrons were normally deployed to RAF Skeabrae primarily to give them a rest period in a low-key operational area, after front line service in Southern England. From here they undertook convoy patrols and also the aerial defence of the Royal Navy base at Scapa Flow from marauding Luftwaffe aircraft flying from Norway. Václav completed his 2nd Operational Tour on 1 February 1944 and was posted to the Czechoslovak Inspectorate General (CIG) in London for non-operational duties.
The CIG was the headquarters of Czechoslovak Air Force within the RAF based in London led by AVM RNDr Karel Janoušek, KCB. The purpose of this unit was the command of all Czechoslovak RAF units and also to serve as a liaison point between British Air Ministry and Czechoslovak units and airmen. The unit was staffed mainly by Czechoslovak RAF Officers, who having completed their operation tour, would undertake CIG duties during their six months rest period before resuming operational flying.
313 Sqn:
On 22 May 1944 he was able to resume operational flying when he was posted to 313 (Czechoslovak) Sqn and started his 3rd operational tour. The squadron were based at RAF Tangmere, near Chichester and equipped with Spitfire HF Mk VI's. With D-Day – the Allied invasion of Europe – imminent, the squadron's activities at that time were mainly providing fighter cover to the Allied invasion build up at Portsmouth and Southampton as well as softening up targets over northern France in preparation for the forthcoming invasion.
The long awaited D-Day finally happened on 6 June 1944. 313 Sqn squadron was operational, making four patrols that day over the Eastern portion of the invasion beaches, between Arromanches and Le Havre. Václav flew on each of those patrols in Spitfire MJ668, with flights 07:20 to 09:10, then 12:15 to 14:10, again at 16:20 to 18:25 and finally at 20:40 to 22:35. No enemy aircraft were sighted on those patrols and only slight flak from the Le Havre area was encountered.
He remained with 313 Sqn until 30 September when he was posted back to 312 Sqn, now deployed at RAF North Weald, where he was appointed Flight Commander of its 'A' Flight. On 15 November 1944 he was appointed Commanding Officer of 312 Sqn at the rank of Acting Sqn/Ldr, replacing W/Cmdr Jaroslav Hlaďo DSO, DFC.
On 24 January 1945, Václav married Roma Helene Annette Beviere, a British lady who worked in a fashion shop. He returned to CIG on 19 April 1945 where he was assigned to Educational and Administrative duties and remained until the end of the war. With the RAF he had flown a total of 760.10 flying hours.
Return to Czechoslovakia:
Václav returned to Czechoslovakia on 16 August 1945. He remained in the Czechoslovak Air Force with the rank of kapitán (F/Lt) and was assigned to the 12 Air Regiment at Prague-Kbely airbase. On its return to Czechoslovakia, 310 Sqn had been incorporated into the ranks of that Air Regiment.
Československé Státní Aerolinie:
He was demobilised on 23 January 1946 and joined Československé Státní Aerolinie (ČSA), the national airline, as a pilot. In post war Czechoslovakia, as there had been no civil aviation during the war, ČSA was then entirely dependent on former RAF personnel for its aircrew and ground staff, while new personnel were being trained. Over the next two years Václav flew domestic and international flights usually in DC3s or former Luftwaffe Ju52 aircraft.
Following the Communist take-over in February 1948, the Czechoslovaks who fought for the Allies in WW2 were regarded as being tainted by capitalism and thus 'undesirable' in the new Czechoslovak regime. Many were dismissed from the military, demoted, stripped of their Czechoslovak decorations, arrested, imprisoned and subjected to other forms of persecution and degradation. For the former RAF airmen who were now employed by ČSA, their position was very slightly different. During WW2 there had been no aviation training in Czechoslovakia, and so post WW2, when ČSA was rebuilding its airline and operating routes, the only trained pilots and aircrew were those who had served in the RAF. Thus these airmen were needed in the interim whilst new 'politically reliable' personnel were trained to take their place.
Escape from Communist Czechoslovakia:
Soon after the Communist putsch of February 1948 he, like many other of his former RAF collegues who had British wives, began to receive 'special' attention from the Communists. In many cases, as the wives still had British passports, they returned to England with their children osstensable for a holiday. In reality it was just a ruse to get them away from the Communists authorites in Czechoslovakia. Once they were safe, their husbands would attempt to leave Czechoslovakia themselves.
At the time Vaclav had not yet had his Czechoslovak passport confiscated and was permitted to make international flights for ČSA. At the time his regular route was Prague – Paris – Prague.
In Václav's case his wife and 2 daughters successfully left, by train, for their 'holiday' in England. But a family acquaintance, the British wife of a Czechoslovak Communist politician in Prague, became suspicious as to the true motive of the 'holiday' and informed the Communist authorities
On receiving this information, the StB – Státní bezpečnost – the State Security Police went late on the evening of 4 May 1948 to Václav's flat to question him about his families recent departure to England. Václav explained that the flat was about to be refurbished and produced documents to confirm that such work had been authorised and due to be started. He explained that his family had taken this opportunity to take a holiday in England so that they could avoid the disruption of this refurbishment.
The StB left in the early hours of the morning but Václav had little doubt that they would check his explanation. Once they found that the authorised work had subsequently been cancelled, they would be back to arrest him. That morning, and 5 May 1948, he was due to make a scheduled flight to Paris.
Prior to the StB visit, Václav had already been planning to escape but their visit forced to move his plans forward. He immediately packed a small suitcase and wore his pyjamas under his uniform. Václav then proceeded to destroy everything in the flat as he did not want the Communists to have any of his possessions. Having completed this task he then left for Prague's Ruzyne airport and piloted DC3 OK-WDI on its scheduled ČSA flight to Paris.
Having disembarked from the aircraft at Paris airport, he went to a telephone kiosk and called the ČSA office at Prague. He told them that they would need to send another pilot to Paris to fly the DC3 otherwise they would not get their aircraft back as he refused to fly back to Prague and left the terminal.
An unfortunate side effect of Václav having to move his escape plans forward was that he was unable to contact his relatives beforehand. One of these was that his brother Karel, who had also served in the RAF in England, was later himself arrested and imprisoned. After his release he was still the subject of Communist harrasement. Shortly after he was involved in a 'strange' accident and died three days later.
2nd Exile:
He first travelled to Holland with the intention of joining KLM, only to find out that there was a reciprocal agreement between KLM and ČSA not to employ pilots from each other. Eventually he returned to England and on 13 September 1948 and was able to re-joined the RAF – but at low rank of AC2. Shortly after he was offered a short service commission of five years, at the lower rank of Flying Officer, compared to his end of WW2 RAF rank of Acting Sqn/Ldr.
Shortly after, he was posted to RAF Cardington, but as the RAF now surplus of WW2 pilots, this was only in the capacity as administrative desk-job and not return to flying as he had hoped for. Sadly, due to some hearing loss, he had failed his RAF medical for flying duties. RAF Cardington was the location of the RAF's No 2 Reception Unit to process all airmen recruited through National Service, voluntary enlistment and re-enlistment.
He was, however, very unhappy at being grounded but consoled himself with the fact that he was now in a democratic country and whilst his situation was not ideal, it was better than that of the Czechoslovak former RAF airmen with British wives, who had been unable to escape to the West and were then subjected to persecution and imprisonment by the Communist authorities in his homeland.
Having completed his five year contract, He retired from the RAF on 7 March 1954, at the rank of S/Ldr. In civilian life he worked as an administrator at the British Cellophane company, a worldwide exporter of cellophane, at Bridgwater, Somerset.
Václav Šlouf died alone, at home in his flat, from a stroke, on 13 April 1976 at Weston-Super-Mare Somerset, UK.
Medals:
Distinguished Flying Cross
1939 – 45 Star with Battle of Britain clasp
Air Crew Europe Star with France and Germany clasp
Defence Medal
War Medal
Válečný kříž 1939 and 4 bars
Za chrabrost and 4 bars
Za zásluhy I.stupně
Pamětní medaile se štítky F–VB
Médaille Militaire
Croix de Guerre avec Palme and Silver Star
Remembered :
Czech Republic :
Dvorec u Nepomuku:
A plaque on the former family home of the Šlouf brothers in Dvorec.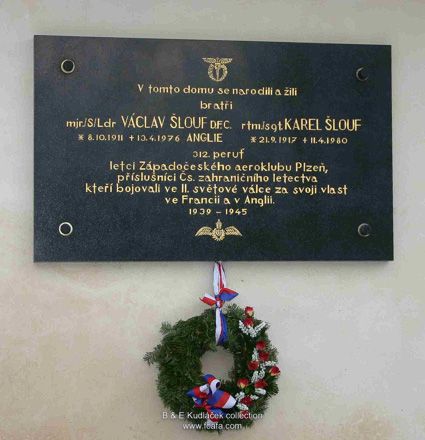 And also a street named after the Šlouf brothers in Dvorec.
Prague – Klárov:
In November 2017, his name, along with the names of 2507 other Czechoslovak men and women who had served in the RAF during WW2, was unveiled at the Winged Lion Monument at Klárov, Prague.
Great Britain :
He is commemorated, along with the other 2938 Battle of Britain aircrew, on the Christopher Foxley-Norris Memorial Wall at the National Battle of Britain Memorial at Capel-le-Ferne, Kent:
He is also commemorated on the London Battle of Britain Memorial: