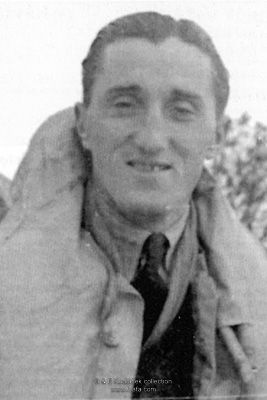 Stanislav Plzák
One of the Few
…………….* 13.11.1914, Plzeň.
…………….† 07.08.1941, English Channel, off Calais.
The Early Years:
Stanislav Plzák was born on 13 November 1914 at Plzeň. He studied for five years at primary school followed by four years at secondary school. He was then accepted for an apprenticeship at the Škoda factory, in Plzeň. where he was trained to be a machine operator and attended Technical College for one year whilst undertaking that training.
During his apprenticeship at Škoda, he became interested in aviation and joined the Západočeský Aeroklub [West Bohemian Aeroclub] at Plzeň-Bory airfield; it had been formed in 1919 making it one of the oldest in the country. Through close collaboration with Škoda, the aeroclub had developed significantly and they trained pilots and aviation mechanics and also established their own workshops for engine and aircraft maintenance. Here Stanislav commenced his pilot training and achieved his sports pilots licence. Amongst his fellow Škoda workers at the aeroclub also undertaking their the basic pilot training were Jiří Fiona, Josef Fišera, Jan Irving, Miroslav Petr, Karel Posta, Vilém Soukup, Ladislav Světlík, Václav Šlouf and Alois Záleský who were later all to join the RAF in WW2.
Czechoslovak Air Force:
On reaching 18, he joined the Military Aviation Academy at Prostějov as a cadet on 1 October 1932 until 31 July 1934.
His military service commenced on 1 August 1934 and he was assigned to the Training Squadron of the 1st Air Regiment at Prague-Kbely airbase with the rank of svobodník (LAC). Shortly after he was posted to the Regiment's 4th Observation Squadron at the airbase where he remained until 28 September 1937. During that period he completed his pilot and night-flying training and had reached the rank of četař (Sgt).
Stanislav was then selected for fighter pilot training and was assigned to the Military Aviation Academy at Hradec Králove. He passed his training on 15 February 1938 and was posted to the 4th Air Regiment. In May 1938 Czechoslovakia partially mobilised its military forces to counter the build-up of German forces along its border. On 30 June he was assigned to the Regiment's 32nd Fighter Squadron who were equipped with B-534 biplane fighter aircraft.
However, the threatening overtures by neighbouring Nazi Germany regarding the Sudeten regions – the German speaking areas – of Czechoslovakia caused the Czechoslovak Government to declare a mobilisation on 23 September 1939, culminating in the Munich Agreement of 30 September 1939. During this mobilisation, Stanislav served in Moravia and then in Slovakia with the 32nd Fighter Squadron.
Despite assurances given by Hitler at the Munich Agreement, also known as the 'Munich Dictat' or 'Munich Betrayal' in Czechoslovakia, of 30 September 1938, that he had no further interest in territorial gains for Germany, just a few months later he extended his demands that the remaining regions of Czechoslovakia become part of Germany.
When the Germans occupied Czechoslovakia, on 15 March 1939, it became a German Protectorate – the Reich Protectorate of Bohemia-Moravia – and Slovakia became a German 'puppet' state. The Czechoslovak Air Force and Army was disbanded and all personnel demobilised. By this time Stanislav had achieved 850 flying hours.
German Occupation:
Upon German occupation, Germanisation of Bohemia and Moravia began immediately. But just four days later, on 19 March 1939, former Senior officers of the disbanded Czechoslovak military had started to form an underground army, known as Obrana Národa [Defense of the Nation]. Obrana Národa also worked in co-operation with Svaz Letců, the Airman Association of the Czechoslovak Republic. One of their objectives was to assist as many airmen and soldiers as possible to get to neighbouring Poland where they could be formed into military units to fight for the liberation of their homeland. These two organisations provided money, courier and other assistance to enable airmen to escape to Poland. Usually, this was by crossing over the border from the Ostrava region. Stanislav was one of the many Czechoslovak airmen and soldiers who saw it was their duty to go to Poland from where they could fight to achieve the liberation of Czechoslovakia.
Polish Disappointment:
On 8 June 1939, Stanislav covertly crossed the border, near Radvanice, into Poland and reported for duty to the Czechoslovak Consul in Krakow. However, at this time, the Polish Authorities, whilst recognising the new puppet State of Slovakia, showed little interest in the Czechoslovak military who were escaping across their border in groups and would not allow independent Czechoslovak units to be established on its territory as they were concerned about antagonising neighbouring Nazi Germany. Only after lengthy negotiations between Czechoslovak Diplomats in France and Great Britain, and the French Government, did the French agree to admit 4,000 Czechoslovaks into the French Foreign Legion – French law did not permit foreign military units to be on its territory in peacetime. Thus the Czechoslovak escapees would be required to join the French Foreign Legion for a five-year period with the agreement that, should war be declared, they would be released from their French Foreign Legion contract and transferred to French military units. The alternative was to be returned to occupied Czechoslovakia and face German retribution for escaping – usually imprisonment or execution with further retribution to their families.
In the interim, the Czechoslovak escapees were sent to Bronowice Małe, a then derelict former Polish Army barracks from the Austro-Hungarian era, on the outskirts of Krakow which was then being utilised as a temporary transit camp for the escaped Czechoslovak military and was already well inhabited with them.
On 25 July 1939, Stanislav and 189 other Czechoslovak military escapees boarded the express train at Kraków railway station and travelled to the Polish Baltic port of Gydnia for their onward travel to France.
By now however, the Polish Authorities realised that conflict with Nazi Germany was now inevitable and it was just a question of when, and so were beginning to make preparations for the defence of Poland; this included trying to stem the large number of Czechoslovak airmen and soldiers who were being taken to France and instead have them join the Polish military.
This latest group of Czechoslovaks, was then the fourth which was departing to France. At Gdynia they airmen were approached by Polish Officers who asked that they stay, and join the Polish Air Force – but would only offer them non-commissioned military ranks which the Czechoslovak Officers refused to accept.
The following day the Czechoslovaks boarded the 'SS Kastelholm', a 921 tonnage Swedish coastal-cruising ship and they sailed to France. Part of the voyage down the Baltic Sea was very rough, even to airmen who were used to flying in turbulent conditions, and so the ship's stop at the Danish port of Frederikshaven to re-supply was a welcome relief for the Czechoslovaks onboard. After a five-day voyage, they arrived in the early hours of 30 July 1939 at Calais, France.
France:
On arrival at Calais, Stanislav and his fellow escapees were taken to Place Ballard, Paris, the Foreign Legion's recruitment centre and accepted into the French Foreign Legion, at the rank of Soldat, on 25 August 1939. But before he could be taken to the Legion's training camp at Sidi-bel-Abbles, in Algeria, war was declared. Instead Stanislav was transferred to the l'Armée de l'Air and on 11 September posted to École de Pilotage (pilot's school) at Avord airbase for re-training on French aircraft. On 16 January 1940, now at the rank of caporal-chef, he was assigned to Centre d'Instruction de Chasse at Chartres for training on French fighter aircraft.
The Germans commenced their Blitzkreig invasion on Western Europe on 10 May 1940, by invading Holland, Belgium and Luxembourg and then continuing Westwards into France. By this time Stanislav had completed 17 flying hours in training at Chartres, but with the now urgent need for operational fighter pilots to defend France, he and fellow Czechoslovaks, František Bernard, Stanislav Plzák, Karel Šeda and Josef Hýbler were posted to GC II /2 who were based at Plessis-Belleville airbase, about 40km North-East of Paris, and equipped with MS-406c fighter aircraft. The following day they were also joined by Bohumír Fürst.
The rapidity of the German Blitzkreig caused GC II/ 2 to frequently have to change their airfields as they retreated westward and by mid June they were now at Fréjorgues airbase near Montpellier- in Southern France.
During the Battle of France with GC II /2, Stanislav had flown 33 combat flights, totalling some 36 operational hours and had achieved combat success:
| Date: | Time: | Type Flown: | Action: |
| --- | --- | --- | --- |
| 01.06.40 | 15:35 | MS406, 155 | a He III shared victory near Pontarlier |
| 05.06.40 | 20:00 | MS406 | 2 Me 109e shared victories near Roye |
When France capitulated, the Czechoslovak airmen were released from their l'Armée de l'Air service. The Commander of GC II /2 had the Czechoslovak airmen in his unit flown to Perpignan, in Southern France near the Mediterranean coast, in a Lockheed L-12 transport aircraft. From Perpignan they travelled to Port Vendrés, about 30km away on the coast from where, on 24 June, they boarded the 'General Chanzy' which sailed to Oran, Algeria. From Oran, the Czechoslovak airmen travelled for four days by train across the Sahara Desert to Casablanca from where they boarded the 'Gib-el-Dersa' which sailed at 15:12 on 29 June 1940, to Gibraltar, arriving at 11:00 on 30 June. Here they changed ships to the 'Neuralia' and sailed on 2 July, in a convoy of about another 30 ships, for Liverpool, England, arriving on 12 July 1940. Along with most of the Czechoslovaks, Stanislav's path first led to the Czechoslovak resettlement camp at Cholmondeley Park, near Chester.
RAF:
On 20 July, Stanislav was transferred to the Czechoslovak Airman's Depot at Cosford, near Wolverhampton. There he was accepted into the RAF Volunteer Reserve on 25 July and on 6 August was posted, at the rank of Sgt, to the newly formed 310 (Czechoslovak) Sqn based at Duxford. They were equipped with Hurricane Mk I aircraft and commanded jointly by S/Ldr Alexander Hess, the first Czechoslovak to command an RAF squadron, and S/Ldr George D.M Blackwood.
After rapid re-training on Hurricanes and some basic English lessons for the Czechoslovak pilots, 310 Sqn was declared operational on 17 August and made its first operational patrol at 14:10 on 18 August.
Due to a surplus of pilots at 310 Sqn, on 27 August 1940, Stanislav, along with fellow Czechoslovak pilots P/O František Doležal, P/O František Hradil and Sgt František Marek, were sent on attachment to 19 Sqn at nearby Fowlmere where they retrained on Spitfires Mk IAs. They were noted as being very keen and eager to have a crack at the Luftwaffe.
Stanislav made his first operational patrol in the Battle of Britain on 2 September, flying Spitfire R6890, in the squadron's 'B' Flight. It was a 65 minute uneventful patrol over Debden at 15,000 feet with no Luftwaffe aircraft sighted. That day he was to make a further three operational flights with a further 15 flights before that battle finished on 31 October.
Along with the Duxford based squadrons of 242 Sqn, and 310 (Czechoslovak) Sqn, 19 Sqn formed part of the Duxford Wing, No. 12 Group's 'Big Wing' formation, which was commanded by 242 Sqn's Douglas Bader. The Big Wing first flew operationally on 7 September 1940 and two days later 302 (Polish) Sqn and 611 Sqn were added to it.
With 19 Squadron Stanislav achieved combat success during the Battle of Britain:
| Date: | Time: | Type Flown: | Action: |
| --- | --- | --- | --- |
| 06.09.40 | 10:15 | Spitfire K9851 | Me 109e probable over Hornchurch |
| 18.09.40 | 17:50 | Spitfire N3039 | Ju 88a victory, near Gillingham, Kent |
| 27.09.40 | 12:15 | Spitfire X4267 | Me 109e victory, near Sandwich Kent |
His first combat success in the Battle of Britain came on 6 September, his 4th flight of the Battle. The squadron was on patrol at 15,000 feet over Hornchurch, Essex, when they encountered a Luftwaffe formation of about 100 Me109 fighter and 40 bomber aircraft. That day Stanislav was flying Spitfire K9851 as Green 2 in 'B' Flight who were ordered to attack the bombers, while 'A' Flight dealt with the fighters.
The Me 109s dived straight onto 'B' Flight who had had insufficient height to attack the bombers and so 'A' Flight had to turn and climb into the sun in an endeavour to protect 'B' Flight. In the ensuing dog-fight one of the Spitfires was shot down and pilot S/Ldr Pinkham killed, with two others sustaining serious damage. In return, 19 Sqn shot down an Me 110, a probable Do 215 and Stanislav a Me109 certain. His report of this combat is:
E/A sighted at 10:10. I was flying in formation on the left in Green section. E formation at 17,000 ft flying Westwards + turned South into the sun on being attacked by another squadron E/A were dark green on top, light green below, cross in white frame. E/A did not try to attack. I singled out one which was trying to escape another attacker + I fired at him from the rear + above (1 second). E/A wobbled + continued to dive on its back at an angle of 60°. I followed + gave him another 2-3 sec burst + he fell into a right spin. Black smoke emerged but I was unable to follow as I was attacked by a 2nd Me109. E/A had not tried to return my fire.
I escaped the second Me109 by going into a dive on my back and making an Immelmann turn.
Stanislav's next combat success came on 18 September, his 6th flight of the Battle. At 12:40 that day, the squadron was on patrol with the Big Wing at 25,000 feet over London, when they sighted a Luftwaffe formation of Me110s, Ju88s and HeIIIs East of London. At 17:50, 19 Sqn attacked the Ju88s and chased them in a South-East direction. Stanislav, flying Spifire N3039, picked out his target; Ju 88A-1 3Z+DT (W.Nr.5104) from 9/KG77 which took evasive action by diving down. From a distance of 50mtrs, Stanislav fired a burst from his machine guns, which knocked out the Ju88's port engine. He then attacked once more, but by then two Unteroffiziers Karl Burkant and Hans Glaeseker of crew had bailed out and survived. Unteroffizier Alfons Kurz and Gefreiter Rudolf Kuhn of that crew were found dead in the wreckage of the aircraft which crashed near Cooling Court, Cooling, North Kent.
Stanislav was able to achieve further combat success with 19 Sqn:
| Date: | Time: | Type Flown: | Action: |
| --- | --- | --- | --- |
| 15.11.40 | 11:30 | Spitfire P7560 | Me 110 victory. over the Thames Estuary |
| 27.06.41 | 21:50 | Spitfire P7532 | Me 109F damaged, near St Omer, France |
By the end of 1940 and into 1941, Luftwaffe flying over the UK had significantly reduced and the RAF, from Spring 1941, began flying offensive operational flights over occupied Northern France and Belgium. During this period Stanislav was already mentally and physically exhausted having served almost continuously for many months under constant stress. Of the 14 Czechoslovak pilots who served with 19 Sqn, he had served the longest, flown the most operational hours and had achieved the greatest combat success.
On 7 August 1941 he received his commission – at the rank of P/O. Later that day he participated in Circus 66, to escort a formation of Blenheim bombers to attack a target at Lille. It was due to be his last sortie before he finished his operational tour after which he would commence a rest period from operational flying to recuperate.
At 10:15, 12 Spitfires from 19 Sqn took-off from Fowlmere to West Malling airfield, Kent, landing there at 10:40 for refuelling prior to making an a Wing sweep over Northern France. They departed from there at 17:20 with 257 and 401 Sqns. The Wing was led by W/Cmdr Robert Tuck DSO, DFC, with Stanislav flying Spitfire Mk IIa P7771.
The Wing crossing the English coast at 17:55 and crossed the French coast at Mardyck. The Wing's role was to patrol the Mardyck to St Omer region in order to cover the withdrawal of Allied bombers returning from a raid on Lille. The Wing was flying in a stepped formation: 257 Sqn leading at 20,000 feet, followed by 401 Sqn at 22,000 feet, followed by 19 Sqn at 24,000 feet. On crossing the French coast many Luftwaffe Me109s were seen to the North at about 26,000 feet and while the Wing was proceeding to St Omer further small formations of Me109s were seen at the same height. The Me109s, in ones and twos, began diving down to attack the Wing and general individual dog-fights commenced resulting in 19 Sqn either trying to fend off the Me109s which were diving at them or trying to get into position from which to deliver their own attacks. On the homeward flight back to the French coast they were attacked by Me 109s from JG2 and JG26 near Calais and encountered flak, which was particularly heavy. It is believed that Stanislav was either hit by flak of fell victim to Luftwaffe fighters, with his Spitfire crashing, with him still onboard, into the English Channel North of Calais. His body was never recovered.
He was 26 years old and in the year he had been in the RAF he had flown 130 operational hours.
P/O Stanislav Plzák, is commemorated on panel 34 at the Air Forces Memorial at Runnymede.
Medals:
1939 – 45 Star with Battle of Britain clasp
Air Crew Europe Star
Defence Medal
War Medal
Válečný kříž 1939 and 2 bars
Za chrabrost
Za zásluhy I.stupně
Pamětní medaile se štítky F–VB
Croix de Guerre avec 2 palme and silver star
Remembered:
Czech Republic :
Plzeň :
He is named on the Memorial for the fallen airmen of Západočeský Aeroklub, at Náměstí Míru, Plzeň.
Also symbolically at the family grave at Plzeň's ústřední hřbitov.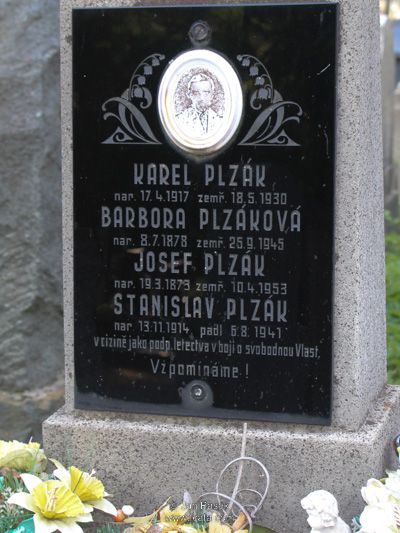 Prague – Dejvice:
He is named on the Memorial for the fallen Czechoslovak airmen of 1939-1945, at Dejvice, Prague 6.

Prague – Klárov:
In November 2017, his name, along with the names of 2507 other Czechoslovak men and women who had served in the RAF during WW2, was unveiled at the Winged Lion Monument at Klárov, Prague.
Great Britain :
He is commemorated, along with the other 2938 Battle of Britain aircrew, on the Christopher Foxley-Norris Memorial Wall at the National Battle of Britain Memorial at Capel-le-Ferne, Kent:
He is also commemorated on the London Battle of Britain Memorial: