Václav CUKR
–
One of the Few
…………….* 16.10.1913. Prague.
…………….† 24.10.89. Christchurch, New Zealand.
Pre WW2:
Václav Cukr was born on 16 October 1913 in Prague, the son of Václav, a hotelier, and Marie, neé Otiskové, Cukr, but grew up in Luhačovice, a Spa Town in the Moravia region of Czechoslovakia, some 260 km South-East of Prague where his father owned the Praha hotel. Here he completed four years at primary school and six years of secondary education before leaving school, aged 15, and began training as an electrician.
On reaching 18, he was required to do his compulsory military service, and on 1 October 1932 joined the Czechoslovak Air Force and was sent to their Military Aviation Academy at Prostějov for his basic military training. On completion he was selected for pilot training.
He completed this on 15 June 1934, graduating as an observation pilot and was posted to the 2nd Squadron of the 1st Air Regiment 'Tomáš Garrigue Masaryk' of the Czechoslovak Air Force. This was stationed at Prague-Kbely airbase and was were equipped with Letov Š-328 reconnaissance biplanes. On 15 September 1935 he attended a night flying course, retraining for bomber aircraft, and graduating on 30 June 1937. On 1 July 1937 he was posted to the 85th Heavy Bomber Squadron of the 6th Air Regiment based Prague-Kbely with the rank of Cetař (Sgt).
The German occupied Czechoslovakia on 15 March 1939 and within a few days the Czechoslovak Air Force and Army were disbanded and all personnel demobilised. By this time he had completed 1496 flying hours.
To Poland:
But just four days later, on 19 March 1939, former senior officers of the now-disbanded Czechoslovak military had started to form an underground army, known as Obrana Národa [Defence of the Nation]. Obrana Národa also worked in co-operation with Svaz Letců, the Airman Association of the Czechoslovak Republic. One of their objectives was to assist as many airmen and soldiers as possible to get to neighbouring Poland where they could be formed into military units to fight for the liberation of their homeland. These two organisations provided money, courier and other assistance to enable airmen to escape to Poland. Usually, this was by crossing the border from the Ostrava region because of the close proximity of the 'new' Polish border since Poland had occupied the Český Těšín region of Czechoslovakia on 10 October 1939.
Having been denied the chance to resist the occupying Germans, Václav was one of the many Czechoslovak airmen and soldiers who saw it was their duty to go to Poland from where they could fight to achieve the liberation of Czechoslovakia.
On the night of 13 June 1939, with other former Czechoslovak airmen, they smuggled themselves aboard a coal-train near Kunčice, Ostrava, which took them over the border to Poland. They then reported to the Czechoslovak Consulate in Krakow and were sent to Malý Bronowice, a former Polish Army barracks on the outskirts of Krakow which was now utilised as a temporary transit camp for the escaped Czechoslovak military.
However, the Polish Authorities, who recognised the new puppet State of Slovakia, showed little interest in the Czechoslovak military who were escaping across their border in groups and would not allow independent Czechoslovak units to be established on its territory as they were concerned about antagonising neighbouring Nazi Germany. Only after lengthy negotiations between Czechoslovak Diplomats in France and Great Britain, and the French Government, did the French agree to permit 4,000 Czechoslovaks into the French Foreign Legion – French law did not allow for foreign military units to be on its territory in peacetime, and the Czechoslovak escapers would be required to join the French Foreign Legion for a five-year period with the agreement that, should war be declared, they would be transferred to French military units. The alternative was to be returned to occupied Czechoslovakia and face German retribution for escaping – usually imprisonment or execution with further retribution to their families.
On 25 July 1939, Václav and 189 other Czechoslovak military escapees, were taken by train to the Baltic port of Gydnia, Poland. The following day they boarded the 'SS Kastelholm' and sailed to Calais, France. Part of the voyage down the Baltic Sea was very rough, even to airmen who were used to flying in turbulent conditions, and so the 'SS Kastelholm' stop at the Danish port of Frederikshaven to re-supply was a welcome relief for the Czechoslovaks onboard. After a five-day voyage, they arrived in Calais on 31 July 1939.
France:
Initially, Václav and his fellow escapees were transferred to Place Ballard, the Foreign Legion's recruitment depot at Paris, to undergo medical checks, whilst the necessary documentation was prepared for their enlistment into the Legion pending their transfer to the Legion's training base at Sidi bel Abbes, Algeria. During this time they attended French classes and any free time was usually spent in Paris exploring the sights and practising their newly learnt French with the girls they met. Before that process could be completed, war was declared and instead Václav and the other Czechoslovak airmen were transferred to the l'Armée de l'Air at their recruitment centre at Dugny, near Paris. On 6 October 1939, at the rank of Corporal, he was transferred to Centre d'Instruction de Chasse for re-training on French Potez XXV and Morane-Saulnier MS.230 elementary trainers and then the Morane-Saulnier MS-406c fighter aircraft at Chartres, the l'Armée de l'Air training airbase.
He was accepted into l'Armee d'Air and on 6 October 1939 assigned to CIC Chartres for re-training on French equipment during which he achieved a further 28.19 flying hours. On 8 March 1940, after completing an air-gunnery course at Montpellier, together with fellow Czechoslovak pilots Jaroslav Gleich and Otto Pavlu, Václav was posted as an operational pilot, with the rank of Caporal Chef, to GC II/3 who were equipped with MS-406c fighter aircraft and stationed at Connantre. By mid-May, they were re-equipped with Dewoitine D-520 fighter aircraft.
The Germans invaded France on 10 May 1940. During the ensuing Battle of France, Václav flew 45 operational hours, achieving combat success during the heavy fighting with the Luftwaffe:
Date:

Time:

Type Flown:

Action:

20.04.40

11:40

MS-406

1/6 share of a He III H-2
near Maubeuge-Maastrichtnear

22.05.40.

17:10

D-520

½ share of a Hs 126, South of Arras

22.05.40.

17:10

D-520

Ju 87 B, South of Arras

24.05.40.

13:45

D-520

¼ share of a Do 17, 5 km East of Aulnoye-Aymeries

26.05.40.

19:45

D-520

½ share of a Do 17, East of Picquigny

07.06.40.

10:35

D-520

Observation ballon, 10 km North of Poix


07.06.40.

18:45

D-520

½ share of a He 111, 3 km West of Bray

07.06.40

18:55

D-520

Bf 109 E, Harbonniéres

08.06.40.

15:00

D-520

Ju 87 R, Valily-sur-Aisne
The success of his first victory of a 1/6 share of a He III on 20 April was marred somewhat as the combat was over Belgium, which was neutral at that time, and due to engine failure of his MS-406 Václav was forced to make an emergency landing at Rosée, near Florennes, Belgium. The Belgians adhered to strict neutrality at the time, and Václav was sent to a Belgium internment camp, from which he was paradoxically liberated only by the German invasion of Belgium. The Germans began their Western offensive on 10 May 1940, invading Belgium, so that they could go around the French Maginot Line. That day, Václav was released from his internment and sent back to his unit in France. He achieved two more combat victories on 22 May 1940, but a due to his D-520 running out of fuel, had to make a forced landing near Betz-Bouillancy, just 50 km from Paris, where GC II/3 where now deployed. Here he was almost shot by nearby demoralised French soldiers who had mistaken the identity of his aircraft.
Two days later, Václav was shot down after combat success with a Dornier Do 17 bomber, but his D-520 was badly damaged by a Me110, forcing him to make another forced landing near Aulnoye-Aymeries in Northern France. He was unharmed and returned to his unit the following morning.
His final combat success in the Battle of France was on 8 June 1940 when with fellow Czechoslovak GC II/3 pilot, Stanislav Peroutka, he attacked a formation of five Ju 87 dive bombers from I./StG 2. In the ensuing combat he shot down one of the Ju 87, but accurate gunfire from another hit the engine of his D-520, and one of the bullets pierced his front windscreen, creasing his temple. Blood from the wound nearly blinded him, forcing him to make a forced landing at Cramaille, about 90km East of Paris. The area had already been over-run by advancing forward units of the German Wermacht but he managed to evade capture and cross back into French-held territory where he collapsed unconscious. He was found by French soldiers who took him to the hospital at Chateau-Thierry. After treatment for his wounds he quickly left to avoid capture by the advancing Germans.
During the Battle of France, Václav had flown 45 operational hours, and was credited with the destruction of eight Luftwaffe aircraft and one Observation balloon making him the 3rd most successful Czechoslovak pilot of that battle.
With the French capitulation imminent, Václav and other Czechoslovak airmen were released from their l'Armee d'Air service and they made their way to Port Vendres from where, on 24 June 1940 they boarded the 'General Chanzy' and sailed to Oran, Algeria. From there, they went by train to Casablanca, Morocco, and after a five-day wait were able to board the ship' Gib-el-Ders' which took them to Gibraltar. Here they transferred to the 'Neuralia' which sailed in a convoy to England, arriving at Liverpool on 12 July 1940.
RAF:
On 6 August 1940, Václav was accepted into the RAF Volunteer Reserve, at the rank of AC2. The following day he was posted, with other Czechoslovak pilots, to the newly formed 310 (Czechoslovak) Sqn at Duxford which was equipped with Hurricane Mk I fighter aircraft. Here he was promoted to the rank of Sgt and with his fellow Czechoslovak pilots was re-trained on Hurricane aircraft and taught rudimentary English, being tutored by Louis de Glehn for three lessons per week. By 17 August, 16 of the pilots had completed their re-training, enabling 'A' and 'B' Flights to be assembled and the squadron was declared operational.
However, by this date Václav and 18 other pilots had not yet reached the required standard, and with all of the squadron's Hurricanes needed to participate in the Battle of Britain, there were no spare aircraft for further retraining to continue. Instead these reserve pilots were posted to 6 OTU at Sutton Bridge for their retraining to continue. Václav completed this on 10 September and was posted to 43 Sqn at Unsworth where he was assigned to the squadron's 'A' Flight. 43 Sqn had a training role and he was with them for only for 18 days during which he flew six practice flights until 28 September, totalling 4.25 hours.
On 28 September he was posted to 253 Sqn who were stationed at Kenley and equipped with Hurricane MkI aircraft. The following day, flying Hurricane N2455, he made his first operational flight in the Battle of Britain in a 45 min patrol in the Sevenoaks area at 15,000 feet to intercept a formation of about 70 Me110s and some Me109s. Václav, flying as Yellow 2, engaged in three separate attacks during the resultant dogfight. However, during the Battle of Britain he was unable to continue the combat success he had attained in France.
With 253 Sqn he made 32 operational flights, totaling 29.58 hours, the last one being an interception patrol on 6 March 1941. Unfortunately, the head injury he had received in France started to trouble him and affect his flying. Following medical tests he had to cease operational flying and on 12 March 1941 was posted, at the rank of F/Sgt, to 52 OTU at Debden where he was to remain for the next two years as a flying instructor. Whilst there, Václav received his commission, with the rank of P/O on 14 August 1941. Further promotions followed; F/O on 1 January 1943 and to F/Lt on 14 August that year.
He was posted, on 15 January 1943, to 20 MU [Maintenance Unit] at Aston Down as a test pilot for the SOA Technical Unit. Here he also commanded a small Flight which converted multi-engined trained pilots to fly single-engined fighters.
On 4 July 1943 he took-off from Aston Down for a test flight in a North American Mustang Mk I AG489. At about 11:30, he was in aerial collision over Nether Lyppiat, two miles North of Brimscombe, Gloucestershire, with Spitfire Mk II P7918, flown by a pilot trainee from 52 OTU. Václav managed to bail out but was at low altitude – about 80 to 100 mtrs – and the parachute was unable to fully deploy. He landed on a tree-top which helped to cushion the fall but was seriously injured with both legs and pelvis broken, and with fractured ribs and lacerations. The Mustang had crashed just 15 mtrs from that tree. He was immediately taken to hospital at RAF Wraughton where the Doctors gave him little chance of survival.
He recovered from this ordeal but was to spend the remainder of the war at the RAF Rehabilitation unit at Loughborough.
Post WW2:
He returned to Czechoslovakia on 13 August 1945. Initially he remained in the Czechoslovak Air Force with the rank of nadporučík, but because of his injuries he was invalided out of the Service at the rank of štábní kapitán [S/Ldr]. In October that year he was elected Vice-Chairman of Svazu Letců, the Airmens Association of Czechoslovakia.
2nd Exile:
Following the Communist take-over of Czechoslovakia in February 1948, he was aware that he was going to be arrested because of his RAF service. Despite his invalidity, with the assistance of Jaroslav Doležal, Miroslav Mansfeld, Stanislav Peroutka, Karel Pošta and Václav Raba, all former RAF colleagues, he escaped on foot over the border into the American Zone of Germany in May that year.
In spite of having to go into exile for a 2nd time, the patriotism in Václav for a free Czechoslovakia – this time from Communism – was still in the forefront for him. In Germany, he joined the Czechoslovak Intelligence Office [CIO], a Czechoslovakia exile intelligence service, run since December 1948 by Generals Sergěj Ingr and František Moravec, both of the former Czechoslovak Government in Exile in London during WW2. At that time CIO was the most effective espionage organisation working against the Communists in Czechoslovakia in Europe, better than the British, the Americans or anyone else and was financed by MI6.
Václav became a naturalised British subject in December 1949 and within CIO, under the codename 'Measure', Václav first managed their operation in Zurich, Switzerland, and from 1955 in Hamburg, Germany. In undertaking his intelligence work, he worked in cooperation with the British Secret Intelligence Service, also known as MI6.
Due to a changes in the Cold War situation and the infiltration of a Communist StB mole, the Czechoslovak double agent Karel Zbytek codename 'Light', CIO was disbanded in 1957. Václav returned to England, changed his name to Viktor Eric Cooper and emigrated to New Zealand.
He died in Christchurch, New Zealand on 24 October 1989, aged 76. Just a few weeks later the Velvet Revolution took place in Czechoslovakia heralding the end of its Communist regime.
Medals:
For his wartime service, in three Air Forces, he was awarded the following medals:
1939–1945 Star with Battle of Britain Clasp
Air Crew Europe Star
Defence Medal
War Medal

Valečný kříž and bar
Za chrabrost před nepřítelem

Za zásluhy I. st.
vojenská pamětní medaile se štítky F a VB
Légion d'Honneur au grade de Chevalier
Médaille Militaire,
Croix de Guerre avec 5 palmes et 3 etoiles de vermeil
Remembered:
England:
He is commemorated, along with the other 2938 Battle of Britain aircrew, on the Christopher Foxley-Norris Memorial Wall at the National Battle of Britain Memorial at Capel-le-Ferne, Kent:
He is also commemorated on the London Battle of Britain Memorial: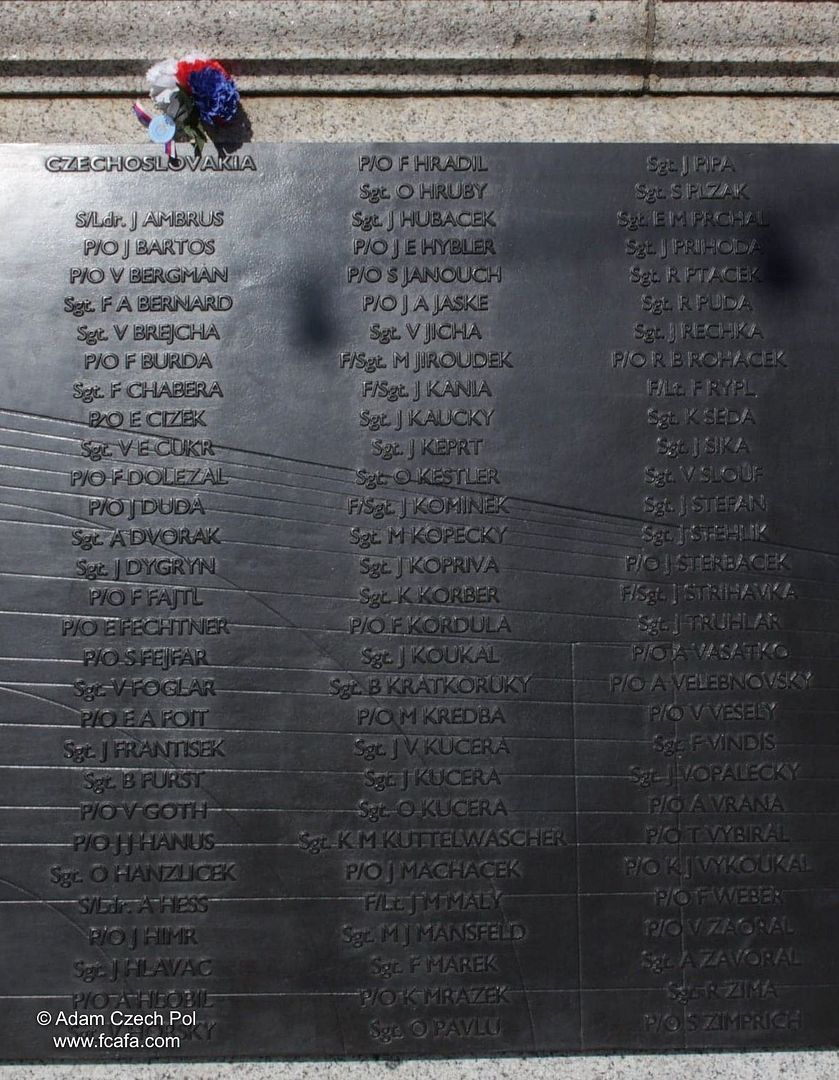 Czech Republic:
In November 2017, his name, along with the names of 2512 other Czechoslovak men and women who had served in the RAF during WW2, was unveiled at the Winged Lion Monument at Klárov, Prague.