Josef Komínek
One of the Few
…………….* 31.10.1913, Prague.
…………….† 08.06.1941, Girton, UK.
Pre WW2:
Josef Komínek was born on 31 October 1913, the son of Josef and Marie Komínek, in Prague, which at that time was then part of the Austro-Hungarian Empire. After completing his 5 years at Primary and 4 years of Secondary education, he was accepted for a training course in electro-mechanical engineering.
On reaching 18, he was required to do his compulsory military service, and on 1 October 1932 enlisted in the Czechoslovak Air Force and was sent to their Military Aviation Academy at Prostějov as a cadet for his basic military training. There he was selected for pilot training which he successfully completed, and was posted to the 4th Air Regiment.
The threatening overtures by neighbouring Nazi Germany regarding the Sudeten regions – the German speaking areas – of Czechoslovakia caused the Czechoslovak Government to declare a mobilisation on 23 September 1938. Following this threat, Chamberlain, Daladier, Hitler and Mussolini met in Munich. The outcome of this was the Munich Agreement of 30 September 1938 wherein the Sudeten regions were ceded to Germany. Eduard Beneš, the Czechoslovak President, was not invited to participate in the discussion concerning the future of his country. He was merely told by Chamberlain and Daladier to either accept the agreement or Czechoslovakia would have to defend itself without any support from Britain and France, despite there being a tri-lateral defence agreement between the three countries.
An unfortunate consequence of the Munich Agreement was that other regions of Czechoslovakia were now also claimed by its neighbours; Poland occupied the Český Těšín region in the east, whilst Hungary occupied the southern regions of Slovakia and Carpathian Ruthenia.
Despite Hitlers claims at that time of not wishing any further territory from Czechoslovakia, by March 1939 Nazi Germany took a different stance. Under pressure from Hitler and Mussolini with the threat of an immediate and destructive invasion, and an absence of any support from its Alliance Treaty partners of France and Great Britain, Emil Hácha, the Czechoslovak President ceded to their demands. In the early hours of 15 March 1939, President Hácha, ordered all Czechoslovak military units to stand down, remain in their barracks and not resist the occupation. By dawn that day, the Germans began their occupied of Czechoslovakia. Germanisation of Bohemia and Moravia began immediately; they were now the Reich Protectorate of Bohemia and Moravia (Protektorat Böhmen und Mähren), while Slovakia in return for their allegiance to Nazi Germany, had become the 'puppet' independent state of Slovakia. Within a few days of their occupation, the Germans disbanded the Czechoslovak military and all personnel were dismissed.
Just four days later, on 19 March 1939, former Senior officers of the now-disbanded Czechoslovak military started to form an underground army, known as Obrana Národa [Defence of the Nation]. Obrana Národa also worked in co-operation with Svaz Letců, the Airman Association of the Czechoslovak Republic. One of their objectives was to assist as many airmen and soldiers as possible to get to neighbouring Poland where Ludvík Svoboda, a former distinguished Czechoslovak Legionnaire from WW1, was planning the formation of Czechoslovak military units to fight for the liberation of their homeland. These two organisations provided money, courier and other assistance to enable former military personnel to escape to Poland.
For the former military personnel and many patriotic Czech citizens, this was a degrading period. Many sought to redress this shame and humiliation and wanted to fight for the liberation of their homeland. Within Czechoslovakia, former military personnel and civilian patriots covertly started to arrange for former Air Force and Army personnel to be smuggled over the border into Poland to join these newly-formed Czechoslovak units. These two organisations provided money, courier and other assistance to enable these military personnel airmen to escape to Poland. Usually, this was by crossing the border from Czechoslovakia's Ostrava region.
To Poland :
With the help of those two organisations, Josef successfully managed to covertly cross the border into Poland and reported to the Czechoslovak Consulate at Kraków.
Up to Summer 1939, once in Poland, the Czechoslovak escapers were to find that Poland was not permitting the formation of foreign military units on its territory. However Czechoslovak officials in Poland had been in negotiations with France, a country with which Czechoslovakia had an Alliance Treaty. Under French law, foreign military units could not be formed on its soil during peacetime. The Czechoslovak escapees, however, could be accepted into the French Foreign Legion, but with the agreement that should war be declared, they would be transferred to French military units. The Czechoslovaks would, however, have to enlist with the French Foreign Legion for a five-year term. The alternative was to be returned to occupied Czechoslovakia and face German retribution for escaping – usually imprisonment or execution with further retribution to their families.
But, by the Summer of 1939, the Polish Authorities were now realising that it was now only a matter of time before they would be attacked by Germany and so now escaped Czechoslovak military personnel were eagerly being sought to assist the Polish military.
Unlike the majority of their comrades, instead of travelling to France, some 93 Czechoslovak airmen, including Josef, elected to remain in Poland and join the Polish Air Force as 'civilian' instructors. Josef was accepted at the rank of sierżant (Sgt). The group were then transferred to Dęblin airbase, about 90km southwest of Warsaw, where the Polish Air Force had their Central Military Aviation Training Academy. Here, Josef and his colleagues re-trained on Polish PWS-26, RWD-8, RWD-14 and other aircraft, all of which were obsolete, when the airmen compared them to the aircraft that the Czechoslovak Air Force had been equipped with. Josef and his Czechoslovak colleagues were very surprised to find, that despite the now certainty of a German invasion, that at the airbase there were still no anti-aircraft machine guns or air-raid shelters in position.
The Germans invaded Poland on 1 September 1940 and early on the morning of the following day, the airbase was bombed by a Luftwaffe formation of Do 17 bombers, with Me 109 fighter escort. During the air-raid, Josef witnessed fellow Czechoslovak airmen Lieutenant's Štefan Kurka, Zdeněk Rous and Ondřej Šandor being killed in the raid whilst he and others were wounded. When Poland fell, Josef and his fellow Czechoslovaks at Dęblin were evacuated with Polish military units to Romania and then onto France.
To France :
It is believed that he remained with Polish units in France but it is still unclear about his actual activities as many of the Polish and l'Armee d'Air records were lost during the Battle of France.
When the capitulation of France was imminent in mid June 1940, Josef had managed to reach Bordeaux, in South-West France. From there, on 19 June 1940, with Czechoslovak and Polish airmen, he was evacuated aboard the 'Karanan', a small 395 tonne Dutch cargo ship, for the voyage to Britain. They sailed on 19 June and arrived two days later at Falmouth, which was good timing as France capitulated on 22 June 1940.
RAF :
After arriving at Falmouth, the Czechoslovak airmen were transferred to RAF Innsworth, Gloucestershire for security vetting. Josef was accepted into the RAF Volunteer Reserve, at the rank of Sgt and transferred to the Czechoslovak airmen's Depot at Cosford, near Wolverhampton. On 15 July, with other Czechoslovak pilots, he was posted to the newly formed 310 (Czechoslovak) Sqn which was based at Duxford, near Cambridge. They were equipped with Hurricane Mk I aircraft and jointly commanded by S/Ldr Alexander Hess, the first Czechoslovak to command an RAF squadron, and S/Ldr George D.M Blackwood.
After rapid conversion to Hurricanes and some basic English lessons, taught by Louis de Glehn, the squadron was declared operational on 17 August and participated in the Battle of Britain. Josef had completed his Hurricane conversion and was passed for duties as an operational pilot. He made his first operational flight in the Battle of Britain on 23 August. Flying Hurricane P8814. Flying as Green 1 and led Sgt Josef Hubířč and P/O Stanislav Zimprich of that section for a uneventful convoy patrol, taking-off at 15:45 and returning to Duxford at 17:35.
During the Battle of Britain, Josef made a further 42 operational flights totalling some 45 hrs 44 min. During this period he achieved combat success:
| Date: | Time: | Type Flown: | Action: |
| --- | --- | --- | --- |
| 03.09.40 | 10:45 | Hurricane R4085 'A' | Do 17 probable near North Weald. |
| 15.09.40 | 12:05 | Hurricane V7304 'C' | Do 17z victory near Rotherfield |
| 27.09.40 | 12:30 | Hurricane P3889 'S' | Me 109e victory over the English Channel |
The first came on 3 September 1940, his 9th operational flight of the Battle. That day the weather was fine with good visibility. 310 Sqn, led by F/Lt Jefferies were ordered to patrol the Hornchurch area at 20,000 ft. That day Josef was flying Hurricane R4085 and 310 Sqn had taken off at 09:25. On approaching the patrol area a large formation of Luftwaffe aircraft, numbering 150+ Do215 bombers and Me110 fighter escorts were seen making for North Weald airfield from the South East. The squadron thereupon climbed to 25,000 ft and attacked, in line astern out of the sun. The enemy aircraft remained at 20,000 ft but turned East after dropping their bombs on North Weald airfield. During that dog-fight Josef attacked and achieved a 'probable' victory. His combat report of that action is:
The first attack was carried out on Me.110 from above from the port behind and above Sgt Koukal. The enemy aircraft which he attacked crashed down. I broke away and attacked immediately a single Do.215 fom the starboard and below. I opened fire at 100 yds and ceased it at 50 yds. The enemy aircraft turned left and was diving towards the ground. As I had to continue the combat I could not follow it to the ground.
His next success was on 15 September, his 15th flight of the Battle. That day Josef was flying Hurricane V7304 as Blue 2 in 310 Sqn's 'B' Flight in the Tunbridge Wells, Kent area, when at 12:00 they noticed a formation of between 20 to 30 Luftwaffe bombers flying at 15,000 feet. The Hurricanes attacked them and Josef achieved combat success. His combat report is:
I started an attack with the leader of the first Section on already broken up formation of E/A at 15,000 ft. For large number of our fighters I lost the leader of my Section. After the first attack I sighted a Do.215 trying to escape. When I carried out the attack on this aircraft, three Hurricanes joined me and the E/A tried to disappear in clouds. Above the clouds the Hurricanes broke away and I followed the E/A beneath the clouds and made three more attacks. After the third attack at about 200 yards some sheets started to fall off and smoke was pouring from the port engine. The crew dropped the bombs and baled out (3 men). The E/A crashed about 3 miles S.W. of Tunbridge Wells.
Josef's third and final success of the Battle was on 27 September, it was his 25th operational flight. Eleven aircraft from 310 Sqn took-off from Duxford, at 11:55, to patrol the Thames Estuary at 20,000 along with 19 Sqn, 242 and 616 Sqns. At about 12:30 a Luftwaffe formation of 20 to 30 Me109's were sighted between Canterbury and Dover. The order was given to attack and a general dog-fight ensued, during which Josef shot down an Me 109 and saw it dive vertically into the English Channel some 5 miles South West of Dover. Josef landed safely back at Duxford 12:45.
After the Battle of Britain, 310 Sqn remained stationed at Duxford, carrying out numerous uneventful patrols either over South-East England or convey escorts for Allied shipping in the English Channel.
On 2 November 1940, 9 Hurricanes from 310 Sqn took-off from Duxford at 08:15 to patrol Dover at 20,000 feet. Josef was flying Blue 2 in Hurricane Mk I L1842. It was an uneventful patrol for the squadron, but near Eastchurch, Kent Josef's aircraft had an engine failure causing it to catch fire. His altitude was 10,000 feet and he bailed-out, landing safely at Eastchurch, his Hurricane crashed on the Isle of Sheppey, Kent.
Last Flight:
Josef was killed on 8 June 1941 during a test flight near Cambridge. He had taken-off in Hurricane Mk IIa Z2562 to undertake radio tests prior to using the aircraft operationally. Cloud level was low that evening and so limited visibility. At 21:45, his Hurricane appeared to stall and spin into the ground whilst undertaking a steep turn, whilst flying low near Coes Farm near Girton, Cambridge.
Sgt Josef Komínek was 27 years old. Initially he was buried at Royston and, post WW2, re-interred at grave 28. Section E. 2 at the Czechoslovak section at Brookwood Military cemetery.
Medals :
1939 – 45 Star with Battle of Britain clasp
Válečný kříž 1939
Krzyż Walecznych
Remembered :
Czech Republic :
Prague – Dejvice:
He is named on the Memorial for the fallen Czechoslovak airmen of 1939-1945, at Dejvice, Prague 6.
Prague – Klárov:
In November 2017, his name, along with the names of 2507 other Czechoslovak men and women who had served in the RAF during WW2, was unveiled at the Winged Lion Monument at Klárov, Prague.
He is remembered in the Remembrance book at St Vitus Cathedral, Prague.
He is remembered on the Memorial Plaque at the Vojenský Ústřední Archiv, Prague.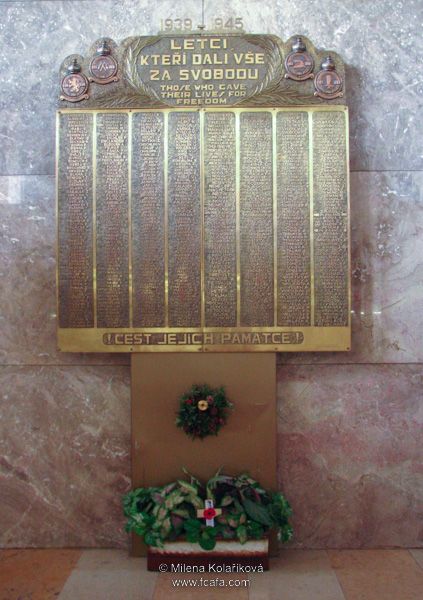 Great Britain :
Duxford:
He is commemorated on a memorial plaque, along with eight other 310 Sqn Czechoslovak airmen who were killed whilst stationed at RAF Duxford during 1940-1941.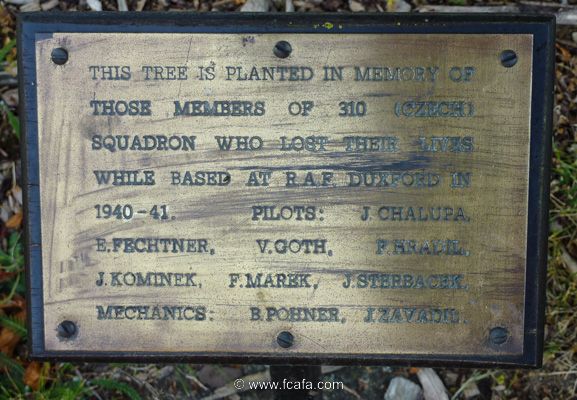 Capel-le-Ferne – National Battle of Britain Memorial:
He is commemorated, along with the other 2938 Battle of Britain aircrew, on the Christopher Foxley-Norris Memorial Wall at the National Battle of Britain Memorial at Capel-le-Ferne, Kent:
London :
He is commemorated on the London Battle of Britain Memorial: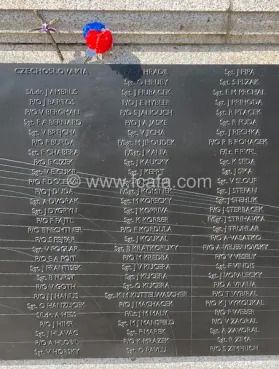 London – St Clement Danes:
He is also remembered in the Remembrance book at St Clements Danes Church, London.
He is remembered on the Memorial Plaque at Bohemia House, formerly the Czech Club, London.