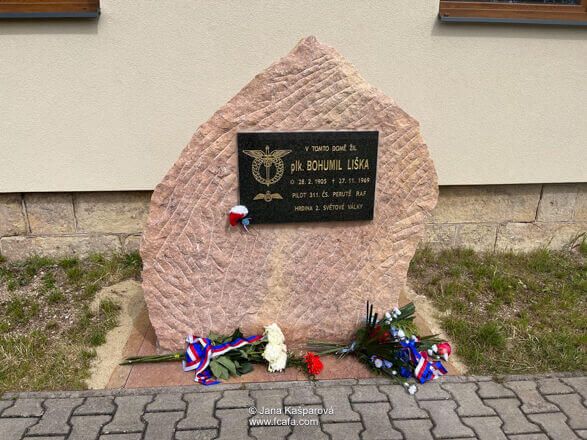 On Sunday the 14th of May 2023, the re-dedication and unveiling of the memorial plaque to W/Cmdr Bohumil Liška, pilot of the 311 (Czechoslovak) Squadron RAF, took place in the town of Lázně Bělohrad.
V neděli 14. května 2023 proběhl v Lázních Bělohrad, u příležitosti znovuodhalení pamětní desky, vzpomínkový ceremoniál na plukovníka Bohumila Lišku, pilota 311. československé bombardovací letky RAF.
The commemorative plaque, first unveiled in 2000, was originally placed on the wall of the house where Bohumil's wife Růženka came from and where he spent the last years of his complicated life. Due to the reconstruction of the house, the plaque was removed and stored safely. After the reconstruction of the property was completed, the City Council of Lázně Bělohrad, headed by the Mayor, decided that a new dignified place would be created for the plaque, on a separate monument in front of the house on whose facade it was originally located.
Pamětní deska, poprvé odhalená v roce 2000, byla původně umístěna na zdi domu, ze kterého pocházela manželka Bohumila Lišky Růženka a ve kterém strávil závěr svého složitého života. Z důvodu rekonstrukce domu byla pamětní deska sejmuta a bezpečně uložena. Po dokončení rekonstrukce nemovitosti rozhodlo zastupitelstvo města Lázně Bělohrad v čele se starostkou, že bude pro desku vytvořené nové důstojné místo, na samostatně stojícím památníku před domem, na jehož fasádě se původně nacházela.
The memorial is carved from unique Bělohrad sandstone with pink-red-purple marble veining on a yellow background, donated by Mr. František Žoček's, from a local quarry named Javorka. Most buildings in the city, as well as important buildings in the region, are built from this stone. In this way, the monument is symbolically connected to the ground and the entire city. The memorial plaque itself was also renovated with the assistance of the owner of the quarry.
Památník je vytesán z unikátního bělohradského pískovce s růžovo – červeno – fialovo mramorovým žilkováním na žlutém podkladu, z místního kamenolomu Javorka pana Františka Žočka. Z tohoto kamene je postavena jak většina staveb ve městě, tak i významné stavby v regionu. Tímto je památník symbolicky propojen se zemí i s celým městem. Při té příležitosti byla péčí majitele kamenolomu renovována i samotná pamětní deska.
The 22nd Helicopter base of the Czech Air Force sent a Guard of Honor, flag bearers with the flag of the Czech Republic and the RAF Biscay flag, to the commemorative event. Also worth mentioning is the presence of a copy of the historical Sokol flag, which President Beneš ceremoniously handed over to Czechoslovak airmen on the occasion of their return to their homeland. This copy is in the possession of the 22nd Helicopter base, it was brought to the event and presented during the ceremony by the representatives of the Bělohrad's Sokol organisation. The guard of honor at the memorial was further completed by re-enactors Lenka Grimová in WAAF uniform in the rank of corporal and Petr Radoch in RAF uniform in the rank of Fl/Lt. The Scouts from Bělohrad were also proudly in attendance, they took their role in the ceremony very seriously and respectfully.
22. základna vrtulníkového letectva vyslala na vzpomínkovou akci čestnou jednotku, vlajkonoše s vlajkou České republiky a biskajským praporem RAF. Za zmínku stojí i přítomnost kopie historického sokolského praporu, který prezident Beneš slavnostně předal československým letcům při příležitosti jejich návratu do vlasti. Tato kopie je v držení 22. základny VL, byla zapůjčena pro potřeby konání akce a během ceremoniálu prezentována bělohradskými zástupci České obce sokolské. Čestnou stráž u památníku dále doplnili re-enactors Lenka Grimová v uniformě WAAF v hodnosti desátník (Cpl) a Petr Radoch v uniformě RAF v hodnosti kapitán (Fl/Lt). Chybět nemohli ani stateční bělohradští skauti, kteří svou roli pojali velmi zodpovědně.
To evoke the atmosphere of that period, the commemorative event began with the reading of the text of the Oath of Members of the Czechoslovak Army valid from 1918 to 1939. Subsequently, the Czechoslovak and British anthems were played by a "special purpose musical group" composed of Rostislav Tvrdík, Vladimír Šádek and Jarek "Houslička" Rafaja. After that, Madam Mayor Alena Kuželová took the floor and in her speech guided the guests through the individual stages of the difficult life of W/Cmdr Bohumil Liška. She was followed at the microphone by a representative of the 22nd Helicopter Base of the Army of the Czech Republic from Náměšť nad Oslavou, which continues the tradition of the 311 (Czechoslovak) Squadron RAF, proudly claims its legacy and bears the honorary title "Biscay". Chief Warrant Officer Pavel Eigl, the base's commanding warrant officer, first greeted the assembled on behalf of the base's commander, Brigadier General Rudolf Straka, and then in his speech described in detail the military career of Colonel Bohumil Liška. He also mentioned the overlap of the ideals for which Czech exile soldiers and the government fought for then and to the present day and their fulfillment by the modern Czech army in protecting the Czech nation and territory, as well as the nations and territories of our allies. At the end, the owner of the quarry, František Žoček, also got the floor and in a short speech informed those present about the details of the creation of the monument.
Pro navození dobové atmosféry byla vzpomínková akce zahájena přečtením textu Přísahy příslušníků československé armády platným v letech 1918 až 1939. Následně zazněly československá a britská hymna v podání "účelového hudebního uskupení" ve složení Rostislav Tvrdík, Vladimír Šádek a Jarek "Houslička" Rafaja. Poté se ujala slova paní starostka Alena Kuželová a ve svém projevu hosty provedla jednotlivými etapami nelehkého života plukovníka Bohumila Lišky. U mikrofonu byla vystřídána zástupcem 22. základny vrtulníkového letectva armády České republiky z Náměště nad Oslavou, která je pokračovatelem tradice 311. československé bombardovací perutě RAF, hrdě se hlásí k jejímu odkazu a je nositelem čestného titulu "Biskajská". Nadpraporčík Pavel Eigl, vrchní praporčík základny, nejprve pozdravil shromážděné jménem velitele základny brigádního generála Rudolfa Straky a dále ve své projevu podrobně rozebral vojenskou kariéru plukovníka Bohumila Lišky. Zmínil i přesah ideálů, za které bojovali čeští exiloví vojáci i vláda do současnosti a jejich naplňování moderní českou armádou při ochraně českého národa a území, stejně jako národů a území našich spojenců. Na závěr dostal slovo i majitel kamenolomu František Žoček a v krátké řeči seznámil přítomné s detaily vzniku památníku.
During the speeches, there was also an attractive point of the program and a planned surprise for all gathered. From the west came the sound of aircraft engines and a pair of historic airplanes Miles M-14A Magister Mk.I (one of only five airworthy examples in the world) and De Havilland DH-82 Tiger Moth Mk.II flew over the ceremony site in formation, both types of aircraft were used during the basic pilot training of Czechoslovaks in the RAF. Then they flew over the heads of the participants at low altitude again and again. After a thrilling display of airmanship lasting several minutes, the pilots waved their wings and went back to their home airport Podhořany (LKPN), from where the planes were selflessly dispatched thanks to the kindness of Mr. Richard Santus by the R.A.F. Station Czechoslovakia.
Během projevů došlo i na atraktivní bod programu a plánované překvapení pro všechny shromážděné. Od západu se ozval zvuk leteckých motorů a nad místem ceremoniálu v ukázkové formaci přeletěla dvojice historických letounů Miles M-14A Magister Mk.I (jeden z pouhých pěti letuschopných exemplářů na světě) a De Havilland DH-82 Tiger Moth Mk.II, tedy oba typy letounů používaných i při základním pilotním výcviků Čechoslováků v RAF. Potom nad hlavami účastníků prolétaly v nízké výšce znovu a znovu. Po strhující několikaminutové podívané se piloti s diváky rozloučili zamáváním křídly a vydali se zpět na své domovské letiště Podhořany (LKPN) odkud byly letouny nezištně vypraveny díky laskavosti pana Richarda Santuse spolkem R.A.F. Station Czechoslovakia.
The highlight of the ceremony was the actual unveiling of the memorial plaque in a new, dignified place. Mayor Alena Kuželová took it upon herself and invited relatives of Bohumil Liška, Věra Matoušková and Vlasta and Václav Drahoňovský to join her. At the memorial, the mayor laid a bouquet for the city of Lázně Bělohrad, Chief Warrant Officer Pavel Eigl for the 22nd Helicopter base and Chief Warrant Officer ret. Tomáš Kašpar, who was also the coordinator of the event, for the Association FCAFA ltd.
Vrcholem ceremoniálu bylo samotné odhalení pamětní desky na novém, důstojném místě. Toho se ujala paní starostka Alena Kuželová a přizvala k němu i příbuzné Bohumila Lišky, paní Věru Matouškovou a Vlastu a Václava Drahoňovských. K památníku položila paní starostka kytici za město Lázně Bělohrad, nadpraporčík Pavel Eigl za 22. základnu vrtulníkového letectva a nadpraporčík vv. Tomáš Kašpar, který byl i koordinátorem akce, za asociaci FCAFA ltd.
© Tomáš Kašpar 2023.