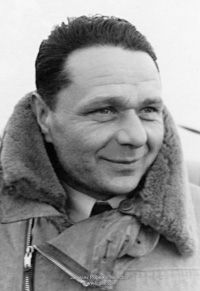 Evžen ČÍŽEK
One of the Few
…………….* 10.12.1904, Slezská.
…………….† 26.11.1942, Cardiff Bay, UK.
Pre WW2:
Evžen Čížek was born on 10 December 1904, at Slezská, near Ostrava, Czechoslovakia.
After graduating from High School, aged 18, he joined the Czechoslovak Army in 1922 at the Army Academy at Hranice from where he graduated in 1924 at the rank of Lieutenant. From 1924 to 1925 he undertook further training at the Infantry School at Milovice. From 1 January to 1 April 1926 he attended post-training course XXIII at Cheb. On graduation Evžen then served in several infantry regiments, holding various lower command positions until 1928 when he transferred to the newly formed Czechoslovak Air Force.
Initially he served as an aerial observer but in 1932 was selected to attend the Military Aviation Academy at Prostějov for pilot training and then further training for fighter pilots and night flying. Having completed his training Evžen was posted to the 1st TG Masaryk Air Regiment, stationed at at Prague-Kbely airbase. In 1934 he was appointed Commander of the Regiment's 43rd Fighter Squadron and on 31 March 1937, having achieved the rank of Staff Captain he was appointed Commander of the Regiments 44th Fighter Squadron (later renamed as the 32nd Fighter Squadron) for the next two years; they were equipped initially with Avia Ba-33 and later Avia B-534 biplane fighter aircraft. Concurrently, he also served as Deputy Commander of the Regiments Fighter Squadron III/1.
By the Autumn of 1938, the political situation in central Europe was now changing rapidly. Hitler and the Nazi's in Germany were making territorial demands on the Czechoslovak Government in respect of the Sudetenland border regions. This resulted in Czechoslovakia calling a general mobilisation and thus all men, of military age, were drafted into the military to help defend the country in the event of invasion. During this period 32 Fighter Squadron were deployed to Moravia and Slovakia, as part of the 3rd Army group, to defend the country's airspace against intruders. The squadron was tasked with having having to defending a 574 km frontline against attack from the Hungarian Air Force and Army.
Following the Munich Agreement of 30 September 1938, when the Sudetenland was ceded to Germany, Poland and Hungary took advantage of the situation and also took some Czechoslovak territory. About 30% of Czechoslovakian territory had been lost and the new revised German border was now only 20 miles from Prague. 32 Fighter Squadron returned to their base at Hradec Králove without having fired a shot.
On 15 March 1939, Germany occupied the remaining regions of Czechoslovakia and claimed that the country was now under the protection of Germany. Czechoslovakia's military forces immediately ceased to exist in this Reich Protectorate. The following day the Czechoslovak Air Force was disbanded and the airmen were given the opportunity to enlist in the Luftwaffe or join Lufthansa. Only a handful did. By the time of of this disbandment, Evžen had achieved 1,262 flying hours and the rank of štábní kapitán [Squadron Leader].
With 32nd Squadron, Evžen had become an inspirational Commander who had fostered an excellent fighting morale amongst the pilots under his command. This manifested to inspired some 75% of them who, after the German occupation of Czechoslovakia, voluntarily left their homeland and made their way via Poland, or later through the Balkans, to France to continue the fight against the Germans.
Poland:
Germanisation of Bohemia and Moravia began immediately after the occupation, but just four days later, on 19 March 1939, former Senior officers of the now-disbanded Czechoslovak military had started to form an underground army, known as Obrana Národa [Defense of the Nation]. Obrana Národa worked in co-operation with Svaz Letců, the Airman Association of the Czechoslovak Republic. One of their objectives was to assist as many as possible airmen and soldiers to get to neighbouring Poland where they could be formed into military units to fight for the liberation of their homeland. These two organisations provided money, courier and other assistance to enable airmen to escape. Usually, this was by crossing the border from the Ostrava region into Poland. Evžen was one of the many Czechoslovak airmen and soldiers who saw it was their duty to go to Poland from where they could fight to achieve the liberation of Czechoslovakia.
He left Czechoslovakia on 15 June 1939 crossing the border into Poland and then to the Czechoslovak Consulate at Krakow, where he reported for duty. Unfortunately, here he was to find that the information about Czechoslovak military units being assembled in Poland had been incorrect; the Polish authorities would not permit it as they were concerned about antagonising Nazi Germany and provoking it to attack Poland.
The Czechoslovak Consulate had however been in negotiations with France, a country with which Czechoslovakia had an Alliance Treaty. Under French law, foreign military units could not be formed on its soil during peacetime. The Czechoslovak escapers, however, could be accepted into the French Foreign Legion with the agreement that should war be declared they would be transferred to French military units. The Czechoslovaks would, however, have to enlist with the French Foreign Legion for a five-year term. The alternative was to be returned to occupied Czechoslovakia and face German retribution for escaping – usually imprisonment or execution with further retribution to their families.
In the interim, whilst arrangements were made for their journey to France, they were transferred to Bronowice Małe, a former Polish army barracks on the outskirts of Krakow. With 546 other escapees, Evžen left Bronowice Małe by train for the Polish Baltic port of Gdynia where, on 29 July, they boarded the MS Chroby, a Polish trans Atlantic passenger ship, on her maiden voyage to South America and on the 1 August arrived at Boulogne, France.
France:
At Boulogne, they disembarked and after some refreshments, they boarded a train for the thirteen-hour journey to Paris. They arrived there at 17:30 and were taken by coaches to the French Foreign Legion's recruitment barracks at Place Ballard, in the South West of Paris. There they had to undergo medical checks and further tests, whilst the necessary documentation was prepared for their enlistment into the Legion and their transfer to the Legion's training base at Sidi bel Abbes, Algeria. During this period they would usually attend French classes and any free time was spent in Paris exploring the sights and practising their newly learnt French with the girls they met. Before that transfer process could be completed, war was declared and Evžen and the other Czechoslovak airmen were transferred instead to the l'Armée de l'Air at their recruitment centre at Dugny, near Paris.
From there, they went to the Centre d'Instruction de Chasse at Chartres, the l'Armée de l'Air training airbase, about 50 miles South-West of Paris, for re-training onto French equipment. On 2 December 1939, having completed his retraining, Evžen, was posted as an operational pilot, with the rank of Lieutenant, to GC III /3, Also posted with him from Chartres were fellow Czechoslovaks Josef Hubaček and Václav Šlouf, The squadron was based at Toul-Ochey airbase and they were equipped with MS-406 fighter aircraft, which by May 1940 were replaced with Dewoitine D.520 aircraft.
The three Czechoslovaks were later joined, on 17 May 1940, by six of their countrymen: František Běhal, Jan Čermák, Bedřich Krátkoruký, Tomáš Kruml, Karel Kuttelwascher and Josef Novák who had completed their re-training at Chartes.
During the Battle of France Evžen flew 83.35 operational hours the 2nd highest flown by a Czechoslovak l'Armée de l'Air pilot and achieved five victories (three of which were shared):
Date:

Time:

Type Flown:

Action:

11.05.40

18:30

MS-406

Me109
Maastricht, Belgium

14.05.40.

07:45

MS-406

1/3 share of Do 176, near Namur, Belgium

19.05.40.

05:35

MS-406

Hs126 shared, near Le Quesnoy

19.05.40.

17:15 > 18:30

MS-406

1/3 share Do 205, west of Valenciennes

06.06.40.

15:45 > 16:30

D-520

Me 109, near Beauvraigne
These combat achievements made him the 9th most successful Czechoslovak pilot in the Battle of France; he was awarded the Order of the Légion d'Honneur, Chevalier grade, and the Croix de Guerre with 2 palms and 5 gold stars.
The rapid German Blitzkreig forced the Allied frontline back causing l'Armée de l'Air to frequently to move its airfields westwards. In the case of GC/III, by the early part of June, this was now on a daily basis. With the French capitulation imminent, GCIII/3, was then situated at Perpignan, La Salanque airfield, in south-west France. On 19 June, they evacuated mainland France and flew their aircraft over the Mediterranean to Maison Blanche airbase, Algeria. During the Battle of France he had flown 85.35 operational hours, the 2nd largest flown by a Czechoslovak l'Armée de l'Air pilot.
By the conclusion of the Battle of France, Evžen had achieved a total of 1262 flying hours in his aviation career.
France capitulated on 22 June 1940. In Algeria, the Czechoslovak airmen learned that Winston Churchill, the British Prime Minister, had appealed to all the evacuated Czechoslovak airmen to come to Britain and continue their fight against the Germans from there. The Armée de l'Air released the Czechoslovak airmen from their service and told them to report to British Officers who would assist with arrangements to get them by train to Casablanca, Morocco, and then to Britain. On 4 July 1940, Evžen, with the other Czechoslovak airmen departed from Maison Blanche and travelled by train for four days across the Sahara Desert to Casablanca, Morocco. As Evžen was the senior Czechoslovak officer of the group he acted as their liaison officer in Casablanca during their evacuation. From there, on 9 July, the Czechoslovak airmen boarded the SS Royal Scotsman which sailed to Gibraltar and from where they embarked on to the MV David Livingstone and sailed to England.
Due to having contracted pleurisy, Evžen's own evacuation from Casablanca was delayed until 1 August when, with Jaroslav Kulhánek, Jan Čermák and Václav Šikl, they sailed on the 'Nereida' to Lisbon, Portugal. After arrival at Lisbon, Evžen managed to reach Mérignac airbase at Bordeaux, France From here, on 17 June 1940, with a group of 38 Czechoslovak airmen, led by kpt.let. Ferdinand Secký, they were able to board the last BOAC flight, a four-engined Armstrong Whitworth aircraft, G-ADSV, AV1160, to leave the bomb damaged airbase. After a flight lasting 5½ hours, at an altitude of 150 to 200 mtrs, they landed at 21:30 at Hendon, England.
RAF:
Evžen was accepted into the RAF VR, on 20 August 1940, at the rank of P/O. On 28 September 1940, along with 18 other Czechoslovak pilots, he was posted to 6 OTU at Sutton Bridge, near Spalding, for re-training on Hurricanes. There, on 5 October, whilst flying Hurricane N2341, his aircraft crashed at Sutton Bridge due to engine failure. Evžen was uninjured in the crash and only the Hurricane's engine was damaged.
His retraining was completed on 14 October 1940 and with fellow Czechoslovaks P/O František Běhal and Sgt's Antonín Zavoral and Jan Štefan from 6 OTU, Evžen was posted to 1 Sqn stationed at RAF Wittering, near Peterborough. After being heavily engaged in the Battle of France and the Battle of Britain, the squadron had, on 9 September, after being heavily engaged in the Battle of France and the Battle of Britain had transferred from their 11 Group base at RAF Northolt, to RAF Wittering, , part of 12 Group, to rest and recuperate its pilots and refit its Hurricane Mk I fighter aircraft.
Evžen's maiden flight with 1 Sqn, a 65 min formation flight in Hurricane V7464, was made on 16 October. Subsequent flights during the remainder of October were limited to training flights – formation flying, air-drills, dogfight practise, circuits and landing and radio-communication. With 1 Sqn, Evžen was able to participated in the final days of the Battle of Britain, making his first operational flight on 27 October 1940, a scramble in Hurricane V7379 at 16:50, returning to base at 18:40. This was now the final stage of the Battle of Britain, but he saw no combat during this period.
On 11 December 1940, he was posted to take command of 312 (Czechoslovak) Sqn replacing S/Ldr Jan Ambruš who, after some unfortunate incidents commanding the squadron, was being posted to the Czechoslovak Inspectorate General in London. The squadron was stationed at RAF Speke, now John Lennon airport, at Liverpool and equipped with Hurricane fighter aircraft. Their role was the defence of the city and its ports against Luftwaffe air raids.
On 27 May 1941, now aged 37 years – too old to be an operational fighter pilot – and still suffering the after effects of the pleurisy he had contracted in North Africa, Evžen was posted to the Czechoslovak Inspectorate General (CIG) in London for an administrative role and was promoted to the rank of Wing Commander.
The Czechoslovak Inspectorate General (CIG) was the headquarters of Czechoslovak Air Force within the RAF based in London led by AVM RNDr Karel Janoušek, KCB. The purpose of this unit was the command of all Czechoslovak RAF units and also serves as a liaison point between British Air Ministry and Czechoslovak units and airmen. The unit was staffed mainly by Czechoslovak RAF Officers, who having completed their operation tour, would undertake CIG duties during their six months rest period before resuming operational flying. One of the unit's duties was attending the funeral of fallen Czechoslovak RAF airmen.
The Crash :
On 26 November 1942, Evžen, now at the rank of Group Captain, and S/Ldr Josef Jaške, now also with the CIG, were determined to attend the funeral of Sgt František Remeš who had been killed in a training accident with 53 OTU and was to be buried in Llanvit Cemetery near RAF St Athan in South Wales.
The weather was very bad, with visibility below 500 mtrs. The decision to fly, instead of taking the train, was made because the railway had been damaged by bombing. With S/Ldr Josef Jaške at the controls of a Foster-Wickner Warferry aircraft, ES947 G-AFKU and G/Cpt Čížek as passenger, they took-off in poor visibility in clouds. At 11:45, having just passed the Port of Cardiff, the aircraft was at an altitude of 1,000 mtrs and hit a barrage-balloon cable over Penarth Point, that tore off the propeller and became embedded in the right wing. The plane went into a corkscrew dive and crashed into the Bristol Channel, off Cardiff harbour. G/C Čížek was killed by the impact with the balloon cable and S/Ldr Josef Jaškef was thrown, without a parachute, from the plane, landing in the sea of the Bristol Channel. He survived the impact but his spine was broken, and he needed many months of recuperation.
Group Captain Evžen Čížek was buried on 30 November 1942, in grave 28. B. 1., at the Czechoslovak section at CWGC Brookwood Military cemetery.
Medals:
1939 – 45 Star with Battle of Britain clasp
Válečný kříž 1939
Za zásluhy I.stupně
Pamětní medaile se štítky F–VB
Légion d'Honneur au grade de Chevalier
Croix de Guerre avec 2 palmes et 5 etoiles de vermeil
Remembered :
Czech Republic :
Prague – Klárov:
In November 2017, his name, along with the names of 2507 other Czechoslovak men and women who had served in the RAF during WW2, was unveiled at the Winged Lion Monument at Klárov, Prague.

Great Britain :
He is commemorated, along with the other 2938 Battle of Britain aircrew, on the Christopher Foxley-Norris Memorial Wall at the National Battle of Britain Memorial at Capel-le-Ferne, Kent:
He is also commemorated on the London Battle of Britain Memorial: