Jaroslav HLAVÁČ
–
Jeden z hrstky
………………..* 11.10.1914. Petřvald.
………………..† 10.10.1940. Wareham, UK
Pre WW2:
Jaroslav Hlaváč was born 11 October 1914 at Petřvald, a village, about 10 km east of Ostrava, in the Moravia region of Czechoslovakia. He attended the local school until he reached the 4th grade and then he moved on to the secondary school at Jistebník, about 30 km away. On completion of his education, he trained as a metal turner at Vítkovice, about 9 km from Petřvald.
In 1933, aged 19, Jaroslav commenced his compulsory military service and was selected for the Czechoslovak Air Force. He attended the Military Aviation School at Prostějov between 1934 and 1936, from where he graduated as a fighter pilot.
His first posting, at the rank of sergeant, was to the 7th Squadron of the 2nd Air Regiment based at Vyškov, as an operational pilot in Letov Š-328 biplane reconnaissance aircraft. He later returned to Prostějov where he attended a fighter pilot training course, graduating in 1938. Jaroslav was then posted to the 35th Squadron of the 2nd Air Regiment, based at Olomouc airbase, and was equipped with Avia B-534 biplane fighter aircraft. He remained here until the German occupation of Czechoslovakia on 15 March 1939, by which time he had achieved 295 flying hours.
To Poland
After the German occupation of Czechoslovakia on 15 March 1939, the Czechoslovak Air Force was quickly disbanded by the Germans and all personnel dismissed. The same fate befell most of those serving in the Czechoslovak Army. For the military personnel and many patriotic Czech citizens, this was a degrading period. Many sought to redress this shame and humiliation and sought the liberation of their homeland. Germanisation of Bohemia and Moravia began immediately. But by 19 March 1939, former senior officers of the now-disbanded Czechoslovak military had started to form an underground army, known as Obrana Národa [Defense of the Nation]. One of their objectives was to assist as many airmen and soldiers as possible to get to neighbouring Poland where Ludvík Svoboda, a former distinguished Czechoslovak Legionnaire from WW1, was planning the formation of Czechoslovak military units to fight for the liberation of their homeland. Within Czechoslovakia, former military personnel and civilian patriots covertly started to arrange for former Air Force and Army personnel to be smuggled over the border into Poland to join these newly formed Czechoslovak units.
Obrana Národa also worked in co-operation with Svaz Letců, the Airman Association of the Czechoslovak Republic. These two organisations provided money, courier and other assistance to enable airmen to escape to Poland. Usually, this was by crossing the border from the Ostrava region into neighbouring Poland. News soon began to be covertly spread amongst the former Czechoslovak airmen and soldiers and many voluntarily made their personal decision to go to Poland. Jaroslav was one of those who decided to escape and enlist in one of those units. In early May 1939, he successfully managed to cross the border to Poland and reported for duty at the Czechoslovak Consulate at Kraków.
However once in Poland, the Czechoslovak escapees were to find that Poland was not permitting the formation of foreign military units on its territory. However Czechoslovak officials in Poland had been in negotiations with France, a country with which Czechoslovakia had an Alliance Treaty. Under French law, foreign military units could not be formed on its soil during peacetime. The Czechoslovak escapees, however, could only be accepted into the French Foreign Legion with the agreement that should war be declared they would be transferred to French military units. The Czechoslovaks would, however, have to enlist with the French Foreign Legion for a five-year term. The alternative was to be returned to occupied Czechoslovakia and face German retribution for escaping – usually imprisonment or execution with further retribution to their families.
The Czechoslovak escapees were initially billeted at Małe Bronowice, a former Polish army camp, on the outskirts of Kraków, whilst arrangements were made for their departure to France. When those arrangements were completed, Jaroslav, with other escaped Czechoslovak airmen, travelled by train to Gdynia, Poland, where, they boarded a ship, which took them to France.
France
On arrival in France, the Czechoslovak airmen were required to enlist into the French Foreign Legion and were first taken to the Legion's recruitment barracks at Place Balard, in the South West of Paris, for medical examination and recruitment documentation to be completed for their acceptance into the Legion. This time was to serve as a familiarisation period to learn the ways of the Legion and to study in crash French courses which continued after their acceptance whilst they waited for transfer to Sidi-bel-Abbis, the Legion's training camp in Algeria.
However, before that process could be completed, war was declared, on 3 September 1939, and instead the airmen were transferred to l' Armée d'Air recruitment centre at Dugny, near Paris. Upon acceptance by the l' Armée d'Air, Jaroslav, was transferred to their training base at Centre d'Instruction de Chasse at Chartres about 75 km west of Paris, for conversion onto French aircraft. Jaroslav arrived there on 11 September 1939 and completed his training on 8 March 1940. He was then posted, as an operational pilot with the rank of Caporal Chef (Sgt) to GC III/7, based at Vitry le François near the Swiss-German border and equipped with MS-406 fighter aircraft.
When the Germans invaded France, the rapidity of their Blitzkreig – lightening war – caused GC III/7 to have to change their airfields frequently as they retreated westward. On 17 June 1940 Jaroslav and other Czechoslovak airmen were transferred to GC I/6 based at Ussel which was also equipped with MS-406 fighter aircraft. Three days later, France capitulated. GC I/6 was now at Clermont-Ferand airbase, and its Czechoslovak airmen were released from Armée de l'Air service; Jaroslav had flown 68 operational hours in that service. They made their way to Port Vendres and on 24 June, boarded the 'General Chanzy' which took them to Oran, Algeria. They then travelled for four days by train to Casablanca, Morocco, where they boarded a ship which took them to Gibraltar, where they transferred to a ship which brought them to England.
RAF
Shortly after arrival to England, he was accepted into the RAF VR and on 12 July was posted, at the rank of Sgt, to the newly formed 310 (Czechoslovak) Sqn at Duxford near Cambridge, where he was assigned to the squadron's reserve pool of pilots who were awaiting conversion training on Hurricane fighter aircraft. When 310 Sqn becoming operational on 17 August 1940, it was no longer possible for re-training to be undertaken within the squadron due to shortages of aircraft and instructors. The reserve-pool pilots were assigned to 6 OTU at Sutton Bridge, near Spalding, Lincolnshire, on 17 August to complete their re-training. Jaroslav completed this, on 10 September and the following day, along with fellow Czechoslovak pilot P/O Jaroslav Himr, was posted to 79 Sqn (Madras Presidency) which was equipped with Hurricane Mk I fighter aircraft and based at Pembrey, South Wales. Whilst with 79 Sqn both Czech pilots made only a few training flights.
On 8 October 1940, Jaroslav and P/O Jaroslav Himr were posted for operational flying to 56 Sqn (Punjab), who at that time were based at Boscombe Down, near Salisbury, Wiltshire, and also equipped with Hurricane Mk I fighter aircraft. With 56 Sqn he participated in the final weeks of the Battle of Britain.
On 10 October, Jaroslav made his first operational patrol when six Hurricanes took-off at 09:20 for a patrol over Warmwell, Dorset, returning at 09:40, thus making him one of the 88 Czechoslovak pilots who flew in that battle. Later that morning, at 11:55, six of the squadron's Hurricanes were scrambled to intercept Luftwaffe aircraft approaching Portland, Dorset. Jaroslav was flying a Hurricane Mk I P3421. Forty-five minutes later, Jaroslav was killed in action, when he was shot down at 12:40 by a Me 109, flown by oberleutnant Julius Meimburg of 4/JG2, over Wareham; his Hurricane crashed at Manor Farm. He was 26 years old and had become the fifth Czechoslovak pilot to be killed in the Battle of Britain.
Jaroslav Hlaváč was buried in the South part of the Holy Trinity Churchyard at Wareham, Dorset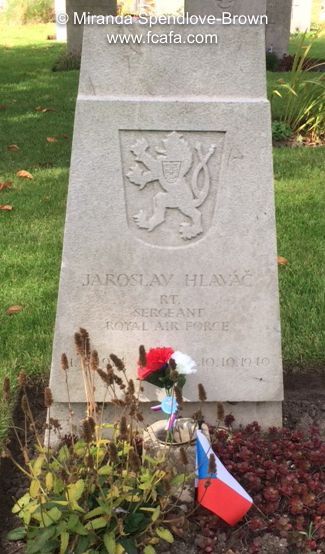 Medals awarded :
1939 – 45 Star with Battle of Britain clasp
Válečný kříž 1939 x 2
Pamětní medaile se štítky F–VB
Croix de Guerre 1939-1945
Remembered :
Winged Lion Monument, Klárov, Prague:
Czechoslovak Airmens Memorial, Dejvice, Prague.
Battle of Britain Monument, London:
National Battle of Britain Memorial, Capel le Ferne, Kent:

Battle of Britain Roll of Honour, RAF Museum, Hendon, London:
Remembrance book at Westminster Chapel, Westminster Abbey, London:
He is also remembered in the Remembrance books at St Clements Danes Church, London and St Vitus Cathedral, Prague.
Je rovněž připomínán v pamětní knize kostela St. Clemens Danes v Londýně a katedrále Sv. Víta v Praze.