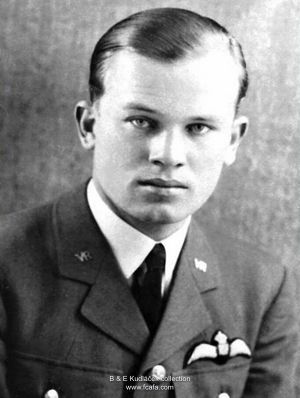 The unedited recollections of S/Ldr Jiří Maňák about his escape from Czechoslovakia in 1939 to Poland, his journey to France, joining l'Arme d'Air, evacuation from France, joining the RAF, being shot down over Holland and his time as a Prisoner of War.
The recollection uses the RAF term of 'Rhubarb' – operational flights by either fighters or fighter-bombers that would take place when there was low cloud and poor visibility. The Allied aircraft would fly across the English Channel to occupied Europe, drop under the clouds and search for any targets of opportunity.
_______________________________________________________________
I was actually in the first party of Czech airmen coming to England from France, landing at Falmouth on the 23 June 1940. After passing through several camps we signed to the RAF VR on 3 July and started 310 Squadron at Duxford. There I did only three dual flights with Czech instructors. As there were too many pilots we, the youngest, were sent to the Czech Depot in Cosford, then to OTU and British squadrons
I started gliding in 1932 and passed the private pilot's licence in 1935. Then I joined the Czechoslovak Air Force and passed the school with Vic Bergman as observer. After two years compulsory service I passed Air Academy and during our mobilisation I was serving in Russian light bombers B71. In 1939 I just started Air Force pilot's training when the Germans came in. My escape from Protectorate was organised by Association of Czech Airmen. On the 28 June 1939 I went by train to Ostrava where we got further instructions. We went to a small railway station in Ostrava where we were told to climb at night a freight wagon. Just after 11 pm came a locomotive and after about half an hour we were in Poland Szumbark (now Havířov). It was a special train for this purpose. In Poland I was told the Germans discovered all of this about a week later. We were all concentrated in Krakov. Nobody wanted us. Only the French, but we had to sign for five years Foreign Legion with a promise that we shall be released in case of war. On 29 July 1939 a party of us boarded at Gdynia a Polish boat, Chroby, on her maiden way to South America and on the 1 August we landed in Bologne.
A party of us were stationed at St Cyr hoping the war will start soon. On 7 October 1939 I signed offically entry to Foreign Legion as sergeant but I stayed in France. As I did not finish Air Force pilot's training I was sent to a base near Tours as air gunner. On the 1 December I was promoted to the rank of Adjutant-Chef. In January 1940 six of us with private pilots licences were sent to Advanced Training School at la Rochelle and then in March to Fighter Pilots School at Étampes. When, in May 1940, Germans started advancing to the West we continued training at several field aerodromes until we finished at St Xanare near la Rochelle, where I finished my training and was waiting for posting to operational squadron, but on the 18 June 1940 our Commanding Officer said during lunch that German tanks are about 30 km from us and therefore he was disbanding the school and anybody can do what he likes, go home or take an aircraft and fly where he wants. So I took this Morane 230, an aerobatic training aircraft, and flew south about 200 km to Cazères which I knew already from the time as air-gunner. We actually had no maps. We had a French Avis car which took us to the Czech Depot in Bordeaux about 80 km North. At the depot were concentrated about hundred Czechs and 200 Polish personnel.
At the port we boarded a small Dutch cargo ship 'Ary Scheffer', and when we were leaving the port on 19 June we could see the Germans bombing Bordeaux. We went far into the Atlantic because the Germans occupied already the northern and western part of France. 'Ary Scheffer', was a small cargo ship of about 400 tonnes and we had to stay most of the time underneath the deck. After five days we finally, and luckily, landed at British port Falmouth. After passing through several camps a party of us went to London to sign an application to RAF VR and so we formed the first Czechoslovak squadron in Britain, number 310, in Duxford on 12 July 1940. I was commissioned as Pilot Officer number 81896. In Duxford I did only three dual flights with Czech instructors. There were too many pilots so me, and Pilot Officer Engineer Karel Drbolav, the youngest, were sent to the Czech Depot in Cosford near Wolverhampton to wait for vacancies at some OTU.
On the 27 September 1940 we went to 12 OTU at RAF Benson, near Oxford, to fly Battles, and on the 20 October to 6 OTU at Sutton Bridge on Hurricanes. Finally on 25 November me and Drbolav were posted to British operational squadron number 601 (Country of London) to Exeter where we did just a few scrambles and battle patrols and on 17 December we moved to Northolt in 11 Group. Firstly we did some scrambles and patrols and finally on 2 February we started escorting some Blenheims over to France – Boulogne, Calais, St Omer, and so on. Once we were patrolling at 33000 ft when three me 109's were still above us. I tried to climb towards them and when I was about three to four hundred yards away I tried to fire at them but as soon as I pressed the button I spun. We had few skirmishes but for me without any further effect. On the 1st April I did my first Rhubard when we machine-gunned aerodromes near Crecy and Amiens.
Then in May and June 1941 we were moved to Manston with two assignments, to do dawn to dusk patrols in pairs between Thames Estuary and Dover against low-flying Me109's which radar could not detect and escorting Lysanders on air-sea rescue work. On the 6th of May while we were escorting a Lysander trying to drop a dinghy to a chap in the sea just south of Dover there came in three Me109's so I attacked and chased one across the Channel at sea level, gave him some bursts so that he hit the sea and was gone.
Once we had a big dog-fight over Dover with four Me109's among the ballons, Dover flak and German's long-range cannon. The esult was only one of our Hurricanes slightly damaged. On the 3rd of June while coming out of clouds near Boulogne I was attacked by one Me109. I broke up and attacked the second one at sea level. He crashed into the sea. My airscrew was was hit by shrapnel. In these two months at Manston I did over hundred operational flights and 120 hours.
From 1st July we moved to RAF Station Matlaske in 12 Group. There we were doing convoy patrols, scrambles searching for people. In August we moved to Duxford from where we were doing normal operational work on Hurricanes and at the same time we were getting American aircraft Aircobras. On these we did only few operational flights. I did three. Rhubards to Gravelines, St Omer, shipping recco Calais-Ostend, and night vectoring after bandit. But by the end of '41 it was decided that Airacobras would go to Russia, that 601 will go to Malta and because and because at that time I had already 250 operational hours, limit was about 200, I was sent as instructor in November 1941 to 61 OTU at Heston on the outskirts of London on Spitfires. In May, OTU was moved to RAF Station Rednall and I was appointed officer commanding a flight. In A course there were usually around ten pupils.
Once I had a sergeant who was not very good. I saw that his space orientation is bad. But as he passed only so far, I just paid him much greater attention than to others. Once I took him for a formation flight at 6000 feet. At one moment my Spitfire shuddered and I went into flat inverted spin. I tried to get out of it but nothing helped, so at 2000 feet I had to jump out. As soon as my parachute opened I saw, about a hundred yards from me at the same height, complete tail unit with part of the fuselage. Apparently he set down on my aircraft and with his steel airscrew cut my aircraft just behind my head. The sergeant landed back at the aerodrome only with slightly bent airscrew. My luck was doubled when I was told by the parachute section that my parachute which they changed that morning disintegrated because of acid from battery.
In July I was posted to 81 Squadron at Hornchurch on Spits V and in August to 611 Squadron at Redhill with Spit IX's as supernumerary flight commander. With Spit IX's we were doing mainly top covers by escorting Fortresses. On the 19th August I did with 611 Squadron four flight over Dieppe operation and I got one Fw190 damaged. On the 5th September I got another Fw190 while escorting Fortresses to Rouen. By the end of September, I was appointed Flight Commander of a newly formed squadron, number 192, in Martlesham Heath with Typhoons with racks for two bombs of 250 or 500 pounds. As most of the pilots were operationally unexperienced and there were some troubles with the aircraft it took some time before we became operational. I did the first Rhubarb on 1st January 1943 on post installations of the dock at Bruges. We also passed a phase in preparation for invasion of Europe, sleeping in tents, separation from the outside world, and so on. But in April 1943 we did many Rhubarbs on trains and dive-bombing of aerodromes with very good results.
On 1 May 1943 I was appointed Commanding Officer of 198 Squadron at Martlesham Heath. The pilots were absolutely unexperienced, the morale was not very good and as we had not enough aircraft to do operations and also need for training I asked Fighter Command to put me out of operations for two weeks. I succeeded and so we went to RAF station Woodvale near Liverpool from 15th June to 5 July. Then we came back to Martlesham Heath, doing mainly patrols, shipping reccos and Hurricanes with rockets. For example we damaged in a fortnight, fifteen locomotives and some barges.
To be nearer to occupied Europe we moved on the 23rd August 1943 to Manston, doing mainly Rhubarbs and attacking transport and escorting Hurricanes with rockets. On Saturday 28th August 1943 I was leading four Typhoons to patrol a german airfield in Holland and to stop FW's from trying to intercept our Hurricanes with rockets which were going to attack lock-gates at Loebs-Maldegom canal. There were low clouds and occasional rain which should shield us against enemy attack on the way back with lack of petrol. We flying right down on seaways and keeping radio silence up to 1900 hours when we should have crossed the coast. At 1851 hours when we were already nearing Knokke I heard on RT the password for cancelling the whole show, but being so far I decided to have a look on some trains. We crossed the coast at about ten miles inside Holland. I noticed smoke coming from my engine. Evidently some chance bullet affected my radiator.
There was nothing else to do than trying to return before the engine will jam; at least to reach the sea and be rescued by air-sea rescue service. But as soon as I crossed the coast back to sea my engine started getting rough and the speed was quickly dropping. Being right down on sea level I had no choice but to ditch right in front of me against high waves. The storm had about 40 to 50 miles per hour. The aircraft went right down under the water deep into the sea and therefore did not catch fire. The Typhoon had actually one bad feature, catching fire while crash landing on ground or in the sea. Because I lost my bearings I released compressed air into my Mae-West and that's what shot me up to the surface. After I got into the dinghy the storm started with thick rain and gusts of wind so that the tops of the waves went over me but the dinghy kept stability. Unfortunately the wind was westerly and was pushing me back to Holland. At about 3 o'clock in the morning the storm washed me ashore at the island of Walcheren. In darkness and tick rain I crossed pipe, barbed wire fences and suddenly heard "Halte! Hände hoch!" and so I became a prisoner of war.
Most of Sunday I spent resting and drying my uniform. On Monday I was taken by two guards to Dulag Luft, an interrogation camp for airmen near Frankfurt am Maine. I had to undress completely and searched. I was stripped of most of the buttons, which were compasses, and linings which were maps of France, Belgium and Holland. The NCO who was searching me said only casually that I was Czech or Pole. Then I was put in a room about two on four metres with one bed, one table and two chairs.
Next morning a German officer came in and his first sentence was in Czech. I pretended not to understand and, according to Geneva Convention, told him only my service number, rank, first name, which I changed to James instead of Jiří, family name, Manak without the hook, and stroke, having in mind Mannock of the last war, and religion. And so every day came another officer, some with cigarettes and nice talk, some talking about my family and Gestapo. They wanted to know especially performance, organisation and missions of Typhoons. Then came in one day a young German officer who said he was a fighter pilot who was shot down during the Battle of Britain, hurt his spine and could not fly any more. He was coming in for several days, giving me some smokes, trying to draw me in conversation but I was cautious.
One day he even brought with him a young German airman, supposedly his nephew, who was spending leave at his home and who was monitoring just our RT frequency and, to my surprise, he said he recognised my voice and even described some of our trips and radio correspondence before I was shot down. Still. the officer asserted that I must tell him something about Typhoons otherwise they had orders to hand me over to the Gestapo. I explained to him that for me it would be better to be handed over to the Gestapo than to be court-martialled after the war for revealing military secrets. Then one day he came in with an interrogation. form where was my number, name, rank, religion and that I am British. I signed it, got prisoner of war number Stalag Luft III number 2378. I was released from interrogation.
Later in Stalag Luft III where fifty prisoners were shot during the big escape, I found out what actually happened. I was shot down on the 28th August and on 10 September the British, with the aim Luftwaffe up, sent some ships and aircraft towards France to pretend an invasion. And in Dulag the interrogators got orders quickly to concentrate on new prisoners while I was already fourteen days old. ANd my interrogator, probably from sympathy as fighter pilot to another, was really merciful to me. Out of fifty-one Czech airmen prisoners of war I was the only one who passed as British for the rest of the war. As far as I know two more passed as Canadians.
Stalag Luft III was a big camp for British and American air officers near Sagan. Now Polish Żagań about halfway between Breslau and Berlin. In January 1945 when the Russians were nearing Breslau we were moved on foot and then by train to a camp between Hamburg and Bremen. Then in April we were again moved East until we finished nearly back living on the farms. On 2nd May 1945 came to the farm a British tank and we were liberated. After a few days we were taken through some British camps and then flown to Britain to RAF station Cosford near Wolverhampton. I just managed to pass all formalities so that I could celebrate Victory Day in London.
Czech fighter squadrons were waiting for new Spitfire IX's and went home by the end of July. I was in the party who was waiting for the last of the Spitfires and so I landed in Prague on 24th August 1945 after being abroad for six years and two months.
My father was sent to Buchenwald on the first day of the war. In 1942 he was again interrogated by Gestapo about my escape from Czechoslovakia and then in September 1942 was he, my mother, two brothers and two sisters sent to the concentration camp Satabohice. SO my family spent nearly twenty years in German concentration camps, but luckily we all met again in Summer of 1945.
My score is two Me109's shot down, two Fw109's damaged, one locomotive destroyed, nine locomotives damaged, one tow-boat destroyed, three tow-boats set on fire, and further boats, wagons aerodromes etc damaged. I have these war decorations: Distinguished Flying Cross, four times Czechoslovak War Cross of 1939, three times Medal for Gallantry [Za chrabrost před nepřítelem] and on French Croix de Guerre avec palme bronze.
_______________________________________________________________
Post WW2, S/Ldr Jiří Maňák remained in the Czechoslovak Air Force with 312 Squadron. He was the first pilot to touch down at the Squadrons new peacetime airbase at České Budějovice At the time, he was flying Spitfire LF IXE, TE566 (DU-A). His career at České Budějovice was rather brief. Later in 1945, Maňák moved to VLU Air Research Institute in Prague-Letnany where he was employed as test pilot. He flew a multitude of aircraft types including Czech-produced Bf 109s (S-99), Me 262 (S-92), Spitfires and many civilian types. He gained fame for his public aerobatic displays across Czechoslovakia, including low-level aerobatics in a Me 262.
Like many returning ex-RAF personnel in Czechoslovakia, Jiří Maňák eventually fell into disgrace after the Communist coup in 1948. In 1950 he was dismissed from the Czechoslovak Air Force and arrested 23 November 1950 for divulging classified military information and treason and held in custody until his trial held on 8 June 1951 when he was acquitted. Despite his acquittal, the Communist authorities continued their persecution in his work and personal life. They would not allow him to return to flying and instead allowed him to undertake menial employment working on a riverboat. He was partly 'rehabilitated' in 1964 and could join Czechoslovak national airline, ČSA, as a pilot. He retired in 1971 and finally, after the Velvet Revolution in 1989, he was fully rehabilitated.
Colonel Jiří Maňák died on 29th December 1992 in Prague.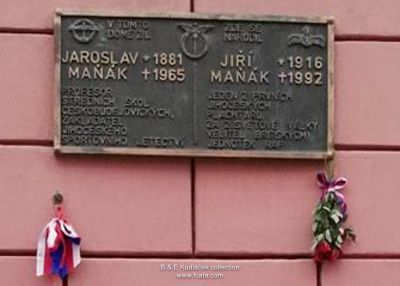 There is a memorial plaque in České Budějovice remembering him and also his father Jaroslav.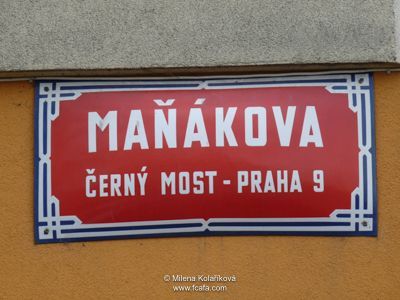 In the Černý Most District of Prague 14, a street is named in his honour:
In November 2017, his name, along with the names of some 2500 other Czechoslovak men and women who had served in the RAF during WW2, was unveiled at the Winged Lion Monument at Klárov, Prague.