Odhalení pamětní desky Adolfu Jurmanovi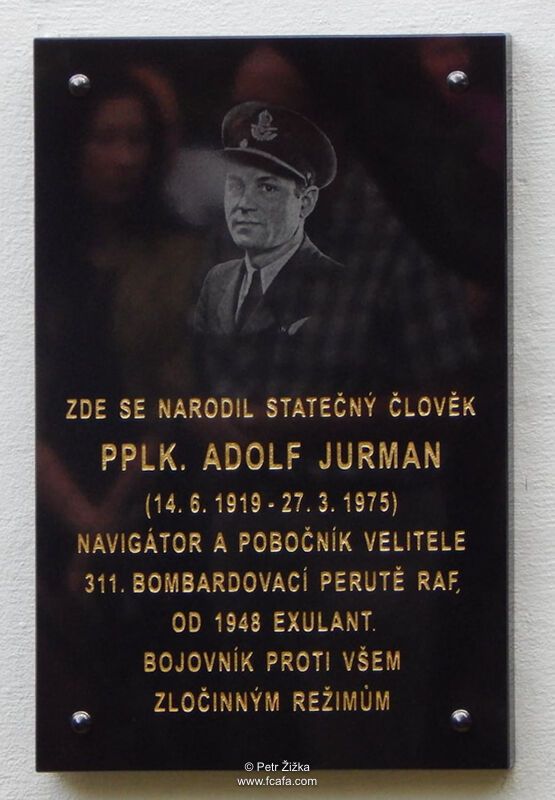 On 21 August 2021, a memorial plaque to commemorate F/Lt Adolf Jurman was unveiled at his former family home at Olešnička, near Žďár nad Sázavou in the Czech Republic.
21. sprna 2021 byla odhalena pamětní deska F/Lt. Adolfu Jurmanovi na bývalém domě jeho rodiny v Olešničce, nedaleko Žďáru nad Sázavou.
He had served as an Adjutant and later as a Navigator with 311 Sqn during WW2.
Za druhé světové války sloužil jako adjutant a později u 311. bombardovací perutě jako navigátor.
The ceremony was organised by his cousin Hynek Jurman and was moderated by Michal Jurman. The Mayor of Štěpánov nad Svratkou, Dr Šárka Kunčíková, and Hynek Jurman together unveiled the plaque on the wall of the house now belonging to Josef Jurman.
Obřad byl organizován jeho synovcem Hynkem Jurmanem a moderován Michalem Jurmanem. Starostka Štěpánova nad Odrou, Dr. Šárka Kunčíková a Hynek Jurman společně odhalili pamětní desku umístěnou na domě patřícím nyní Josefu Jurmanovi.
In attendance were uniformed members of the Brno Military History Society (Vojenská historická skupina, Brno), who arranged their jeeps in front of the Town Hall of Štěpánov. Traditional Scottish military music was played on the Scottish bagpipes.
Obřadu se zúčastnili také uniformovaní členové Vojenské historické skupiny z Brna, kteří před radnicí ve Štěpánově předvedli svá vozidla Jeep. V průběhu obřadu zazněly tradiční skotské vojenské skladby hrané na skotské dudy.
Later, the ceremony moved to the Town Hall, where there was an opportunity to see a collection of military material from WW2, including photos from Adolf's life, and a history of the Jurman family.
Později se účastníci přesunuli na místní radnici, kde byla vystavena sbírka vojenského materiálu z období druhé světové války včetně fotografií z Adolfova života a historie rodiny Jurmanových.
Over 120 people were present and the event, held on the anniversary of the 1968 Warsaw Pact invasion of Czechoslovakia, generated much interest in the local area.
Celého obřadu, připomínajícího výročí okupace Československa vojsky Varšavské smlouvy, se zúčastnilo přes sto dvacet lidí.
_______________________________________________________________
His biography here
Jeho životopis zde
_______________________________________________________________