The 8th May 2021 marks the 76th anniversary of VE Day – the end of WW2 in Europe. During their service in the RAF for that conflict, 512 Czechoslovak airmen, including 2 WAAF's, from some 2512, were to lose their lives.
8. května 2021 jsme si připomněli 76. výročí konce druhé světové války v Evropě – Den vítězství. V tomto konfliktu padlo 512 československých letců z řad RAF, včetně dvou žen sloužících pod WAAF. Celkově se do bojů zapojilo 2512 československých mužů a žen.
The Air Forces Memorial at Runnymede commemorates, by name, the 20,547 airmen, over 360 panels, who were lost in the Second World War during operations from bases in the United Kingdom and North and Western Europe, and who have no known graves. Of these missing, currently 149 were Czechoslovak – 134 Czech and 15 Slovak – with about two-thirds being from 311 Sqn. Thus this Memorial is the location for the remembrance of the greatest number of fallen Czechoslovak airmen in the UK and the reason why we, the Free Czechoslovak Air Force Associates ltd, held an informal, covid 19 complaint, wreath laying event there today.
Památník leteckých sil v Runnymede připomíná na 360 panelech jmenovitě 20 547 letců, kteří byli v průběhu druhé světové války prohlášeni za nezvěstné při operačních letech ze základen ve Velké Británii, severní a západní Evropě, a u kterých není známo místo hrobu. Mezi těmito nezvěstnými je také 149 Čechoslováků (134 Čechů a 15 Slováků). Přibližně dvě třetiny z nich sloužily u 311. bombardovací perutě. Runnymedský památník je místem, kde se společně připomíná největší počet padlých československých letců v Británii a proto se The Czechoslovak Air Force Associates Ltd. rozhodla vykonat zde dnes neformální akt kladení věnců.
We were honoured that H.E. Libor Sečka , Ambassador of the Czech Republic, Marcel Babicz, Slovak Deputy Ambassador, Brigadier General Petr Čepelka, Czech Air Force, Col Jiří Niedoba, Czech Defence Attaché and Col Vladimír Stolárik, Slovak Defence Attaché accepted our invitation to join us for this remembrance event.
Bylo nám ctí, že při této příležitosti přijali naše pozvání také jeho excelence Libor Sečka, velvyslanec České republiky, Marcel Babicz, zástupce velvyslance Slovenské republiky, Brigádní generál Petr Čepelka ze Vzdušných sil Armády České republiky, Plukovník Jiří Niedoba, přidělenec obrany velvyslanectví České republiky a plukovník Vladimír Solárik, přidělenec obrany velvyslanectví Slovenské republiky.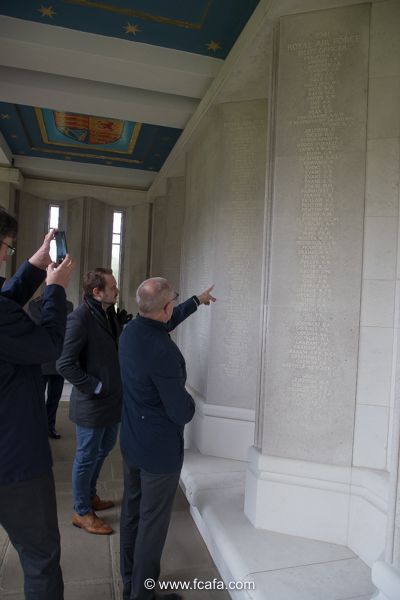 A tour around the cloisters then followed searching out those 149 names with information about some of them. An unexpected find was that the name of S/Ldr Otto Smik is still listed on one of those memorial panels, even though his remains were recovered post-WW2 and are now interred at Bratislava, Slovakia.
Prošli jsme společně ambity a vyhledali všech 149 jmen Čechoslováků na zdejších panelech zmíněných. Neočekávaným nálezem bylo jméno S/Ldr. Otto Smika, které je zde stále uvedeno, ačkoliv jeho ostatky byly po válce vyzdviženy a jsou nyní uloženy v Bratislavě.
Our helpers also visited other Czechoslovak RAF locations, in the UK and around Europe, for this 76th VE Day anniversary, more details to follow.
Naši pomocníci rovněž navštívili další místa posledního odpočinku Čechoslováků sloužících v RAF po celé Británii a také v Evropě. Další informace budou následovat.