On 10 January 2020 the Embassy of the Czech Republic, London announced their forthcoming project 'Never Forgotten' to commemorate the 75th anniversary of the end of the Second World War. During 2020, the Ambassador H.E.Libor Sečka aims to visit all UK military cemeteries and memorials where Czechoslovak airmen and soldiers, who lost their lives during their service in the UK during WW2 are interred. At each grave, the Ambassador will place a flower in memory of at each of those graves.
10. ledna 2020 Česká ambasáda v Londýně oznámila zahájení projektu "Never Forgotten", kterým si klade za cíl připomenout 75. výročí konce druhé světové války. V průběhu roku 2020 chce velvyslanec, Jeho Excelence Libor Sečka, navštívit všechny britské vojenské hřbitovy a pomníky, kde jsou zmíněni českoslovenští letci a vojáci zemřelí a padlí v jejím průběhu v Británii. Památku každého z nich uctí položením květin.
The first trip in this project was undertaken on 14 January when the Ambassador and Martin Hošek, Public Diplomacy and Press Officer at the Embassy drove down from London to a wet and windy Kent. Their first stop was at Westwell, near Ashford, Kent, where the grave of Battle of Britain pilot Josef Dygrýn is located. Then to Ashford to visit the grave of Ján Encinger, a Czechoslovak soldier. Next stop was at the National Battle of Britain Memorial, at Capel-le-Ferne where the names of the 2938 Allied Battle of Britain airmen are commemorated. Eighty-eight of these airmen where Czechoslovak, eight of whom were killed in that conflict. From there it was onto Chartham, near Canterbury where Gerhard Bruck, a Czechoslovak soldier is interred. The final stop was at Sittingbourne where Vilem Göth, a Czechoslovak pilot who was killed in the Battle of Britain is interred.
První jeho cesta v rámci tohoto projektu se uskutečnila 14. ledna. Velvyslanec a Martin Hošek, 1. tajemník politického úseku ambasády, odcestovali z Londýna do deštivého a větrného Kentu. Jejich první zastávkou byl Westwell nedaleko Ashfordu v Kentu, kde se nachází hrob stíhače bitvy o Británii, Josefa Dygrýna. Druhou pak hřbitov v Ashfordu s hrobem československého vojáka Jána Encingera. Dále navštívili National Battle of Britain Memorial v Capel-le-Ferne, kde jsou připomínána jména všech 2938 spojeneckých letců, kteří prošli bitvou o Británii. Osmdesát osm z nich byli Čechoslováci, z nichž osm jich v tomto střetu padlo. Odtud se vydali do Charthamu u Canterbury, kde leží Gerhard Bruck, československý voják. A poslední jejich zastávkou toho dne se stalo Sittingbourne, tam je pohřben Vilem Goth, československý pilot, který také padl v bitvě o Británii.
The Ambassador's reflections on this trip:
Zápisky velvyslance Libora Sečky:
Naše první cesta v rámci projektu "Never Forgotten" vedla do hrabství Kent. Společně s kolegou Martinem Hoškem jsme hned ráno vyrazili na malý venkovský hřbitov ve Westwellu, abychom uctili památku letce Josefa Dygrýna. Pilot, který patřil mezi naše nejúspěšnější noční stíhače, byl sestřelen počátkem června 1942 nad Lamanšským průlivem. Celé tři měsíce trvalo, než vody Atlantiku vrátily jeho tělo na anglické pobřeží u Worthingu, západně od Brightonu. Jeho hrob i v šeru lednového dopoledne zářil výraznými barvami. Množství svěžích květin a věnců dávalo jasně najevo, že jde o často navštěvované místo, které v kontextu hřbitova působilo přátelsky a příznivě. Zdálo se dokonce, že v rozmoklém bahnitém terénu jde o ústřední bod, k němuž se váže veškerá energie prostoru. Vybavila se mi fotografie Josefa Dygrýna z knihy "Za hroby se lvy", na níž je zachycen s úsměvem a viržinkem furiantsky posazeným v koutku úst.
Our first journey of the "Never Forgotten" project took us to Kent. Together with my colleague Martin Hosek we set off to a little village cemetery in Westwell to commemorate airman Josef Dygryn, one of the most successful Czechoslovak night fighters of the WWII.His aircraft was shot down over the English Chanel at the beginning of July 1942. The Chanel ocean gave up his body three months after the tragedy when it was found on the coast near Worthing, west of Brighton. At dusk of that January afternoon, his grave was shining brightly. Plenty of fresh flowers and wreaths told us that this is a well maintained and regularly visited grave with a friendly and positive atmosphere. It feels like a central point of the cemetery which concentrates the whole energy of the surrounding space. A photo of Josef Dygyn from the book old came to my mind. It shows Josef with a trickster smile and a cigarette in corner of the mouth.
Na městský hřbitov Bybrook v městečku Ashford jsme přijeli za zesilujícího se deště. Hrob Jána Encingera, československého vojáka slovenské národnosti a válečného řidiče, jsme našli poměrně rychle v mírném svahu na horním konci pietního místa. Ján Encinger se konce války nedožil. Zemřel na tuberkulózu plic v místním sanatoriu v březnu 1945. Hrob je v dobrém stavu. Položili jsme květinu, udělali fotodokumentaci a spěchali do Folkestone.
The rain was getting heavier when we arrived at the Bybrook Cemetery in Ashford. It was easy to find the grave of Jan Encinger, a Czechoslovak soldier of Slovakian nationality who served as a driver. The grave situated on a mild slope at the top of the cemetery. Jan Enciger died of tuberculosis in local a sanatorium in March 1945. His grave is also in good condition. We laid the flowers, took photos for our documentation and drove onto Folkestone.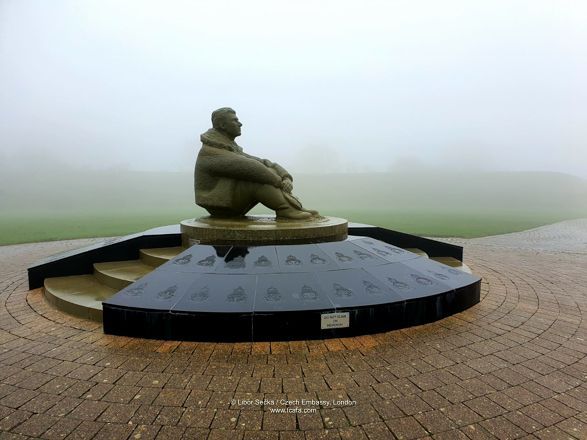 Nad útesy v Památníku bitvy o Británii na nás čekala nefalšovaná sychravá anglická mlha. Chvílemi ji prořezávaly jen divoké poryvy větru, kterými procházející hurikán Brendan bičoval pevninu. A ledový déšť. "Psa by nevyhnal", říkávali jsme doma. Moře jsme slyšeli, ale neviděli. Památníku vévodí socha sedícího pilota vyhlížejícího své druhy. Nevrátili se. Stejně jako řada z 88 československých hrdinů, jejichž jména jsou vyryta na pamětní desce. Mnozí z nich zůstali nezvěstní. Jejich památce jsou věnovány speciální pietní panely na hřbitově Runnymede jihozápadně od Londýna. V hukotu větru a vzdáleném šumu neklidného moře jsme jim vzdali úctu.
Above the cliffs at the Battle of Britain Memorial, we were waiting for a genuine, chilly English fog. At times, only the wild gusts of the wind, through which the passing Hurricane Brendan had been whipping the mainland, were cutting through it. And icy rain. "A dog would not go out in this weather" we used to say at home. We have heard the sea, but we have not seen. The monument is dominated by a statue of a seated pilot looking out for his comrades. They did not return. Like many of the 88 Czechoslovak heroes whose names are engraved on the Memorial Wall, many of them remained missing. Special memorial panels are dedicated to their memory at Runnymede southwest of London. In the roar of the wind and the distant noise of the turbulent sea, we honoured them.
Po obědě jsme se vypravili do Charthamu, kde v místní psychiatrické léčebně v květnu 1945 zemřel bývalý československý voják německé národnosti Gerhard Bruck. Narodil se v Harcově, dnešní části Liberce, a do doby, než u něj propukla nemoc, sloužil u Pěší výcvikové roty v Cholmondeley. Jeho hrob je osamocen, leží téměř na vrcholu svahu, ale blízko pěšinky. Jakoby se voják chystal vydat se jednou na dlouhou cestu domů. Zdálo se, že se nebesa protrhla a rozhodla se se vší vehemenci hasit australské požáry na špatném místě. Byli jsme promočeni na kost, ale cítili spojení. Uvědomil jsem si zvláštní a vzrušující intimitu tohoto momentu, která se zřídkakdy dostavuje při oficiálních vzpomínkových aktech s hymnami a nezbytnými slavnostními projevy.
After lunch, we went to Chartham where in May 1945 Gerhard Bruck a Czechoslovak soldier of German ancestry died in the local mental hospital. He was born in Harcov, which is now part of the City of Liberec. During the war he served with the Army training unit in Cholmondeley. His grave is sitting alone on the top of a slope near one of the cemetery footpaths. It feels like he is still prepared to set off and go back home. Heavens opened and the rain would have stopped the Australian fires but it was in the wrong place. We were completely soaked and at one with the the place. I became aware of the special and exciting atmosphere at that moment which is very rare when compared to the official commemorations with national anthems and unavoidable speakers the addressing audience.
Naší poslední zastávkou se stal hřbitov v Sittingbourne, který plní i funkci průchozího parku zkracujícího lidem cesty městem. Hrob válečného pilota, nadporučíka Viléma Gotha, narozeného v Brně, je zasazen do skupiny hrobů dalších britských a polských pilotů a vojáků. Vilém Goth zahynul při obraně prostoru nad letištěm v Biggin Hill v říjnu 1940. Srazil se s jiným letounem "Hurricane" spojenecké perutě. Posmrtně byl vyznamenán Československým válečným křížem. Z rodiny devíti hrobů čiší soudržnost, klid a jistota. Jakoby ti, co jsou zde pochováni, neměli pochyb, na čí straně bude konečné vítězství. Déšť neustává. Začíná se smrákat. Je lednové pozdní odpoledne. Je čas k návratu domů. Ještě před tím mě však Martin překvapí otázkou, zda bych ho jako velvyslanec neoddal s jeho snoubenkou Markétou. Určitě. S radostí. Je krásné, na místě, kde mnoho věci končí, rozhodnout o něčem, co teprve začne…
The last stop of our journey was the Sittingbourne cemetery which is also used a city park. The grave of the war pilot P/O Wilem Goth from Brno is situated in the war graves section. He died during combat near Biggin Hill airfield in October 1940. His aircraft collided with another Hurricane from his squadron. He was posthumously decorated with the Czechoslovak War Cross 1939. This group of nine war graves suggests of togetherness, tranquillity and firmness. It feels like the warrior sleeping here had no doubts about victory. It was still raining and the sun was slowly setting. It was a late January afternoon and time to return back home.
V Londýně dne 15. ledna 2020, Libor Sečka
London, 15 January 2020, Libor Sečka