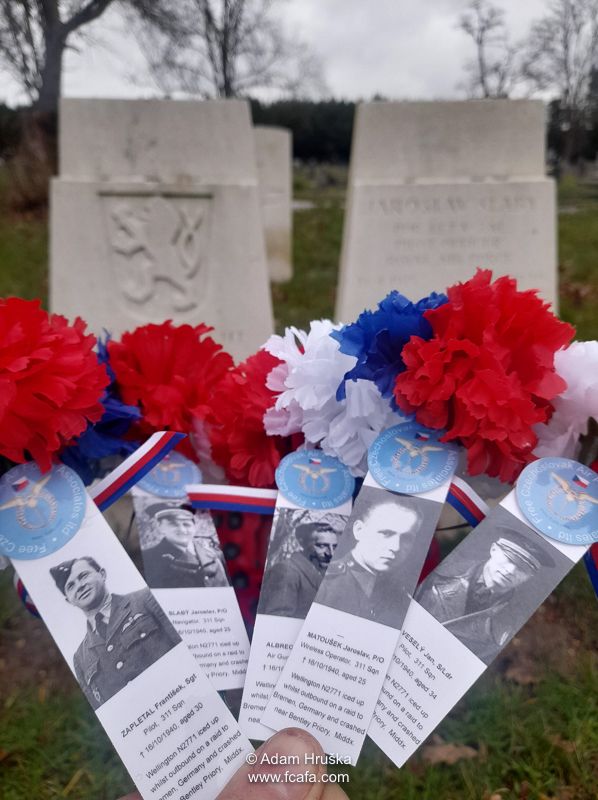 The five Czechoslovak airmen interred at CWGC Pinner were this week when one of our volunteers visited to place our bouquets at their graves.
These airmen were the crew of 311 Sqn Wellington N2771 KX-H, which had taken-off from RAF Honnington for a bombing raid on the German Naval facility at Bremen. On the return flight the aircraft iced-up causing it to being flying lower, resulting in it hitting a barrage ballon near RAF Bentley Priory causing it to crash and catch fire on impact. Only the front gunner, 22 year old P/O František Truhlář, survived the crash but was badly burnt and thus becoming one of Dr McIndoe's 'Guinea Pigs' requiring extensive medical attention and surgery for his recovery.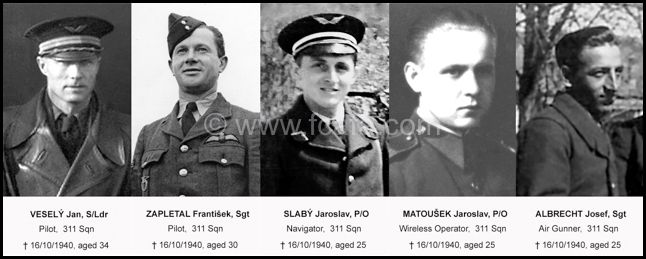 The crew was Captained by Sqn/Ldr Jan Veselý; Sgt František Zapletal, second pilot; P/O Jaroslav Slabý, navigator; P/O Jaroslav Matoušek, wireless Operator; P/O František Truhlář, front gunner; and Sgt Josef Albrecht, reargunner.
_____________________________________________________________
The night of 16/17 October was to be a fateful night for 311 Sqn who were stationed at RAF Honington. Four of the Squadron's Wellington bombers were sent out on missions to bomb the North German Naval shipping yards at Keil and Bremen – but only one was to return to base.
In the afternoon of 16 October an order was received from 3 Group for an attack to be made that night on the North German shipping yards at Keil and Bremen in Germany and four Wellington bombers were despatched that night.
The first Wellington, 1021 'X' took -off at 18:35 to attack a German battleship reported to be moored in Keil harbour. Due to poor weather conditions the results of that raid were not observed and the aircraft landed back at Honnington at 23:40.
The second Wellington, KX-K N2773 under the captaincy of Flt/Lt Josef Šnajdr, took-off from RAF Honington at 18:30, for a raid on Bremen Naval base and dockyard. They reached their target but due to low cloud, they were unable to observe results of their bombing. On the return flight to base from the raid, when it became iced up. The radio failed and due to the ground being totally obscured by, cloud the crew were unable to get a positional fix. Hoping for a break in the cloud, Šnajdr decided to stay airborne to the limit of his fuel. He took the aircraft down to below five hundred feet and the crew had a brief glimpse of a strange piece of coastline, but were still uncertain as to where they were. Sometime later with the fuel rapidly running out and no break in the overcast, Šnajdr reluctantly ordered the crew to prepare to jump. After a quick round of handshakes and good luck wishes, the crew one by one leapt out into the blackness. It was raining heavily, thus the crew got a soaking to add to their misfortune. One crew member, after a safe landing, knocked at a cottage door and requested help. He was promptly held up at gun point by the irate cottager. For him this was the last straw and he fainted! He came-to some time later comfortably ensconced in an arm chair and had his spirits revived with a mixture of tea and whisky. He was then collected by the village policeman and spent the remainder of the night at his home. A second crew member arrived at the village doctor's home, having spent an hour trying to get down from a tree in which his parachute had become entangled. Unfortunately things did not go well for P/O Miloslav Vejražka, the wireless operator, officially it was reported that his parachute had failed to open properly and that he fell to his death (although other accounts suggest that he was shot and killed by members of the local Home Guard, who mistook him for a German paratrooper!). The aircraft came down near Blidworth in Nottinghamshire.
The third Wellington N2771 KX-H, took-off at 18:45 for its mission to also attack the Bremen Naval base and dockyard. The aircraft suffered radio and compass failures and the crew were unable to obtain an accurate positional fix also became iced up on the return to base. Way off course in the darkness they collided with a barrage balloon cable. This mangled one of the bomber's wings and it crashed close to the RAF Fighter Command's headquarters at Bentley Priory. The only crew member to escape from the stricken aircraft was the front gunner P/O František Truhlář, who was none the less badly burnt (He later returned to operational flying, having retrained as a fighter pilot and served with 312 (Czechoslovak) Squadron). The others who died in the crash were the pilot, Sqn/Ldr Jan Veselý; the second pilot Sgt František Zapletal; the navigator P/O Jaroslav Slabý; the wireless Operator, P/O Jaroslav Matoušek and gunner Sgt Josef Albrecht.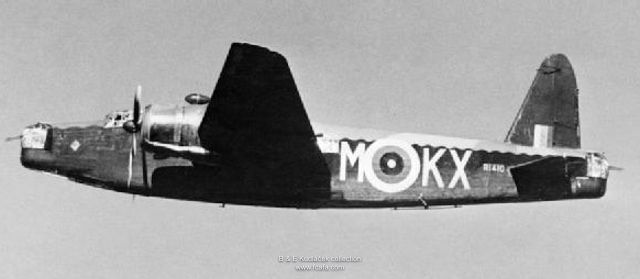 The fourth Wellington, KX-T L7844, became the first aircraft from the squadron to fall victim to an enemy night fighter. The aircraft was shot down by Lt Ludwig Becker of 4/NJG1 over western Holland. It was his first victory. Becker was flying a Dornier Do 17 Z-10 equipped with a gun-camera and attacked the bomber from behind setting the starboard engine on fire. The stricken Wellington began to lose height before spinning into the ground and bursting into flames. Only two of the crew; Sgt Emanuel Novotny and Sgt Augustin Šesták managed to bale out in time and were later captured by the Germans, the rest of the crew (the pilot P/O Bohumil Landa, the navigator P/O Hubert Jarošek, Sgt Ottoák and Sgt Karel Klimt) all perished. They are now interred at the CWGC cemetery at Oosterwolde General Cemetery, Holland.
This was also the first ground radar-controlled "Dunkle Nachtjagd" (DuNaJa—dark night fighting, without search lights) victory of the war. Lt Becker and his radio operator Josef Staub were vectored to the target by Leutnant Hermann Diehl, a Luftwaffe communication officer who had begun experimenting with a Freya radar on Wangerooge in 1939.
These sever losses suffered by the squadron were a contributing factor in it being was temporarily withdrawn from operations during the last week of October.
_____________________________________________________________