Češi v Tangmere – 1. část
The Tangmere Military Aviation Museum is located on the former WW2 Tangmere airfield used by 310,312 and 313 Czechoslovak squadrons as well as 1 Sqn in which several Czechoslovak pilots, including F/Lt Karel Kuttelwascher and W/O Josef Dygrýn flew night intruder sorties over northern France. In this role Karel Kuttelwascher achieved 21 combat victories during those sorties, making him the most successful Czechoslovak fighter pilot of WW2. Amongst its large and varied aviation exhibits they have an exhibition about Czechoslovak and Polish airmen who had been stationed at Tangmere as well as dedicated displays about Karel Kuttelwascher and S/Ldr Miroslav Liškutín and the Battle of Britain.
Letecké muzeum v Tangmere se nachází na bývalém druhoválečném letišti používaném 310., 312. a 313. československou perutí. Operovala odtud také 1. britská peruť, u níž sloužilo několik československých pilotů, včetně F/Lt. Karla Kuttelwaschera a W/O Josefa Dygrýna zaměřující se na noční mise nad Francií. F/Lt Kuttelwasher při nich dosáhl 21 vítězství a stal se tak nejúspěšnějším československým stíhacím pilotem druhé světové války. V rozsáhlých sbírkách muzea najdeme i výstavu zaměřenou na československé a polské letce, kteří na zdejším letišti sloužili. Své vlastní sekce zde mají F/Lt Kuttelwascher a S/Ldr. Miroslav Liškutín. Samostatná část je věnována také bitvě o Británii.
To czech out their Czechoslovak RAF exhibits, a private visit was arranged with Charles Hutcheon, Museum Curator and attending was Brigadier General Vratislav Beran the incoming Defence Attaché at the Czech Embassy London, Colonel Jiří Niedoba, outgoing Defence Attaché who is retiring at the end of June, Vee Darlington, daughter of Karel Kuttelwascher, Roger Darlington, author of Nighhawk, the definitive biography of Karel Kuttelwascher, Paul Kopeček son of F/O Vladimír Kopeček who had served at RAF Tangmere whilst a pilot with 312 Sqn.
S kurátorem muzea Charlesem Hutcheonem jsme si dohodli soukromou návštěvu části připomínající československé letce. Zúčastnili se jí brigádní generál Vratislav Beran, nastupující přidělenec obrany na velvyslanectví České republiky v Londýně plukovník Jiří Niedoba, jeho předchůdce, který opouští úřad na konci června, Vee Darlington, dcera Karla Kuttelwaschera, Roger Darlington, autor knihy Nighthawk, kompletní biografie Karla Kuttelwaschera, Paul Kopeček, syn F/O Vladimíra Kopečka, který sloužil na RAF Tangmere v době, kdy byl příslušníkem 312. perutě.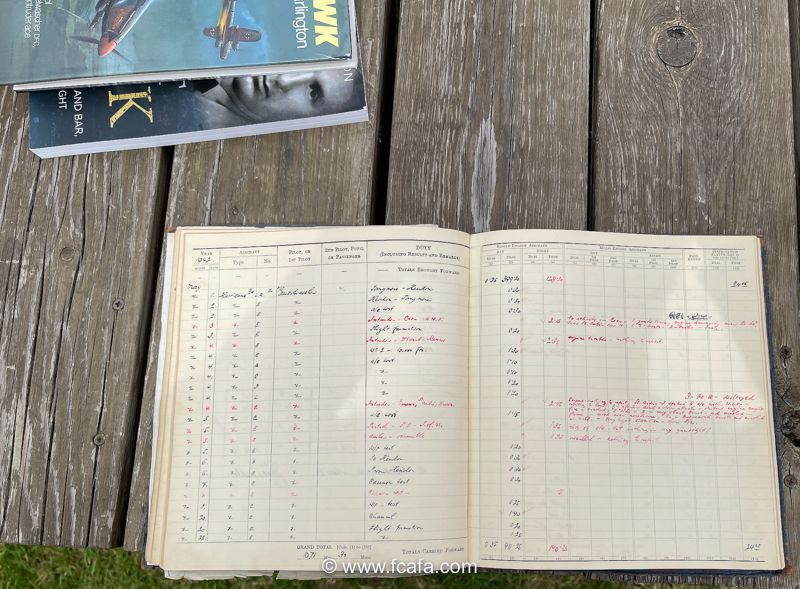 For the occasion, Vee had brought along her father's flying log book to show some of his intruder exploits. Of particular interest was his entry for the night of 4/5 May 1942 when, whilst flying Hurrican JX-E, BE581, he shot down three Heinkel He III aircraft returning to their base at St André, after bombing raids on England. In Hurricane JX-E, Kuttelwascher achieved 17 of his combat victories with a further 5 Luftwaffe bombers damaged.
Při této příležitosti Vee také přinesla logbook jejího otce a ukázala nám některé z jeho úspěchů. Zvláště jsem se zaměřili na zápis z noci ze 4. na 5. května 1942, kdy na stroji Hurricane JX-E, BE581 sestřelil tři bombardéry He-111 ve chvíli, kdy se vracely z útoku na Anglii na svou základnu v St. André. V Hurricanu JX-E dosáhl Karel Kuttelwascher sedmnácti vítězství a poškodil dalších pět bombardérů Luftwaffe.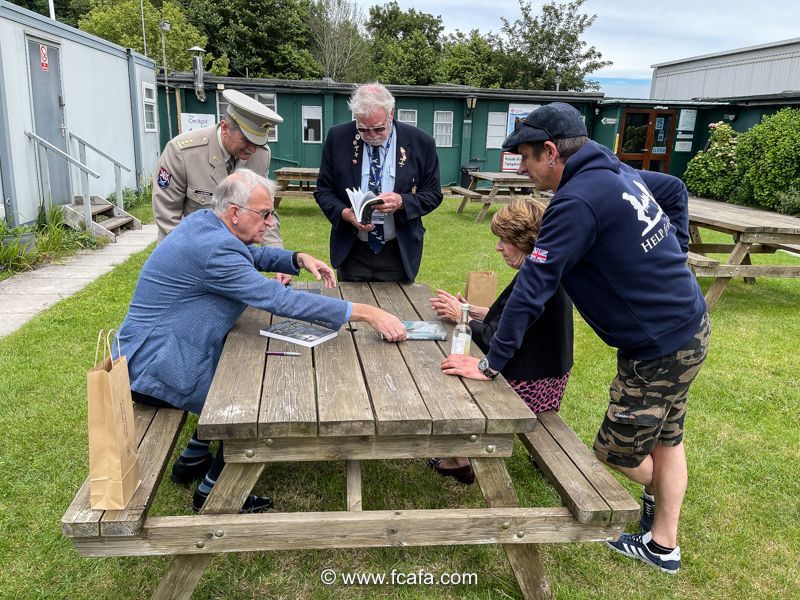 The visit concluded with Vee and Roger signing copies of 'Nighthawk.'
Na závěr naší návštěvy Vee a Roger podepsali několik výtisků knihy Nighthawk.
Many thanks to Charles Hutcheon, Museum Curator and his team for making this interesting and worthwhile visit possible.
Upřímné díky Charlesi Hutcheonovi, kurátorovi muzea, a jeho týmu za to, že nám tuto zajímavou a hodnotnou návštěvu umožnili.
Tangmere Military Aviation Museum:
Address:

Gamecock Terrace, Tangmere, Chichester, West Sussex, PO20 2ES

GPS:

50°50'48.8″N 0°42'52.9″W.
50.846889, -0.714694

Map Location: