Pomník spojeneckých letců na Guernsey 8. května 2021
Liberation Day in the Czech Republic is the national holiday commemorating the liberation of Czechoslovakia by Allied Forces on the 8th of May 1945 following six years of occupation by German forces. Local resident, Linda Vejlupová, a descendant of a Czechoslovak RAF airman and a volunteer with the Free Czechoslovak Air Force Associates ltd instigatedthe laying of floral tributes on Liberation Day 2021 to honour Czechoslovak Spitfire pilots, F/O Josef Bláha and F/Sgt Jaroslav Novák, who are named on the Allied Aircrew Memorial at the Island's airport. It was decided to add a further wreath from the Bailiwick's community paying tribute to all the allied aircrew listed on the Memorial.
Den osvobození Československa od fašismu, které přišlo po šesti letech německé okupace, je v České republice státním svátkem. Připomínáme si jej 8. května. Dobrovolnice The Free Czechoslovak Air Force Associates Ltd. Linda Vejlupová, trvale žijící na Guernsey a patřící k potomkům československých letců, iniciovala při této příležitosti akt slavnostního položení květinových věnců. Připomněli jsme si tak československé piloty F/O Josefa Bláhu a F/Sgt. Jaroslava Nováka, jejichž jména jsou uvedena na pomníku spojeneckých letců na místním letišti. Mimo to byly položeny také věnce na památku všech letců uvedených na pomníku, darovaného obyvateli Bailiwicku.
Liberation Day is also a holiday in Guernsey on the 9th of May, recalling almost five years of occupation which effectively isolated the Channel Islands. This was the only part of Britain occupied during the second world war. The Liberation Day connection between these two jurisdictions is further reinforced by the link between Guernsey and the RAF's Czechoslovak squadron 310 which flew its last operational sortie of the European war providing air cover for Operation Nest Egg, the Liberation of the Channel Islands.
Na ostrově Guernsey se Den osvobození slaví 9. května. Místní obyvatelé si v tento den připomínají téměř pětiletou německou okupaci, která v podstatě izolovala Normanské ostrovy. Ty se za války staly jedinou Němci okupovanou součástí Velké Británie. Spojení mezi Československem a touto oblastí bylo ještě více posíleno v průběhu operace Nest Egg – osvobození Normanských ostrovů – posledního operačního nasazení 310. stíhací perutě.
The act of remembrance, organised by Mike Snelling, member and Air Force representative of the Allied Aircrew Memorial Committee, took place at the Memorial at 11:00 on the 8th of May. As there were no known positive cases of covid-19, the Island was functioning as in pre-pandemic times, with no personal restrictions at all. However, travel in and out of the Island was severely restricted, this resulting in the airport being closed and deserted after the only flight earlier that morning to Alderney.
Připomínka zorganizovaná Mikem Snellingem, příslušníkem RAF a zástupcem výboru pro pomník spojeneckých letců, se uskutečnila 8. května v 11 hodin ráno. Jelikož na Guernsey není v současné době žádný známý případ nemoci Covid-19, vše proběhlo, jak je při podobných příležitostech obvyklé – bez jakýchkoliv omezení. Cestování na ostrov a z něj je však přísně kontrolováno, takže letiště bylo víceméně uzavřené a opuštěné. Toho dopoledne zde byl obsloužen pouze let do Alderney.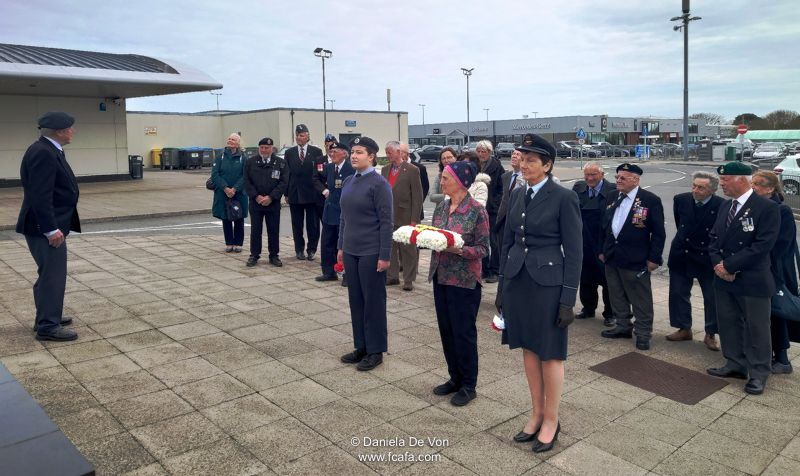 The small gathering of local veterans and well wishers included an ex-RAF Spitfire pilot, John Hall. Post war, John flew in the same squadron as F/Lt František Masařík, a former WW2 313 (Czechoslovak) pilot.
Skromného setkání místních veteránů a jejich přátel se zúčastnil i bývalý pilot Spitfiru John Hall. Po válce sloužil u stejné perutě s bývalým válečným pilotem 313. perutě F/Lt. Františkem Masaříkem.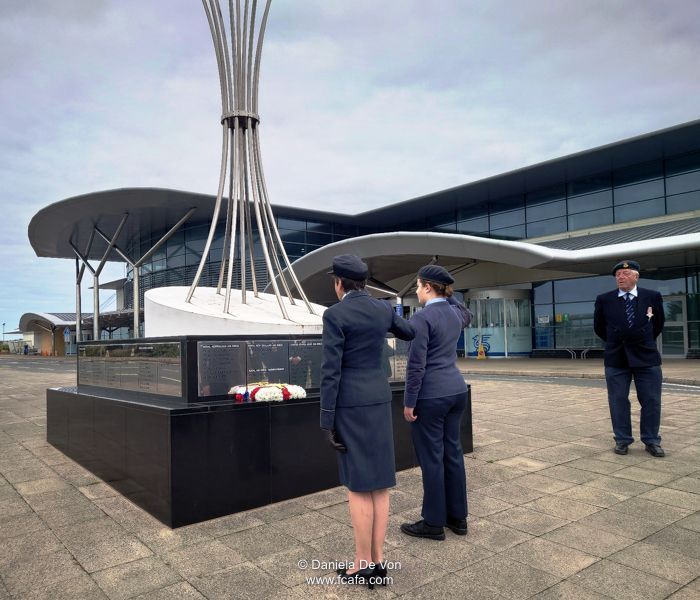 The tributes, in remembrance of the Czech pilots, were placed by FO Mary Snelling (retired) and Air Cadet Katka De Von (whose Mum is from Slovakia). The wreath depicting the Island's flag was also placed in remembrance of all 153 Allied airmen named on the Memorial.
Českoslovenští piloti byli připomenuti Mary Snellingovou, Flying Officer ve výslužbě, a Air Cadet Katkou De Vonovou, jejichž matka pochází ze Slovenska. Při obřadu byl položen také věnec s vlajkou ostrova Guernsey, kterým bylo uctěno všech 153 spojeneckých letců, jejichž jména jsou na pomníku uvedena.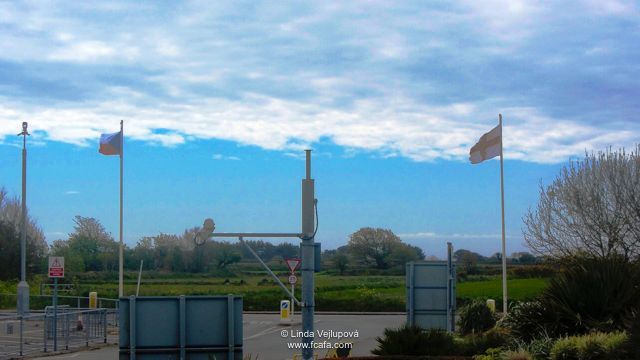 The Czech flag and Guernsey flag were hoisted at the entrance to the airport.
U vstupu na letiště také společně zavlály vlajky České republiky a ostrova Guernsey.
_______________________________________________________________
F/Sgt Josef Bláha, born December 1914 in Šelešovice village, near the town of Kroměříž in Moravia, Czechoslovakia, died on 15 January 1943. Piloting a Spitfire EP546 on an operational flight over France, he was involved in a mid-air collision with Squadron 313 F/O Bedřich Krátkoruký's Spitfire AR546, ten miles north of Cap de la Hague, and crashing off Guernsey. His body was never found. He is also remembered on panel 135 at the Air Forces Memorial at Runnymede, Surrey, England.
F/Sgt Josef Bláha, narozený v prosinci 1914 v obci Šelešovice, poblíž města Kroměříž v ČR, zemřel 15. ledna 1943. Pilotoval spitfire EP546 na operačním letu nad Francií, kde došlo ke kolizi s jiným Spitfire AR546, pilotovaným F/O Bedřichem Krátkorukým ze 313. perutě, deset kilometrů severně od Cap de la Hague, a havaroval poblíž Guernsey. Jeho tělo nebylo nikdy nalezeno. Jeho jméno je také vyznačeno na panelu 135, při Památníku leteckých sil v Runnymede, Surrey v Anglii.
F/O Jaroslav Novák, born August 1915 in the city of Ostrava, also in Moravia and only 15km from the Polish border, died on 14 May 1943. Piloting a Spitfire in attacks on German E-boats in the English Channel, his aircraft was damaged by flak over France. He crashed in the English Channel near Guernsey. His body was never found. He is also remembered on panel 127 at Runnymede.
F/O Jaroslav Novák, narozený v srpnu 1915 v Ostravě, ČR, zemřel 14. května 1943. Pilotoval Spitfire při útoku na německé lodě v kanálu La Manche, jeho letadlo bylo poškozeno protiletadlovou palbou z francouzského území. Zřítil se do vod kanálu La Manche poblíž Guernsey. Jeho tělo nebylo nikdy nalezeno. Jeho jméno také figuruje na panelu 127 u Runnymede.
_______________________________________________________________
The assistance of Linda Vejlupová to achieve this remembrance is very much appreciated.
Vysoce oceňujeme podíl paní Lindy Vejlupové na uskutečnění této vzpomínkové akce.