Děkujeme, Mileno
Whilst on a visit to Poland, in 2019, for the 75th anniversary of the Great Escape, from Stalag Luft III Prisoner of War camp at Żagań, Milena Kolaříková BEM, also visited the CWGC (Commonwealth War Graves Commission) Section at Old Garrison Cemetery, Poznan where Czechoslovak F/Lt Arnošt Valenta, 311 Sqn radio operator, and others of the 50 'Great Escapers', who were murdered by the Gestapo after their re-capture, were interred post WW2.
Během návštěvy Polska v r. 2019, při příležitosti oslav 75. výročí Velkého útěku ze zajateckého tábora Stalag Luft III v Zaháni/Żagań, navštívila Milena Kolaříková BEM také vojenský hřbitov CWGC(Commonwealth War Graves Commission – Komise pro válečné hroby Britského společenství)Old Garrison v Poznani a jeho oddělení, kde byl po skončení 2. světové války pohřben F/Lt Arnošt Valenta, radista 311. perutě RAF a další letci z 50 účastníků Velkého útěku, kteří byli zavražděni gestapem po svém opětném zadržení.
Whilst there she noticed date errors – birth date of 31.10.1912 and his death 25.03.1944 on his headstone. On return to the UK, she took it upon herself to pursue drawing this long standing error to the attention of CWGC and for its correction.
Během komorního vzpomínkového aktu u hrobu Arnošta Valenty si Milena všimla chybných dat na náhrobním kameni – den narození 31.10.1912. a den úmrtí 25.03.1944. byly přehozeny. Po svém návratu do Velké Británie kontaktovala CWGC s žádostí o opravu této doposud nezaznamenané chyby.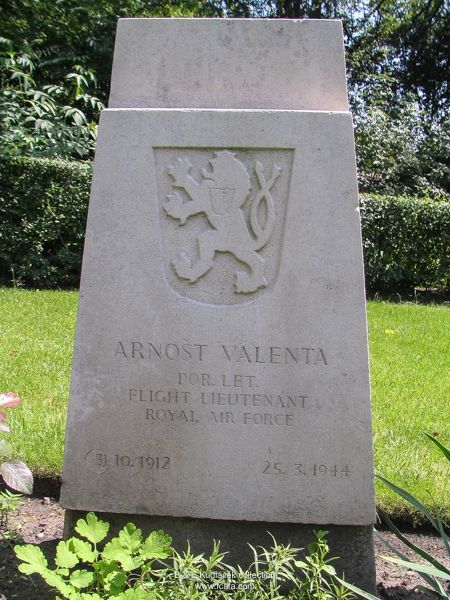 It can now be confirmed that CWGC have corrected these errors on his headstone – his birth date now reads 25.10.1912 and his death 31.03.1944.
Dnes můžeme potvrdit, že CWGC chybné údaje na náhrobním kameni Arnošta Valenty již opravila – datum jeho narození na 25.10.1912 a jeho smrti na 31.03.1944.
Full credit and many thanks to Milena for her observation and drawing this long unnoticed error to the attention to CWGC and for their prompt attention to correct it.
Všechna čest a díky Mileně, že upozornila CWGC na tento léta nepovšimnutý ´překlep´ a náš vděk patří též Komisi za provedenou opravu.
A biography on Arnošt Valenta here :.
Biografie Arnošta Valenty je zde: