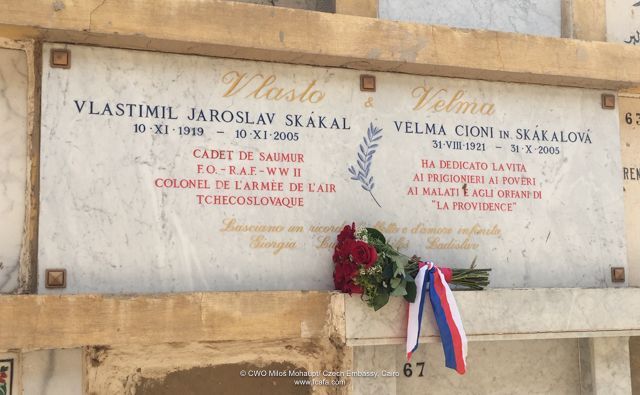 On 29 March, the Defence Office at the Embassy of the Czech Republic, Cairo, remembered F/O Vlastimil Skákal, when they visited his grave. He was a Czechoslovak who served in the RAF during WW2 and in 2005 died in Cairo.
_______________________________________________________________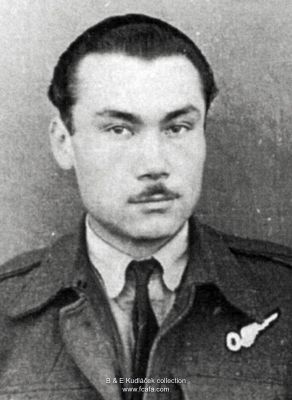 Vlastimil Skákal was born 10 June 1919 in Cairo, Egypt. His father Oldřich Skákal was originally from Černilov in the Hradec Králov region of Czechoslovakia, and had settled in Egypt in 1903. Together with his brother, they founded a successful artistic blacksmith and locksmith company.
In 1939, Vlastimil was a student in Paris, and on learning that Czechoslovak residents in France or Frenchmen of Czechoslovak descent were being accepted into the Czechoslovak Army in Exile, he applied to the Czechoslovak Consul in Paris in August to help and was informed that recruitment into a Czechoslovak Army in Exile would begin at the end of September. On 19 October he enlisted into the Czechoslovak Army at Versailles and was assigned to the 11th Company of the 1st Czechoslovak Infantry Division, at Agde, in which the organisation, equipment, and armaments were French. On 20.12.39 he was posted, as a Cadet, to the French Cavalry Academy in Saumur, about 160 miles West of Paris. Following the German invasion of France on 10 May 1940, and the subsequent capitulation on 22 June 1940, the Czechoslovak Army to England through the port of Séte in Southern France.
For Vlastimil, he was evacuated on the Mohamed Ali el Kebir which departed on 26.06.40, arriving at Liverpool on 07.07.40. Initially, the evacuated the Czechoslovak military were at Cholmondeley where Vlastimil was assigned to the Czechoslovak Mixed Brigade.
On 12.12.41. he was accepted into the RAF VR and posted to the Czechoslovak Depot at RAF Wilmslow for training. He was selected for aircrew training and on 07.02.41. was posted to No 1 Elementary Air Navigation School [No 1 EANS], Eastbourne, for a training course in navigation. Two months later, he was posted to No 10 Air Observers School ( No 10 AOS), at Dumfries, Scotland. His next posting, on 22.04.42, was to 1429 Czechoslovak Operational Training Flight [1429 COTF], at RAF Thornaby-on-Tees, where he attended Course 12 and was a member of crew 24, consisting of F/Sgt HAERING Rudolf DFM, Sgt SKÁKAL Vlastimil, Sgt KAŠPAR Václav, Sgt JAROŠ Štěpán and Sgt FRANKO Josef. On 01.09.42. he was posted as a navigator to 311 Sqn. who were deployed in RAF Bomber Command stationed and stationed at East Wretham and equipped with Wellington twin-engined bomber aircraft. In Spring 1943, 311 Sqn was transferered to RAF Coastal Command and later that year re-equipped with long-range four-engined Liberator aircraft. On 22.2.44. he was commissioned at the rank of P/O, on 17.07.44. he was promoted to the rank of F/O. On 09.01.45 he was posted to 105 OTU for retraining for RAF Transport Command duties. His final RAF posting was on 17.04.45 when he went 246 Sqn RAF Transport Command.
He returned to Czechoslovakia on 04.10.45. and when demobilised from the Czechoslovak AIr Force, he returned to Egypt and was involved in export/import businesses between the two countries. After the Communist takeover of Czechoslovakia in February 1948, he joined the Transakta office in the Commercial Section of the Czechoslovak Embassy in Cairo where he remained until his retirement.
He died in Cairo on 10.11. 2005, aged 86.
_______________________________________________________________