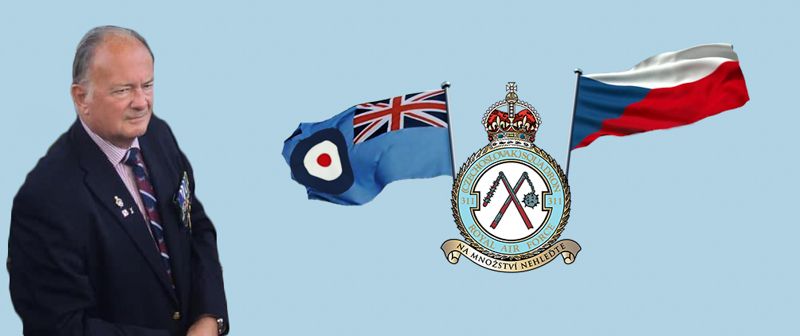 It is with much sadness that we must advise that F/Lt (retd) John P Rennison, died aged 72, on 1 January 2021 at Burton on Stather, Scunthorpe, UK.
S velkým smutkem v srdci oznamujeme, že 1. ledna 2021 zemřel ve Scunthorpe (Velká Británie) John P. Rennison Flight Lieutenant v.v.
John was a respected aviation historian and author within the Czechoslovak RAF community for many years and a noted authority on 311 (Czechoslovak) Sqn. His interest in aviation and this squadron was nurtured from his father, Sgt John Rennison who served with its Engineering staff during WW2.
John byl po mnoho let mezi československými příslušníky RAF uznávaným historikem letectví a autorem mnoha prací. Jeho specializací byla 311. bombardovací peruť. Svůj zájem o problematiku, a konkrétně 311. peruť, zdědil po svém otci, Sgt. Johnu Rennisonovi, který u ní sloužil jako technik.
After retiring from the RAF, John extended his aviation interest to include voluntary work at the North Lincolnshire Aviation Heritage Centre, RAF Ingham Heritage Centre and also regular visits to commemorate Operation Market Garden, at Arnhem, Holland.
Po odchodu z RAF John ještě rozšířil svůj rozsah zájmů a začal pracovat jako dobrovolník v Friends of RAF Hibaldstow, RAF Ingham Heritage Centre a také se pravidelně účastnil pietních setkání Operace Market Garden v Arnhemu v Holandsku.
John's friendship, knowledge, and empathy to the Free Czechoslovak Airmen will be greatly missed, and we extend sincere condolences to Patti, her daughters Michelle, Debi, Katy and Caroline and their families.
Johnovo přátelství, znalosti a souznění s československými letci nám budou velmi chybět. Upřímnou soustrast Patti a jejich dcerám Debi, Michelle a Katy s rodinami.
Rest in Peace
Čest jeho památce