Every Czechoslovak airman serving in the Royal Air Force Volunteer Reserve had to pass this unit several times during World War Two. The Depot's purpose was the housing, training and classification of Czechoslovak officers and airmen, who had escaped to Britain with the intent of service with the Royal Air Force.
Typical situations why an airman would be posted there:
– reception of novices into the RAF VR (mostly from Czechoslovak Army or civilians),
– uniform allotment, initial RAF drill,
– waiting for posting to different training schools,
– waiting for posting overseas (typical training in Canada),
– waiting for posting to operation squadron or non-operational service,
– non-operational service when their finished tour of operations, including study leave,
– discharge from the RAF VR (medical reasons, another service outside the RAF, bad character, end of hostilities, …)
Czechoslovak RAF Depots during WW2 :
Location:
From:
To:
Cosford
12 July 1940
19 December 1940
Wilmslow
19 December 1940
14 February 1942
St. Athan
14 February 1942
8 May 1944
Cosford
8 May 1944
1946
The first Czechoslovak Depot was at RAF Cosford, near Wolverhampton, which since 1938 was No 2 School of Technical Training, an RAF trade training school in RAF Technical Training Command. On arrival here the Czechoslovak airmen, by way of a Trade Test Board, were tested for their aviation trade skills – armourers, engines and airframes. Any of whom were already qualified – and met RAF standards – were posted directly to Czechoslovak squadrons within the RAF or, if surplus, to other RAF units. Their ability to communicate in English to the required standard was also a requirement and so English language tuition was also given. The same criteria applied to pilots, navigators, wireless operators and air-gunners. Those not meeting the required RAF standard remained at the Depot until called forward for further training at specialist training schools, then returned to the Depot immediately afterwards until formally posted to a squadron or other facility. Subsequently, the Czechoslovak Depot was relocated to Wilmslow, Cheshire, then St Athan, Glamorgan before returning back to Cosford at the end of WW2.
On 10 July 1940, the first contingent of the Czechoslovak airmen, consisting of 11 officers and 320 other ranks under the command of Major Karel Šifner, arrived at the Cosford Depot, from RAF Innsworth, Gloucester, following their evacuation from France. A week later a further 74 officers and 17 other ranks, under command of Lt/Col. V. Roik, arrived. Over the subsequent week's many other airmen arrived, including, on 26 October 1940, 11 Czechoslovak officers and 6 airmen arrived from Liverpool; this party representing men who, having fought in Poland, were taken prisoner in Russia and subsequently released. Some had travelled via Syria and Palestine; others came via Turkey and Egypt.
Although remote from their oppressed homeland, from all accounts Czechoslovak personnel at least found an agreeable temporary home in the Fulton block at RAF Cosford from which they could maintain their struggle to regain the freedom of their homeland.
In the early days at Cosford, most of the Czechoslovak airmen still wore their l'Arme d'Air uniform and as RAF uniform supplies became available changed to RAF uniform which bore the 'Czechoslovakia' badge on the upper sleeve.
By the time the Czechoslovak Depot moved to Wilmslow, in December 1940, some Czechoslovak RAF 153 officers and 525 men had passed through the Depot prior to being posted to operational squadrons.
On 9 August 1940, Dr Edurd Beneš, President of Czechoslovak Government-in-Exile in London, visited the unit; he arrived by air and was met by Air Marshal William Gore Sutherland Mitchell (second Inspector General of the RAF), Air Vice-Marshal Conway Walter Heath Pulford (Air Officer Commanding No 20 Group), Group Captain William Douglas Budgen (Officer Commanding RAF Cosford) and Colonel Josef Berounský. A guard of honour was inspected while the Czech National Anthem was played. Dr Beneš and his party were entertained in the Officers' Mess, after which the officers and men of the Czechoslovak Depot were inspected and marched past; Dr Beneš addressed the parade before departing by air.
On the occasion of the 25th Anniversary of the Czechoslovak Republic (1943), the Air Officer Commanding-in-Chief Technical Training Command forwarded a message to Air Vice-Marshal (AVM) Janoušek, Director-General Czechoslovak Air Force, expressing his admiration of the Czechoslovak Air Force personnel serving with the RAF. In reply, AVM Janoušek stated, "It is indeed our privilege and pride to fight side by side with the Royal Air Force. The spirit of comradeship and sterling qualities we have seen in every member of this finest Force in the world has been an inspiration to us all and we are determined to continue our common task with all our strength until final victory".
A Czechoslovak airman remembers RAF Cosford :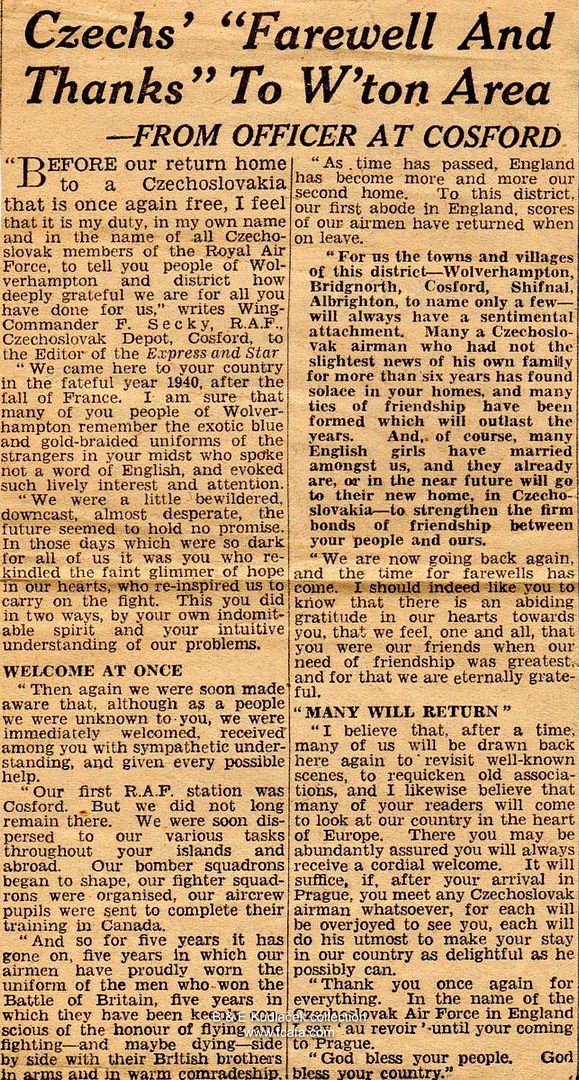 Remembrance :