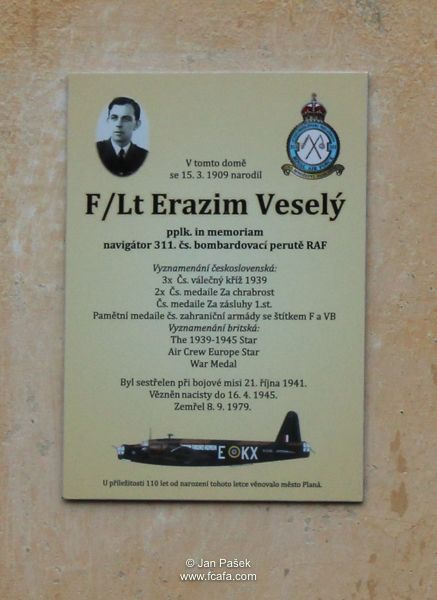 A memorial plaque was unveiled 9 March 2019 for F/Lt Erazim Veselý at his birthplace at the family home at Tachovská 249, Planá. F/Lt Erazim Veselý had served as a navigator with 311 Squadron during WW2.
9.3.2019 byla na domě jeho rodiny v Plané, na čísle popisném 249, v ulici Tachovská, odhalena pamětní deska navigátora 311. perutě F/Lt. Erazima Veselého.
This slideshow requires JavaScript.
The event was well attended and had been organised by PhDr Daniel Svec, who afterwards gave a presentation about the Czechoslovaks who served in the RAF during WW2 which included a display of memorabilia used by them.
Tuto hojně navštívenou událost zorganizoval PhDr. Daniel Švec. Ten také po ukončení slavnostní části promítl počítačovou prezentaci o Čechoslovácích ve službách RAF za druhé světové války a představil i kolekci předmětů, které v té době používali.