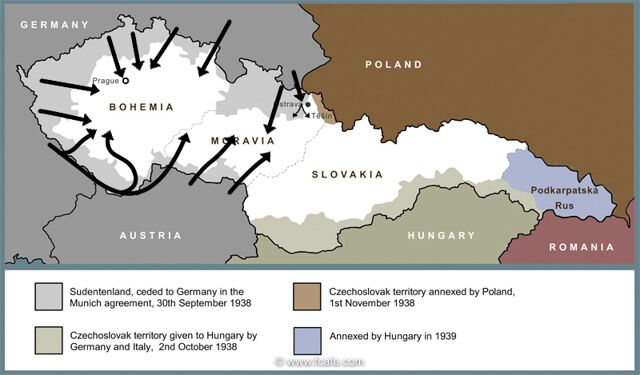 The 15 March 1939 was to be an ominous day in Czechoslovak history. In Berlin, during the early hours of that morning, Dr Emil Hácha, the Czechoslovak President, had been pressurised by Adolf Hitler into ceding the Bohemia and Moravia regions of Czechoslovakia to Nazi Germany. Slovakia had already been granted 'independence' from Czechoslovakia in return for supporting Germany.
Failure to agree to accept that demand would have resulted in the Luftwaffe bombing Prague to destruction that morning. Prague, following Germany being ceded the Sudeten regions of Czechoslovakia following the Munich Agreement of September 1938, was now a mere 60 miles from the German border – with no land defenses in-between.
At 04:00, Dr Hácha ordered the Czechoslovak military to remain in their barracks and not to resist the German Wehrmacht and Luftwaffe when the occupation began at 06:00 that morning. Thus Prague was to have the unenviable distinction of being the first capital to be occupied by the Germans – and in May 1945 the last capital to be liberated from them.
This slideshow requires JavaScript.
Within a few days of the occupation, the Czechoslovak military was disbanded and the airmen and soldiers sent home. However, many were unable to accept the occupation and within days, began to plan their escape to neigbouring Poland, to join Czechoslovak military units being formed there,
A fateful day for Czechoslovakia, but it was to have tragic consequences for the rest of Europe, not just WWII, but for the next fifty years.