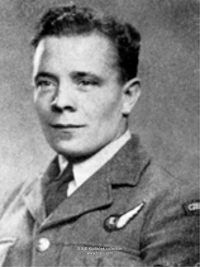 Gejza Holoda narodil se 12. října 1918 ve Velkém Peseku na jihu Slovenska, v listopadu 1938 po Vídeňské arbitráži připadlo toto území Maďarsku. 8. března 1940 odešel do československé zahraniční armády, jeho cesta vedla přes Bělehrad, Řecko, Turecko a Bejrút. Lodí Patria doplul k francouzským břehům, v Marseille přistál 25. dubna. Zamířil do tábora v městě Agde na jihu země, kde byl zařazen k 6. rotě 1. pěšího pluku, s nímž se účastnil bojů v červnu 1940.
Gejza Holoda was born on 12th October 1918 in Veľký Pesek in southern Slovakia. In November 1938 after the Vienna arbitrage, this region became a part of Hungary. On 8th March 1940, he left the country via Belgrade, Greece, Turkey and Beirut and joined the Czechoslovak army in France, arriving onboard the SS Patria. He landed at Marseille on 25th April 1940 and headed for the Czechoslovak army camp in Agde in the south of France where he enlisted in the 6th company of the 1st infantry regiment and participated in the battle for France in June 1940.
Po porážce Francie odjel lodním transportem do Anglie a přihlásil se k letectvu. Byl přijat do RAF a začal se cvičit na leteckého mechanika-motoráře. Dne 24. dubna 1941 byl Gejza Holoda v této funkci převelen k 311. čs. bombardovací peruti. Když už 311. peruť používala nové letouny typu Consolidated B-24 Liberator, byl zařazen do osádky jako palubní mechanik. U "třistajedenáctky" působil zhruba rok, pak byl přeložen k britské 246. dopravní peruti.
After the fall of France, he was evacuated to Britain where he joined the RAF. He was trained as a Flight Mechanic/engines. On 24th April 1941, he joined No. 311 Bomber squadron. When the squadron converted to the Consolidated B-24 Liberator aircraft he became a crew member as a Flight Engineer. He stayed with No.311 squadron for a year and was then transferred to No. 246 Transport Squadron.
30. dubna 1946 odešel z armády a přijal místo palubního technika u Československých aerolinií. 24. března 1950 byl členem posádky Dakoty C-47A, letící z Ostravy, se kterou pilot Ladislav Světlík přistál v německém Erdingu. Do akce nezasvěcený Gejza Holoda tehdy požádal – kvůli rodině – o návrat do Československa.
On 30th April 1946, he left the forces and became a flight engineer for Czechoslovak Airlines. On 24th March 1950, he was a member of the crew of a Dakota C-47A flying from Ostrava which was flown by Ladislav Světlík and landed in Erding, Germany. Gejza Holoda was not a part of an obvious plot by the pilot and to avoid persecution back home he decided to return to Czechoslovakia.
Přesto byl označen jako "nespolehlivý živel", a v říjnu 1950 propuštěn ze zaměstnání.Proto se o několik měsíců později odhodlal odejít za hranice. Spolu s dalšími čtyřmi bývalými kolegy z RAF se rozhodli, že využijí možností převaděče a přejdou hranice s Rakouskem na jižní Moravě. Odchod chtěli uskutečnit po skupinkách i s manželkami a dětmi v prosinci 1950. V padesátých letech docházelo ovšem k tomu, že lidé mající zájem opustit republiku často naráželi na provokatéry. Ti dle instrukcí Státní bezpečnosti slíbili zajistit přechod přes hranice, aby pak mohli nic netušící adepty exilu podle předem připraveného plánu vydat příslušníkům SNB. Obětí takového provokatérství se stal i Gejza Holoda s rodinou. Všichni ze skupiny byli zadrženi a obžalováni.
Despite his return, he was marked as "unreliable" and sacked from the Airlines in October 1950. This was the reason why he decided to emigrate. Together with another four colleagues who were former RAF members, he tried to use the services of others to help him to cross the borders to Austria. The plan was to take their whole families in groups across the border in December 1950. Unfortunately, there were traps set by the helpers of the Czechoslovak secret police. These people handed victims to the Police. Gejza Holoda and his family became the victims of one of them. They were arrested and indicted.
Všichni ze skupiny byli zadrženi a obžalováni. Spis se týkal celkem sedmi osob, později byl okruh obžalovaných rozšířen na devět. Všichni byli podezřelí ze zločinu velezrady, vyzvědačství, neoznámení trestných činů a napomáhání ilegálním přechodům. Gejza Holoda vyslechl 4. dubna 1951 rozsudek, který jej odsuzoval k 13 letům vězení za velezradu a vyzvědačství, propadnutí jmění (k tomu náleželo i zabavení bytu) a ztrátě občanských práv. Manželka Milada Holodová byla odsouzena na 18 měsíců s neprodleným nástupem výkonu trestu. O jejich syna se museli postarat prarodiče.
The case file contained information of seven people and later extended to nine. All of them were charged with treason, spying, failing to report a felony and attempting to illegally cross the border. Gejza Holoda was, on 4 April 1951, sentenced to 13 years of imprisonment for treason and spying, also loss of his property including his flat and loss of his civil rights. His wife Milada Holodová was sentenced to 18 months of imprisonment with immediate effect. Their son was put into the custody of their grandparents.
K zproštění viny a plné rehabilitaci došlo 4. listopadu 1966, kdy bylo zcela jasně prokázalo, že byla celá akce řízena a sledována Státní bezpečností [StB]. Útrapy prožité během mnohaletého věznění však vykonaly své. Gejza Holoda zemřel ve věku nedožitých 62 let 6. července 1980. Jeho hrob najdete na trutnovském hřbitově.
Gejza Holoda was cleared of all charge on 4 November 1966 when it was proven that the whole episode was directed by the state secret police [StB]. The hardship of long years in prison cost him a lot in terms of health. He died at 62 years of age on 6th July 1980. He was buried in the Trutnov cemetery.
© Jitka Zelená