Leopold ŠROM
…………….* 08.09.1917., Chrlice, Brno.
…………….† 11.10.1968., Kladno.
The Early Years
Leopold Šrom was born on 8 September 1917 in Chrlice near Brno where, from 1923, he attended the local school; he then continued his education for three years at secondary school at Tuřany with a further year at Brno. On completing his basic schooling in 1931 he wanted to continue to study electrical engineering but was not accepted for his chosen course. Instead he went on a three-year course to train as a radio-mechanic, which he successfully completed in 1935. The following year he took the opportunity to train to become a pilot in the 'Thousand Pilots for the Republic'. This training scheme was initiated by the Czechoslovak government and industry as there were now concerns about the growing military strength in neighbouring Nazi Germany. In this scheme young men trained to become 'sports and touring aircraft' pilots, with instructors from the Czechoslovak Air Force. Leopold successfully graduated from the training on 1 October 1936 and received his pilot's certificate.
Czechoslovak Air Force
He later joined the Czechoslovak Air Force, initially with the 5th Air Regiment, based at Brno, where he joined a basic military pilot training course. He was then posted to the 4th Air Regiment at Prague-Kbely airbase for fighter pilot training and then onto the Military Academy at Prostějov for advanced training.
He completed his military training at the end of 1938 and was posted to the 3rd Aviation Regiment at Spišské Nové Vsi in Slovakia.
To Poland
Following the German occupation in March 1939, Slovakia now became an independent 'puppet' State in return for supporting Hitler. The Germans disbanded the Czechoslovak Air Force and Leopold was demobilised and returned home. Like many other of his Air Force colleagues, he could not accept the Nazi occupation of his homeland and on 15 June 1939, he left his native Chrlice to travel to neighbouring Poland so that he could join the Czechoslovak military force which was being assembled there. He said, "On Thursday, 15 June, I went to Místek, where I had to report to Mr. Klus who took me to Frýdek to Mr Novák, where I met again with my brother-in-law mentor Bednář. I spent the night at Mr. Novák's and on the second day he brought an eighteen-year-old boy, whose name I did not know, who led us to the village of Morávka, where we walked a little way upstream, where were we showed where we should cross the river, and so we reached Polish territory. From here we went on foot to Horní Suchá, where we boarded the train."
In the village of Albrechtice, near Liberec, north-east Czechoslovakia, he was met by a pre-arranged guide and they continued onto Krakow. There he reported for duty at the Czechoslovak Consulate and was billeted at Malý Bronowice, a former Polish army camp outside Krakow.
In Poland, Leopold, like all the other escapers from Czechoslovakia, found that there was no enthusiasm from the Polish authorities to have Czechoslovak military units assembled on their territory as the Poles had no wish to provoke neighbouring Nazi Germany. Instead, negotiations between the Czechoslovak Consulate, Krakow and the French authorities resulted in the offer that the Czechoslovak escapees would be allowed to travel to France. However as French law did not permit foreign military units to be based on its soil in peacetime, the Czechoslovaks would be required to enlist in the French Foreign Legion for a period of five years but with the promise that if war was declared the Czechoslovaks would be released from their French Foreign Legion service and could enter into French military units. The alternative was that Czechoslovaks who would not accept these terms would be returned by the Polish authorities to Nazi-occupied Czechoslovakia.
To France
On 25 July 1939, Leopold, along with other Czechoslovak military personnel, left Malý Bronowice and travelled by train to the port of Gdynia, where they boarded a ship to France. On arrival, they were taken to the Legion's recruitment centre at Paris to complete enlistment formalities and medical examinations. By 26 August these were completed, and they were transported to the Legion's training camp at Sidi-bel-Abbes, Algeria.
Only a few days later, on 1 September, the German army invaded Poland and two days later war was declared. However, Leopold and his colleagues had to wait until 1 November before they were released from their Legion service and returned to mainland France. Here, Leopold was accepted into l'Armée d'Air and on 30 November was posted to their training base at Chartres for retraining on French aircraft and to learn French. Before his training was completed, on 10 May 1940, Germany invaded France and some six weeks later, on 18 June 1940, France capitulated. Leopold and his Czechoslovak colleagues were evacuated from France by ship and taken to England.
The RAF
On arrival in England, he enlisted into the RAF as a Volunteer Reserve at the rank of Sergeant. Again he underwent aircraft re-training and language learning, this time on British aircraft and in English. This became the priority as the Battle of Britain was now taking place. At the end of November, he was posted to 245 Sqn, a fighter squadron then stationed at Belfast, Northern Ireland. It was there on 29 May 1941 that he achieved his first aerial combat with the destruction of a Luftwaffe bomber. In July he was posted to 310 Sqn (Czechoslovak), who were equipped at that time with Hurricane fighter aircraft and later re-equipped with Spitfire aircraft. On 23 July, whilst flying Spitfire V, BL495 NN-U, on a Rhubarb raid ( operational flights by either fighters or fighter-bombers that would take place when there was low cloud and poor visibility. The Allied aircraft would fly across the English Channel to occupied Europe, drop under the clouds and search for any targets of opportunity.) on Lannion airfield, France, a one-metre wide hole was blasted through his starboard wing by the airfield's anti-aircraft defences. Leopold managed to fly the aircraft back to base in the UK.
On completion of his operational tour, he was posted for flying instructor duties where he spent his six months rest period, returning to 310 Sqn in January 1943 for his 2nd operational tour. In the later part of that year, he learned of plans for a Czechoslovak fighter squadron to be formed in Russia to fight on the Eastern Front, and volunteers were being sought from the Czechoslovak RAF fighter squadrons. Twenty-one Czechoslovak fighter pilots volunteered for this new squadron, one of whom was Leopold.
To Russia
In February 1944, Leopold left the RAF and with his 20 colleagues began their arduous trip to the Soviet Union. They arrived there in May 1944 where they underwent re-training on the Soviet Lavočkin La-5FN fighter aircraft. The new unit was named the 1st Czechoslovak Independent Fighter Aviation Regiment and was sent to help the Slovak National Uprising, which broke out at the end of August 1944.
Under difficult conditions, the unit achieved a number of successes in both aerial combat and against ground targets. During this period Leopold was awarded the Soviet Victory over Germany medal, which was only achieved if he shot them down six aerial combats against Luftwaffe aircraft making him the unit's most successful pilot. Unfortunately, the Slovak National Uprising was ill-fated and by October had been suppressed, forcing the unit to evacuate from Slovakia back East to Soviet-held territory. Here the unit was reorganised into the Air Division and Lieutenant Leopold Šrom was appointed Commander of the 2nd Squadron of the 1st Fighter Regiment. With this unit, in April 1945, he fought for the liberation of Ostrava, Czechoslovakia.
Post WW2
When WW2 ended, he rejoined the Czechoslovak Air Force where he tested new planes and repaired aircraft as well as testing airplanes for the Czechoslovak Scientific Aviation Institute. In February 1948, the Communists take-over of Czechoslovakia took place and they identified that those who had fought in the west during WW2 as a threat to their regime. Systematically the began to remove former RAF airmen from the Czechoslovak Air Force; usually by demoting them to the lowest rank, stripping them of any medals that Czechoslovakia had awarded them, and then persecuting them, including arrest and imprisonment.
Arrested by the State Security Police
In October 1948 Leopold had married Dagmar Novotná, neé Julínek, and in the same month he was promoted to the rank of štábní kapitán (Staff Captain). However, despite having fought with the Soviets, he was not spared the political purges that were taking place in the Czechoslovak Air Force. At the end of 1948, he was arrested by the StB – Státní bezpečnost – the State Security Police and detained. After his release, he was able to return to flying for a while, but shortly after was dismissed from the Air Force.
He managed to find work as a radio-mechanic with Tesla Žižkov, a national company. In the 1960s he was partially rehabilitated for the injustices of 1948. In 1963, Leopold was granted the lower rank of a Major, in reserve, in the Czechoslovak Air Force and in 1965 to the rank of Podplukovník (Lieutenant Colonel). With that partial rehabilitation came the opportunity to get back to flying. In 1966, he applied for employment as a pilot with ČSA – Československé Státní Aerolinie – the State airline. He successfully passed all the prescribed tests and met the medical requirements, and in 1966 he was accepted and employed as a co-pilot on Avia Av-14 transport aircraft which ČSA used on national and international routes. However, his service at ČSA was not to last long; on 11 October 1968, Avia Av-14, OK-MCJ, crashed a few minutes after take-off from Prague-Ruzyně, killing the three crew and eight passengers on board.
Following the Velvet Revolution in Czechoslovakia in November 1989, under the new regime led by the new President, Václav Havel, the former Czechoslovak RAF were morally and politically rehabilitated by the Czechoslovak authorities. In Leopold's case, this happened on 17 June 1991, when he was promoted, in memoriam, to the rank of Plukovník (Colonel) in the Czechoslovak Air Force.
Medals :
In recognition of his military service during WW2 he had been awarded the following medals:
4x Válečným kříž 1939 (Czechoslovak War Cross 1939)
3x Za chrabrost (Medal of Honor )
Za zásluhy I. stupně (Medal of Merit, grade I)
Pamětní medailí se štítkem F – VB (Memorial medal with Franace, Great Britain and USSR campaign bars)
Rad Slovenského národného povstania I. triedy (Order of the Slovak National Uprising I grade)
Defence Medal
War Medal
Russia

Victory over Germany in the Great Patriotic War 1941–1945
Remembered:
Memorial at Chrlice, Brno.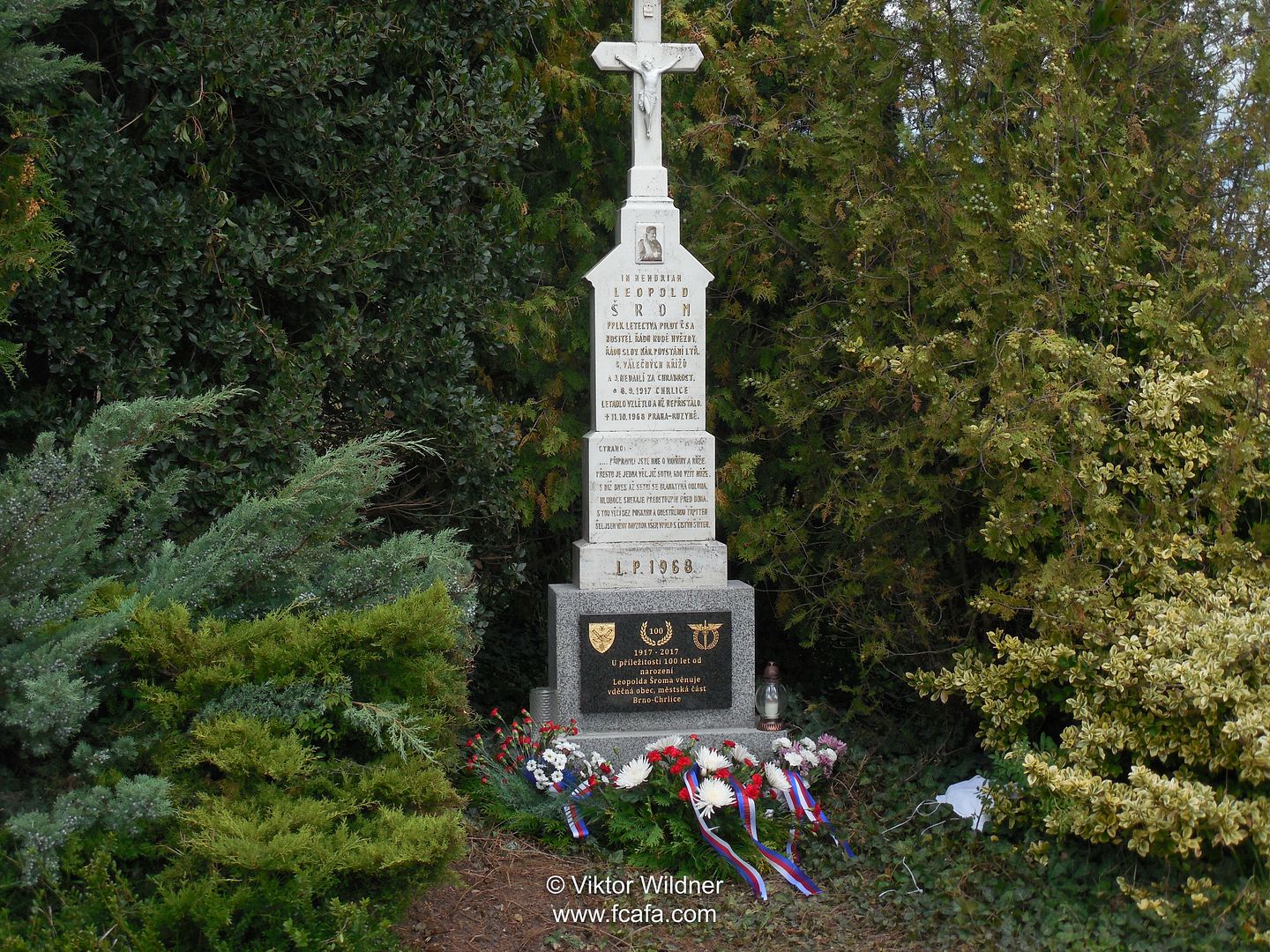 Šromová Street at Chrlice, Brno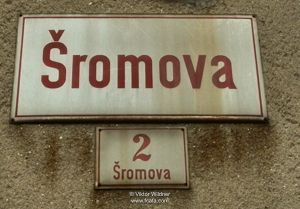 In the Černý Most District of Prague 14, a street is named in his honour: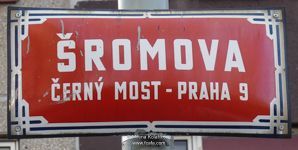 In November 2017, his name, along with the names of some 2500 other Czechoslovak men and women who had served in the RAF during WW2, was unveiled at the Winged Lion Monument at Klárov, Prague.