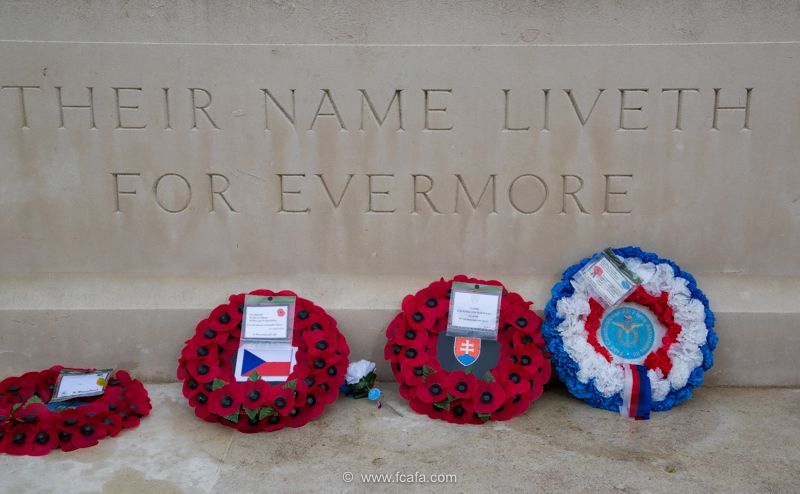 To commemorate the 102nd anniversary of the founding of the State of the Czechoslovak Republic on 28 October 1918, the 149 Czechoslovak airmen who are commemorated at the Air Forces Memorial at Runnymede were remembered.
Ve středu 28. října jsme oslavili 102. výročí vzniku Československa. Při té příležitosti jsme si rovněž připomněli 149 československých letců, jejichž jména jsou uchovávána v The Air Forces Memorial v Runnymede.
This slideshow requires JavaScript.
We thank the assistance of Col Jiří Niedoba and CWO Tomáš Kašpar from the Defence Office of the Czech Embassy, London and Col Vladímir Stolárik from the Defence Office of the Slovak Embassy, London for their kind help to the FCAFA team to lay our bouquets by each of the airmen's name panels.
Za podíl na této akci děkujeme přidělenci obrany českého velvyslanectví v Londýně plk. Jiřímu Niedobovi, jeho asistentovi, nprap. Tomáši Kašparovi, a plk. Vladimíru Stolárikovi, přidělenci obrany slovenského velvyslanectví v Londýně. Velmi ochotně spolupracovali s dobrovolníky z The Free Czechoslovak Air Force Associates Ltd. při pokládání květin u každého z panelů připomínajícího jména našich letců.