Tomáš Löwenstein was born into a Jewish family in Prague, Czechoslovakia on 01/08/24, during WW2 he served in 311 Sqn as a Wireless Operator and later with 111 OTU in the Bahamas. Some of his recollections of those times are below.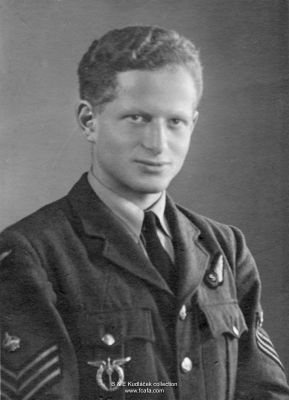 Here goes my modest contribution to the war effort".
When I became of military age in 1942, I enlisted at the Czech Embassy in London asking to be assigned to the Czech section of the RAF. My life in service of HM George VI ("for the duration of the present emergency") started at the Czech army camp Cholmondeley in May 1943. Because the only units of the Czech forces in GB in action was the Air Force, I applied for a transfer to the RAF; after about six months of infantry training, I was finally sent to the RAF Czech depot at Cosford. (My applications for transfer were simply ignored. So when after about 6 months infantry training I was on guard duty at the gate sometime before dawn and heard a hoard of totally drunk soldiers approaching I challenged them "stůj – kdo tam heslo" ("Stop – who goes there") and they replied some vulgarities plus "S NÁMI JE VELITEL TÁBORA" ("with us is the Camp Commander") I ordered firmly "heslo – k zemi !!! – I don´t know him" the howling grew in intensity until the Commander of our guards unit emerged from the hut, apologetically opened the gate and….In no time I was transferred to the Czech RAF depot Cosford).
Training parades and general service in the RAF. After about a month prospective aircrews were selected by a committee and I was sent to No. 1 Radio School at Cranwell. A month of basic radio operator training in classrooms, two months radio operating in flight. Another two months training as aircrew radio mechanic then transfer to No.10 Air Gunnery School at Burrow-in-Furness. In December 1945 I was finally trained and transferred to the Czechoslovak 311 squadron at Tain, Scotland …..
Here, I was assigned to the crew of J.Simet, but a chap who had the same professional training as me, asked me to swap with him because he had friends in the crew Simet, I had no objections, he arranged it and in consequence, I served in the crew of Captain Hořejší. A few months later the crew piloted by Simet had a nasty crash with many casualties. After take-off you had to cross Moray Firth gaining adequate height to cross the hills on the northern shore — if you didn´t have the plane at your fingertips you could not learn that even in 100 years. And Captain Simet did not get a chance to learn it.
We performed operational training flights mainly in order for the skipper to get acquainted with the Liberator, take-offs and landings by day and night, (so-called circuits and bumps), diversion airfields etc, On the first flight the skipper asked me if I could operate the radar set, I confessed that I had never seen it before but could try it. After a while he asked me over the intercom what I was seeing on the set: I reported the distance from the shore, no obstacles ahead etc. Hořejší murmured something in the sense that he could see that too, without my box. After a while he repeated his question, I read the new data from the screen. This time he said that this was quite good, we were in a cloud, he could not see anything. One day we flew to Aberdeen for some small repair and had the afternoon off duty. The members of the crew wanted to enjoy themselves and asked me if I could go with Hořejší to a café, so I spent the afternoon with the "old man", he was already about 30 years old. I liked him.
Jan.17th, Liberator PP-MX, take-off 11.40, operational training flight. One of the exercises was to launch parachute flares. These flares contained some kilos of magnesium, suspended on a parachute, all in a cylindrical sheet-metal container. Activated by throwing the whole contraption out through the flare-chute, the slipstream tore out the primary parachute, this pulled out the main parachute which jerked at the igniter and only then the magnesium was set on fire, burning for some minutes. Absolutely safe and foolproof — unless you had such a nincompoop in your crew as we had. He stuffed the flare down the flare chute parachute first. The slipstream tore out the small parachute, this tore out the main parachute, this jammed the flare in the flare-chute and set off the fireworks. Manual fire-extinguishers were of absolutely of no avail but probably prevented other things from going aflame. The pilot got permission for an emergency landing at Wick, the nearest airport, (North-Eastern corner of Scotland, where we landed at 14.20. Luckily there was no structural damage except that the rudder control cables were interrupted, but that could not prevent a born pilot like our F/Lt Hořejší from making turns and steering using the four engines and making a perfect landing at Wick. If it had been the elevator control cables…..not even Hořejší could have prevented a crash into the sea.
Operational patrol flight between Norway and Iceland, 13 hours flying time, horrible weather. Atmospheric noise suppressed any signal in the earphones. Wind speed about 100 mph. The Liberator jumped about like a toy, we were all sea-sick. Luckily the automatic pilot stood up to it and did not break the control cables – there was no soft-start in the system. In the tail section, the excursions were the worst, F/Lt Hořejší ordered us to leave the tail machine gun turret unoccupied, saying we wouldn´t be able to hit anything anyway and the Luftwaffe did not fly in this weather. Not long after that our crew was dispersed: Hořejší finished his operational tour, the Flight Engineer was grounded because he got airsick even when he looked at the Liberator he was supposed to fly in, I had to report to the squadron HQ where I was told to pack my kitbag and get ready for transfer to 111 OTU in the Bahamas. I begged the Commander to leave me with 311 Sqd, and to send someone else to the OTU. He told me that this was an order, no discussion, he needed an experienced Wireless Operator and Radar Operator, with knowledge of English language, capable of getting there without an escort. ABOUT TURN ! GET GOING !
The steamer Queen Mary lay at anchor, waiting for me in the Clyde estuary, a small ferry steamer brought us aboard. Our cabin was somewhere deep inside the hull, only at night did I manage to persuade the guard to let me do some jogging on the deck. The Queen Mary was relatively fast and sailed solo, without an escort. After some six days we landed in New York. Without delay they carted us off to some US Army camp north of the city, we deposited our RAF outfit and got US tropical gear there. We got some time off, so I visited Aunt Clotilde Schweiger somewhere in the suburbs of New York, Central Park, the Empire State Building scraper and some more "musts". In the evening we boarded the train for Miami Florida (just like Marilyn Monroe in "Some like it Hot"). After 2 days we were in Miami, again not like today´s TV shape but just like in the above-mentioned film. In the evening we boarded a small steamer, about the size of our Vltava boats. Not propelled by paddle wheels at the sides but a propeller screw at the back. Next morning we were at Nassau, the capital of the Bahama Islands. We lived in huts on Oak Field and flew in twin-engined B25 Mitchell's. We flew day and night circuits, navigational and radio exercises, low-level bombing etc. My radio station was behind the bomb-bay, which in this type of plane could not be passed through.
Nassau, Bahamas, 111 Operational Training Unit. March 3rd. Mitchel B25 FN, Pilot F/Lt Engel, take-off at 8.25 a.m. Low-Level Bombing exercise with small, about 12 kilo bombs. I was behind the bomb-bay at the radio and had to lie down at the tail window to report bomb impact on the ground. After several normal bombing runs, I reported that I did not see any bomb explosion on the ground. The Captain murmured something about better watching next time, closed the bomb-bay doors and went into a steep climb. This released the bomb from its holder, on hitting the closed doors exploded, I was drenched in hydraulic fluid, but no splinters hit me. We got priority to land – but the left landing gear refused to come down. F/O Jan Irving, a Czech pilot who was sent to the Bahamas as the Chief Pilot Instructor after completing twice his full operational flying tours in Europe, came up in a target-towing plane and advised our Captain how to shake the wheel out into position. All aerobatics only shook out the contents of our stomachs but the undercarriage leg was left freely dangling and refused to lock in place. When the fuel tanks were practically emptied, fire engines, ambulances etc. were ready for action at the runway, F/Lt Engel made a perfect approach, held the Mitchell on the right and front wheels as long as possible when the left wing touched the ground we spun around in circles. I had read up my "crash position" instructions: on the floor, stemming hands and feet against the fuselage ribs so that I would not be thrown about in the fuselage – no safety belts for the radio man. After the dust settled down we found ourselves in one piece and practically without damage (except for the poor B25 Mitchel). The fire engines and ambulances that day had no action to report.
After some five weeks of training flights on Mitchell aircraft, we were moved over to the Windsor Field, also on Nassau Island, where we continued operational training flights on B24 Liberators. Again "circuits and bumps", day and night, radio and navigation exercises. The war in Europe ended, but we were kept on for transfer to the Japanese war in the Pacific Ocean region. Our last operational training flight was a patrol Nassau – Bermuda – Nassau. No problems on the flight there, flying time 5:15 hours. On the way back I soon saw on my radiogoniometer that we were heading some degrees Eastward from the direction to Nassau. After about one hour flying time Nassau lay about 10 degrees off our course. I reported this on the intercom to the pilot who told me something like "mind your own business". After another hour I reported that we were now about 25 degrees off – course, the same reply from Captain Engel. When after about another hour I found that Nassau was exactly 90 degrees to the left, I became adamant, reporting that we were now flying away from Nassau. So they called me up to the pilot's cabin and showed me a lighthouse whose beacon showed clearly right ahead of us – but the morse code of the beam was not Nassau, so we turned about 90 degrees left and after an hour or so landed at Nassau with not much fuel left in the tanks. And who is going to tell me there are no Nayads and other mysterious forces who deflect navigator´s compass and lure ships and planes to destruction in the waves between Bermuda – Nassau – Miami? Luckily the Nayads forgot to screw up my radiogoniometer too.
Time off-duty at 111 OTU
Sundays I liked to stroll through the port of the native fishermen, one day I met there a Dutchman doing the same. When he offered to hire a sailing boat for the day from a native fisherman, of course, I agreed enthusiastically and thus we visited repeatedly a deserted island, where coconuts were on the ground and on the palm trees quite gratis, but climbing on palm trees is much less agreeable than the poles in the gymnasium. The return sailing was usually quite exciting because evening tides and no wind were an obstacle – but CPO Butler at the helm knew his job. I also spent quite some time "piloting" in LINK trainers (not really blind flying, the instruments are not inscribed in Braille) which stood idle on most aerodromes.
The Yanks made up their mind to finish the war with Japan without my help; they dropped two atomic bombs there, Hirohito signed unconditional surrender, I packed up my old kitbag, went by steamer to Miami, by train to New York, handed over my US gear and got back my old European kitbag deposited there. On the Queen Mary back to Scotland, by train down to Manston airfield, on board a Stirling bomber to Prague. Demobbed from the Armed Forces to continue my physics studies started at Glasgow, concentrating on technical physics, high vacuum technology and electronics which became my hobby and profession. With some luck, not being an officer or an active pilot, I survived the Czechoslovak Socialist Republic with no serious harm. Some readers of the original Czech text of this pamphlet urged me to write more about my war-time life. But I am neither Biggles nor Bond and don´t intend to mix facts and fiction, so I shall leave it at that. Three cheers to You if you enjoyed reading this to the end.
© Tomáš Löwenstein 2017