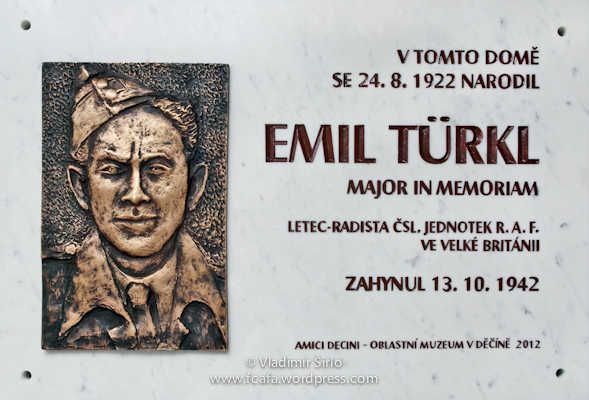 On Friday 24 August 2012 a Ceremony was held in Děčín, Czech Republic, to unveil a Memorial plaque at the birthplace of Sgt Emil Türkl. Attending the Ceremony was plk. Pavel Vranský [Wechsberg] who served as a Wireless Operator/Air Gunner with 311 Sqn and now one of the few living veterans of that squadron.
Sgt Emil Türkl was born in Děčín on 24 August 1922.
On the night of 13 October 1942, as a wireless operator/ air gunner with 27 OTU, he was killed in a night training flight accident, in a Wellington Mk 1C bomber, KX-V Z8854, near Church Broughton airfield, Derby. He was 20 years old. All six of the aircraft's crew were killed in the accident.
This slideshow requires JavaScript.
Amongst those attending the Ceremony were representatives of Czech RAF and Army veteran Associations who laid commemorative wreaths.