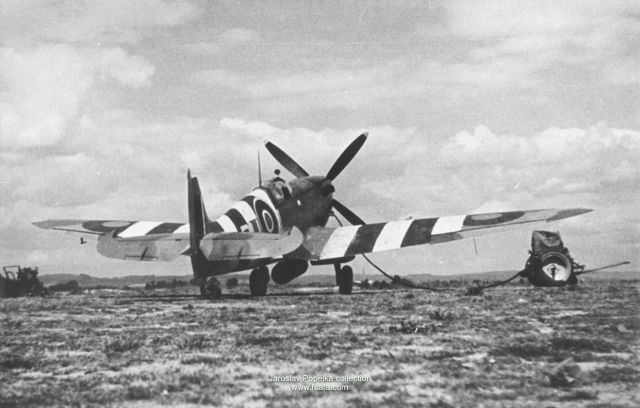 Apuldram and Tangmere
The Czechoslovak Fighter Squadrons; 310 Sqn, 312 Sqn and 313 Sqn, came to West Sussex in the spring of 1944 and carried out sorties in preparation for D-Day, during D-Day and after D-Day. They were stationed at Apuldram near Chichester and then for a shorter period at Tangmere before leaving for Kent.
D-Day: RAF Tangmere and satellites
Preparation for D-Day began in early May 1944 with the requisitioning of farmland and the upgrading of existing emergency landing zones.
There were 22 airfields for fighters and bombers in Southern England identified to provide protection for the troops during and after the invasion.
On the 15 February 1944, the RAF Tangmere Sector Operations Room transferred to College Hall at Bishop Otter College, now Chichester University.
126 Wing (Squadrons 401, 411 and 412) and 127 Wing (403, 416 and 421 Squadrons), all Royal Canadian Air Force (RCAF), were stationed at Tangmere providing cover during the invasion. On 7 June, eight of the twelve Ju 88s which were attacking the beaches were shot down by the Canadians. The squadrons moved to sites in Normandy on 18 June.
Three Free French Squadrons, 329, 340 and 341, were located at Merston ALG (Advanced Landing Ground) and provided Spitfire low-level cover for the troop-carrying ships and the Normandy bridgehead.
129 Wing (184 US Squadron) arrived at Westhampnett in May 1944 under the command of W/Cmdr Jack Rose. The Typhoons were credited as being the first to arrive over the assault area on D-Day. The Squadron moved to Normandy on 27 June.
Bognor ALG was located at Lagness and was the site for 132 Wing which comprised two Norwegian Squadrons and one British Squadron, during the D-Day operations. One 'Ranger' operation destroyed six enemy aircraft on the ground at the major Luftwaffe airfield at Juvincourt near Paris.
Selsey ALG near Church Norton was occupied by 135 Wing with three Squadrons. Norwegians, South African and Belgian pilots with Spitfires escorted bombers during D-Day and also conducted low-level patrols. The Wing was credited with the first D-Day kill by F/O Johnnie Houlton of 485 Squadron.
Three Mustang Squadrons of 122 Wing arrived at Funtington ALG mid-May. They were involved in 'Ranger' operations before D-Day and on D-Day escorted coastal command Beaufighters on anti-U-boat patrols.
The Czech Squadrons of 134 Wing, as part of the 2nd Tactical Air Force, were stationed at Apuldram ALG (alternative spelling: Appledram) and arrived 1 April 1944. The Wing comprised 310 (aircraft insignia code letters 'NN'), 312 ('DU') and 313 ('RY') Squadrons under the leadership of W/Cmdr Tomáš Vybíral. The Squadrons continued to operate together almost all the time until the end of the war. 134 Wing was equipped with clipped wing Spitfire LF (low flying) Mk 1XB aircraft with the 4-blade propeller. 2804 Squadron RAF Regiment were located near Apuldram Church and provided Bofors guns defensive positions near Crouchers Farm, the Black Horse pub and the houses at Dell Quay.
The local farmer was obliged to provide land for an airfield. The quick and easy tracked runways of the bar and rod type were laid out as a lopsided cruciform. Construction had begun in February 1943, completed early spring and first used 2 June 1943. The metal mesh allowed the grass to grow through and sheep kept the grass short. Around Christmas 1943 work was carried out to deal with the drainage problems experienced in this very low-lying land close to water. Four more blister hangers were added now, along with hardstanding. When the Czechs arrived, the accommodation was initially under canvas. Field amenities were spartan with night temperatures initially below zero though showers, a gymnasium and a library were a short drive away at Tangmere. Later, the accommodation was provided in local requisitioned farm cottages. One of the farmer's buildings functioned as a mess.
By the beginning of April 1944 Apuldram ALG was fully operational. Spitfires fitted with bomb racks attached under the fuselage had been delivered. Previously the Czech pilots had been temporarily located at Southend to receive training with low-level nose-diving offensive attacks on terrestrial targets. W/Cmdr Blackwood was in charge. The airfield staff totaled about 1800 including all ranks.
As part of the build-up to D-Day the Wing carried out a range of tasks including 'Noball' attacks on V bomb sites with 500lb bombs (though not necessarily known as such to the pilots at the time), strafing, bomber escort and offensive patrols. It took 40 minutes for a Spitfire to fly to Normandy. On one occasion one of these 500lb bombs was marked with the name of the Czech town Lidice. The Lidice massacre involved the complete destruction of the village with that name as a reprisal by the Nazis for the assassination of Heydrich. Some other independent offensive activities involved strafing and bombing rail and road targets.
Before D-Day F/O František Mlejnecký managed to drop a 500lb bomb into a railway tunnel at Rouen which meant that the line was closed for the rest of the war. F/O Miroslav Liškutín had a lucky escape when, after attacking a truck near Caen during a low-level sweep (Rhubarb) he failed to pull out of his dive properly and passed through the tops of the poplar trees lining the road. His Spitfire had experienced a high-speed stall. Liškutín was escorted back to base by F/O Karel Pernica where the damaged Spitfire engine finally failed and the pilot managed to glide down safely. On another occasion, Liškutín's Spitfire was knocked about by anti-aircraft fire. He was fortunate enough to find one of the landing strips constructed by the Royal Engineers only three miles from the front line in Normandy. The aircraft was checked and he could take off.
Preparation for D-Day
| | |
| --- | --- |
| Date: | Activity |
| April: | |
| May: | |
Flying hours for May 1944 were as follows: 310 Squadron 476 hours, 312 Squadron 519 hours and 313 Squadron 526 hours. During May the Wing repeatedly escorted American bombers attacking northern France during which a total of 121,000 lbs of bombs were dropped. Liškutín has observed that it was wise to be wary of the American gunners as they were somewhat 'trigger-happy'.
| | |
| --- | --- |
| Date: | Activity |
| June: | |
During June the Squadrons were notified of a move to Normandy but due to the slow progress of the Allied troops on land the move was deferred then canceled.
On leaving Apuldram the Czechs first moved to Tangmere and then on to Lympne and then Manston in Kent. The Squadrons were based at Tangmere from 22 June to 4 July. 28 June, 313 Squadron were moved to the B10 Advanced Landing Ground at Plumetot in Normandy but returned the following day. On 3 July, the squadrons transferred from the 2nd Tactical Air Force to Air Defence of Great Britain (ADGB). Otto Smik took over as Commander of 'B' Flight. The Czech pilots continued with defensive fighter duties and 'Noball' missions at Tangmere. During June 312 Squadron had completed 1,140 operational hours in the air.
On 14 August, the Czech Squadrons attacked the Ruhr district, their first action over Germany.
© Paul Kopecek