Vilém KOŠAŘ
One of the Few
…………….* 20.06.1908, Karviná, Těšín.
…………….† 08.11.1940, Mayfield, UK.
The Early Years:
Vilém Košař was born on 20 June 1908 at Karviná in the Český Těšín region of Eastern Czechoslovakia. His father Jozef, a locksmith by trade, came from came from Radwanice near Ostrava and mother, Agnieszka née Waloszek, a daughter of a farmer from Stonava, about 5 km from Karviná.
On completing his primary and secondary education at Karviná, Vilém then continued his education at the Polish School of Commerce in Orlová. a town near Karviná from where he graduated. However there was now an economic depression in Europe and he was unable to find any suitable employment in the Karviná region, he left for Poland. First he worked in an office at Sosnowiec, near Katowice.
In 1928, having reached the age of 18, he obtained Polish citizenship. In October the following year he enlisted in the Polish Armed Forces. and was posted to the 2nd Air Regiment in Kraków.
Polish Air Force:
In 1931 he completed a basic flying training course at the Polish Air Force Training Centre at Bydgoszcz. On 30 November that year was posted to the 65th Light Bomber Squadron of the 6th Air Regiment at Lviv . Between July and August 1932 he successfully completed an Advanced Flying Course at the Polish Air Force Academy at Grudziądz and then returned to the 65th Light Bomber Squadron. On 1 October he was posted to the 122nd Fighter Squadron of the 2nd Air Regiment who were deployed at Kraków, where he remained until the end of 1938.
Vilém's flying skills were noted and whilst there he was selected to join the famous aerobatic team known as the "trójki Bajana" ('Bajan's Three') led by Captain Jerzy Bajan. In January 1938 he was selected to be a flying instructor at the Initial Military Training Centre at Kraków.
German Invasion:
When Germany invaded Poland on 1 September 1939, Vilém was posted to the Replacement Group of the 2nd Air Regiment in Kraków, and on the following day was transferred to the No. 1 Polish Air Force Training Centre at Dęblin, about 90km South East of Warsaw, to help with the training of new pilots.
Already there were a group of 93 Czechoslovak airmen who had remained in Poland after escaping from their German occupied homeland. As Vilém spoke fluent Czech, he became the liaison between them and their Polish Commander Captain Zbigniew Osuchowski and it is here that he met Josef František, Josef Balejka and Matěj Pavlovič in that Czechoslovak group who had also been assigned roles there as flying instructors.
After Luftwaffe Ju 88's raided Dęblin and left it unusable as an airfield, Captain Osuchowski ordered the evacuation of aircraft and his group to the small emergency airfield at Góra Puławska (near Puław), about 17 km South of Dęblin where he formed the so-called 'Czechoslovak Reconnaissance unit. The unit consisted of 60 personnel with 11, Potez 25's, French built biplane reconnaissance aircraft or RWD-8 Polish trainer aircraft at their disposal. After carrying out a few reconnaissance flights they transferred to the airstrip at Krzywda near Radzine Plodlaske, about 46 km North East away.
The Český čtyřlístek:
During the German invasion of Poland, the four flew Potez 25's and PWS-26 biplane reconnaissance aircraft which were unarmed and so unable to defend themselves. Instead, when they were issued with hand grenades they and their observers, put them in our pockets and in a bucket at their feet. They flew low over the German lines throwing the hand grenades from the planes on the advancing German columns creating panic and destroying ammunition lorries. This method of bombing was in desperation as they had no other armaments but they managed to destroy seventy lorries this way.
Their bravery and determination in these attacks quickly earned them the name 'Český čtyřlístek'. The most notable of these attacks was on 19 September when they surprised a German unit which enabled Polish land forces to captured them. That same day, all four airmen were nominated for the Krzyz Walecznych, which were awarded on 21 September.
However on 17 September 1939, Soviet Russia invaded Poland from the East claiming that they had come to the aid of its "blood brothers," the Ukrainians and Byelorussians, who were trapped in territory that had been illegally annexed by Poland. With invaders advancing on both its East and West borders it was inevitable that the Polish resistance could not be sustained and Polish forces began evacuating South to Romania.
Evacuate to Romania:
On 22 September 1939, Osuchowski's reconnaissance unit was ordered to to withdraw, with their aircraft, to Romania, in the observers seat of Vilem's aircraft was General Strzemiński. They landed in Romania at the border town of Ispas. From here they flew to Cernauti, then Lasi and onto Pipera near Bucharest, where they were arrested by the Romanian police and taken to an internment camp for foreigners.
They had been there for four days when there was a violent storm on the night of the 26 September. The storm caused the camp guards to shelter in the guard room from the rain. The four of them took this opportunity and crawled under the wire fence that surrounded the camp.
They set off for Bucharest on foot, walking by night and hiding by day, so that no one saw them as they were still wearing Polish uniforms. The journey took four days during which time they were only able to find small scraps of food. At night they reached Bucharest and found a cemetery where they hid. They needed to exchange the 2,000 Polish zloty that they had been given by General Strzemiński to help them on their journey to France.
By now, Josef Balejka had now' acquired' a civilian overcoat and was sent to try and steal some civilian clothes for the other three so that they could also move about freely. There, they encountered a Czechoslovak singer working in a night club, and they stayed at her flat for a few days whilst Czechoslovak passports were obtained for them.
They then travelled to Constanta, the largest Romanian port where, on 2 October, they boarded the small cargo ship' 'Dacia' which also carried a few passengers. The ship then sailed through the Bosporus to Istanbul, down through the Dardanelles to Athens, Alexandria, Haifa to Beruit were they disembarked. At the harbour were representatives of the Czechoslovak Embassy, who had been expecting them. They advised Balejka, František, Pavlovič and Košař that unless they agreed to join the French Foreign Legion they would be deported back to the German Protectorate of Czechoslovakia. All agreed to join the Legion and were transferred to the nearby barracks of the French Foreign Legion. Here they received uniforms are were assigned to training units. A week later they boarded the "Theophile Gautier", a French cargo ship, which landed them at Marseille on 20 October 1940 where they continued their basic military training.
France:
On one late arrival back to their barracks, Balejka was running after the others when he ran into the desk Sergeant who checked all returnees to the barracks. The Sergeant started shouting at him and then noticed the Krzyz Walecznych ribbon on Balejka's uniform. He asked Balejka what was his nationality and indicating to the ribbon asked how had been awarded such a high decoration. Balejka replied that he had fought in Poland as had his three friends. The Sergeant called for the three friends and then spoke in Polish to Košař who was a naturalised Pole of Czech origin. The Sergeant was of Polish nationality and told them that as they were experienced pilots he would take care of them. Four days later they were released from the Foreign Legion and given train tickets to Paris with instructions to report to the Polish Embassy. At the Embassy they were met by Lt. Col. Jerzy Bajan, their former Commander from Dęblin airbase and then were taken to billets at Le Bourge airbase
England:
Whilst Balejka, František and Pavlovič remained in France with Polish Air Force, Vilém left France in early 1940 and travelled to England. There, at RAF Eastchurch, Kent, he was accepted into the Polish Air Force, which was autonomous from the RAF, at the rank of Sergeant and his Service Number was 780828.
On 1 June he was posted to the 3 (Polish) Wing at 3 School of Technical Training in Blackpool to await posting to a operational unit. On 20 August he was posted to 302 (Polish) Dywizjon Myśliwski "Poznański") Squadron, stationed at RAF Leaconfield, Yorkshire, but his type conversion to Hurricane aircraft needed further training and on 2 September was posted to 5 OTU (Operational Training Unit) at Aston Downe. The training completed, he returned to 302 Sqn on 26 September.
Battle of Britain:
Vilém's first operational flight in the Battle of Britain was on 5 October, a scramble at 08:15 in Hurricane TV4717 to the East Coast at Filey Yorkshire, returning to base 5 minutes later.
On 11 October the squadron redeployed to RAF Northolt, Middlesex. Four days later, whilst flying Hurricane DP3935 WX-D on patrol near Brooklands, Surrey in poor visibility, he collied with a barrage ballon cable loosing 14 inches from his wing tip, and had to make a forced landing at RAF Heston. He was unhurt in the crash.
By 31 October, when the Battle of Britain is considered finished, he had completed a total of 12 operational flights.
Last Flight:
On 8 November 1940, nine Hurricanes from 615 Sqn, also based at Northolt took off at 13:20 and ten minutes later, twelve Hurricanes from 302 Sqn also took-off and rendezvoused with them over Northolt. Vilém was flying flying Hurricane P3538 WX-J. The two squadrons were tasked with patrolling over the Croydon area at 20,000 feet.
During the patrol, the leader of 302 Sqn saw a large formation of Me 109's approaching from from about 5,000 ft above to the South. The Me109's passed over the squadron but they were then seen by 615 Sqn to turn in a circle and head for 302 Sqn. Two of the Me109's then dived, at high speed to attack the 302 Sqn Hurricanes. 615 Sqn gave warning of the attack and both squadrons took evasive action in the ensuing combat.
Only when 302 Sqn returned to Northolt did they realise that they had two aircraft missing – F/O Antoni Wczelik and Vilém Košař. Wczelik had made a forced landing at Detling, Kent, Hurricane BV6860 and was slightly injured.
However in that combat, Vilem's Hurricane had been fatally damaged and was in flames. Vilém managed to bail out, but his parachute was on fire and he fell to his death and his body was found in the grounds of Xavierian College, a religious boarding school at Mayfield, near Wadhurst, Sussex. His Hurricane crashed, inverted and in flames, at Pennybridge Farm, adjacent to one of the ponds in the school grounds.
Sgt Vilém Košař was buried in Northwood Cemetery, in grave no. H 274. He was 32 years old.
Medals:

Krzyż Walecznych [Cross of Valour]
Brązowy Krzyż Zasługi [Bronze Cross of Merit]
Medal Lotniczy za Wojne 1939-1945

1939 – 45 Star with Battle of Britain clasp
Remembered:
Czech Republic:
Winged Lion Monument, Prague:
In November 2017, his name, along with the names of some 2500 other Czechoslovak men and women who had served in the RAF during WW2, was unveiled at the Winged Lion Monument at Klárov, Prague.

Otaslavice: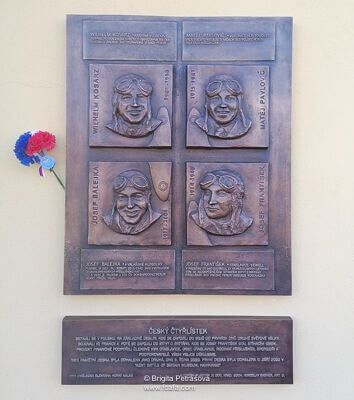 Valašské Klobouky: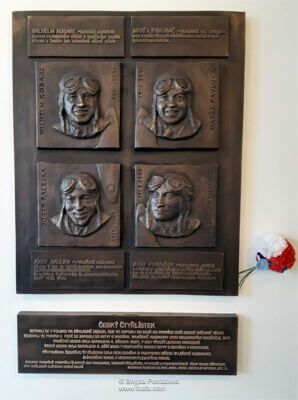 The third memorial plaque for the 'Český čtyřlístek' – the Czech four leaf clover – was unveiled on 4 March 2023 at Valašské Klobouky, the hometown of Josef Balejka.
Great Britain:
National Battle of Britain Memorial, Capel le Ferne, Kent:

London Battle of Britain Memorial:

Polish Air Force Memorial, Northolt:

Kent Battle of Briain Museum, Hawkinge, Kent:
On 6 September 2022, a memorial plaque for the 'Český čtyřlístek' was unveiled at The Kent Battle of Britain Museum, Hawkinge, Kent.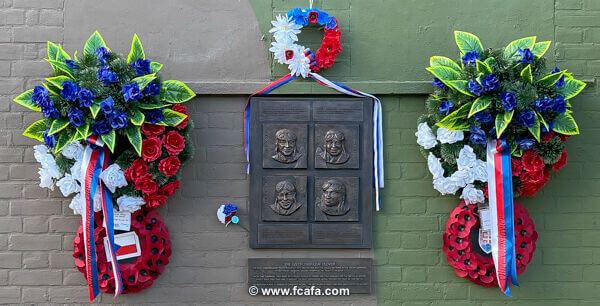 Poland:
Polish Airmens Memorial, Warsaw: