Karel Janšta – odhalení pamětní desky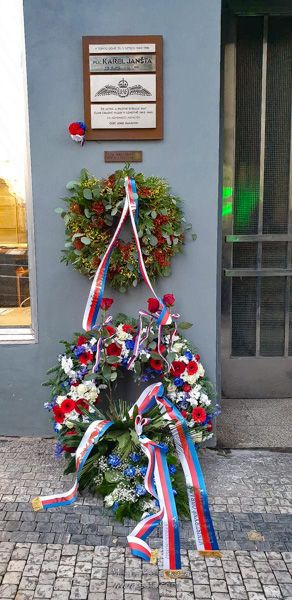 At 3 pm, Thursday 8 December 2022 a memorial plaque was unveiled at Žitná 32, Nové Město, Prague 2. This was was the former home of F/Lt Karel Janšta, who served as Wireless Operator/Air Gunner with 311 (Czechoslovak) Sqn in WW2 and had lived in the top floor flat there from 1975 until his death in 1986.
Ve čtvrtek 8. prosince 2022 byla v Žitné ulici č.p. 32 v Praze – Novém Městě odhalena pamětní deska F/Lt. Karlu Janštovi. Ten žil v nejvyšším poschodí tohoto domu od roku 1975 až do své smrti v roce 1986. Za druhé světové války sloužil jako palubní střelec/radista u 311. československé perutě.
Attending the ceremony was Jana Černochová, Minister of Defence of the Czech Republic, General Aleš Knížek, Director of Military History Institute, Colonel Robert Speychal, Director of Veterans Affair and War Graves at the Czech Ministry of Defence, Jiří Charfreitag from ČsOL (Československá obec legionářská), Jana Zachová, daughter of Karel Janšta, Petr Císařovský, sculptor of the plaque, well-wishers and an Honour Guard from the Czech Air Force.
Odhalení desky se zúčastnila ministryně obrany Jana Černochová, generál Aleš Knížek, ředitel Armádního muzea Žižkov, plukovník Robert Speychal, ředitel odboru pro válečné veterány Ministerstva obrany České republiky, Jiří Charfreitag z Československé obce legionářské, Jana Zachová, dcera Karla Janšty, Petr Císařovský, tvůrce pamětní desky, čestná stráž vzdušných sil Armády České republiky a další hosté.
After speeches, several wreaths were laid, followed by the playing of the Last Post and the event concluded with the Czech National Anthem being played.
Po slavnostních proslovech bylo na místě položeno několik květinových věnců, zazněla Večerka AČR a celou slavnost uzavřela národní hymna České republiky.