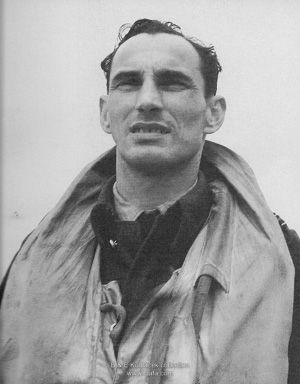 Alois Vašátko
One of the Few
…………….* 25.08.1908, Čelákovice.
…………….† 23.06.1942, English Channel, Devon.
The Early Years:
Alois Vašátko was born on 25 August 1908 in Čelákovice, a town 15 miles North East of Prague, Czechoslovakia. He was the second son of the five children of cabinet-maker, Alois Vašátko, and his wife Anna. Although he was the second-born son, he inherited his father's Christian name. The family moved to Týniště nad Orlicí before 1914 and the First World War had a direct effect on their family life. Their father had to enlist in the Austro-Hungarian Army leaving Anna to take care of the family she struggled with this challenge. Help was offered by a childless uncle, a farmer in Litodrady in Rychnovsk, who took care of the three eldest children. Their father returned from the war, but as an invalid which unfortunately prevented him from resuming his pre-war occupation: instead he became a tenant of a newsagents shop in Týništ nad Orlicí.
During that war, young Alois had attended primary school in Solnica, and later, for his secondary education at the town school in Týništ nad Orlicí achieving excellent grades in all his studies. On graduation, he then enrolled for a one year teacher training course at the Teacher's Institute in Hradec Králové, graduating, with honours, on 15 June 1927. It was there that he earned the nickname 'Amos' which remained with him for the rest of his life. During this period Alois maintained himself in excellent physical condition and was even a trainer of the local Sokol movement – an all-age gymnastics organisation in Czechoslovakia whose ethos was "a strong mind in a sound body". For the academic year 1927/28 he taught at a small school in Litoměřice, where he was noted for demanding high standards from his pupils.
Military Service:
On 1 October 1928, Alois began his compulsory national service and was posted to the 3rd Company, of the 22nd "Argonne" Infantry Regiment stationed at Jičín where he underwent his basic training.
From there he was posted to the School for Reserve Artillery Officers from where he graduated, with excellent grades, on the 31 May 1929 and was posted to the 8th battery of 3rd Artillery Regiment in Litoměřice. After being stationed there for six months, he was posted to the 2nd Battery of the 52nd Artillery Regiment at Josefov. By the time he completed his national service, achieving the rank of podporučík [2nd Lieutenant], he was rated as being an exceptionally capable officer with a firm and uncompromising attitude to discipline but also the less flattering comments of: "indirectedly ambitious, dissatisfied and unhealthily critical. Needs a firm hand. Otherwise, energetic and driven, very tenacious, cautioned for inappropriate criticism during his time at the military academy, thus showing a lack of discipline".
By now Alois had decided to pursue a career as a professional soldier. From 1929 to 1931 he attended the Military Academy in Hranice na Moravě from where he graduated and achieved the rank of nadporučík [1st Lieutenant]. He was then posted to the 5th Battery of 54th Artillery Regiment in Bratislava, afterwards to the Regiment' 8th Battery and finally to their 2nd Battery. In 1932 he graduated from the Artillery School course in Olomouc and in 1934 was posted, as an artillery instructor, to his former unit in Bratislava. At the end of 1935 he commanded the 2nd Battery of the 7th Artillery Regiment in Olomouc.
During this time he volunteered for a training course as an aerial observer, which was undertaken at the 2nd "Dr. E. Benes" Aviation Regiment.
Czechoslovak Air Force:
He found that he liked the discipline of flying and on 31 December 1936 he transferred from the Army and joined the Air Force serving in the 2nd Air Regiment who were deployed at Olomouc. During 1937-38 he underwent pilot training and became the Commander of the Regiment's 14th squadron equipped with Letov Š-328 biplane reconnaissance aircraft.
During the mobilisation in the Autumn of 1938, leading up to Munich Agreement, the 14th Squadron was stationed at airfields in northern Moravia. During that mobilisation, Alois "proved himself, despite his youth and lower rank, to be an excellent Commander of an observation squadron. He was a very strict soldier, both to his subordinates and to himself."
German Occupation:
Despite assurances given by Hitler at the Munich Agreement, also known as the 'Munich Dictat' or 'Munich Betrayal' in Czechoslovakia, of 30 September 1938, that he had no further interest in territorial gains for Germany, just a few months later he extended his demands to include the remaining regions of Czechoslovakia as part of Germany.
When the Germans occupied Czechoslovakia, on 15 March 1939, it became a German Protectorate – the Reich Protectorate of Bohemia-Moravia – and Slovakia became a German 'puppet' state. The Czechoslovak Air Force and Army was disbanded and all personnel demobilised. By this time Alois had achieved 587 flying hours.
To Poland:
After the German occupation, the Czechoslovak military was quickly disbanded by the Germans and all personnel dismissed. For the military personnel and many patriotic Czech citizens, this was a degrading period. Many wanted to redress this shame and humiliation and sought the liberation of their homeland. Germanisation of Bohemia and Moravia began immediately. But by 19 March 1939, former senior officers of the now-disbanded Czechoslovak military had started to form an underground army, known as Obrana Národa [Defence of the Nation]. One of their objectives was to assist as many airmen and soldiers as possible to get to neighbouring Poland where Ludvík Svoboda, a former distinguished Czechoslovak Legionnaire from WW1, was planning the formation of Czechoslovak military units to fight for the liberation of their homeland. Within Czechoslovakia, former military personnel and civilian patriots covertly started to arrange for former Air Force and Army personnel to be voluntarily smuggled over the border into Poland to join these newly-formed Czechoslovak units.
Like many of the Czechoslovak military, Alois resented having been denied the chance to resist the occupying Germans, and was one of the many Czechoslovak airmen and soldiers who saw it was their duty to go to Poland from where they could fight to achieve the liberation of Czechoslovakia. For some weeks he thought about what to do next. Alois then decided to leave and covertly cross the border to Poland. He travelled by train to northern Moravia, where he made contact with organisations who were helping people to illegally cross the border to Poland. On 9 July 1939, with the help of a people smuggler, Alois travelled to Velký Polom, a village about 45km South East of Ostrava. From there, after travelling some 8 km through the forests, Alois successfully covertly crossed over the Polish border. Now safely in Poland, he reported to the Police station at Jablunkov, Here a report was drawn up with him and after four days he was sent to the Police headquarters in Těšín.
There he met many former Czechoslovak military colleagues who had similarly escaped to Poland for the same reason as himself. He spent the next six days there before, on 19 July, he and his fellow Czechoslovak escapees were transported to Kraków where they reported for duty at the Czechoslovak Consulate.
However, the Polish Authorities, who recognised the new puppet State of Slovakia, showed little interest in the Czechoslovak military who were escaping across their border in groups and would not allow independent Czechoslovak units to be established on its territory as they were concerned about antagonising neighbouring Nazi Germany. Only after lengthy negotiations between Czechoslovak Diplomats in France and Great Britain, and the French Government, did the French agree to permit 4,000 Czechoslovaks into the French Foreign Legion – French law did not allow for foreign military units to be on its territory in peacetime, and the Czechoslovak escapers would be required to join the French Foreign Legion for a five-year period with the agreement that, should war be declared, they would be transferred to French military units. The alternative was to be returned to occupied Czechoslovakia and face German retribution for escaping – usually imprisonment or execution with further retribution to their families.
In the interim, the Czechoslovak escapees were initially billeted at Bronowice Małe, a former Polish army camp outside Krakow, now used as a transit camp for escaped Czechoslovak military personnel, whilst travel arrangements to France where made. Due to the poor conditions in the camp, morale was not high, but Alois spent his time studying French and keeping in shape by doing gymnastics.
With other escaped Czechoslovak military personnel, Alois left by train to Gydnia, on the Baltic coast of Poland, where on 29 July 1939 they boarded the MS Chroby, a Polish trans Atlantic passenger ship, sailing on her maiden voyage to South America and on the 1 August they arrived at Boulogne, France.
France:
At Boulogne, the Czechoslovak escapees disembarked onto French soil. However they were required to join the French Foreign Legion for a five- year period, as, under French law, foreign military units were not permitted on mainland France during peacetime. After some refreshments, they boarded a train for the thirteen-hour journey to Paris.
They arrived there at 17:30 and were taken by coaches to the French Foreign Legion's recruitment barracks at Place Ballard, in the South West of Paris, to undergo medical checks, whilst the necessary documentation was prepared for their enlistment into the Legion. Pending their transfer to the Legion's training base at Sidi bel Abbes, Algeria, during this time they attended French classes and any free time was usually spent in Paris exploring the sights and eager to practise their newly-learnt French with the girls they met.
War was declared before Alois was sent to Algeria and instead he was transferred to the l'Armée d'Air at their Paris airbase. On 11 September he was transferred to Centre d'Instruction de Chasse for re-training on French aircraft at Chartres airbase.
Having flown 101.35 hours at Chartres, Alois had completed his re-training, and on 11 May 1940 was posted to GC I/5, a fighter unit who were based at Suippes airbase, near Rheims and were equipped with Curtis H-75c fighter aircraft.
During the Battle of France he flew 52 operational hours in 31 sorties. He achieved the highest combat success amongst the Czechoslovak pilots serving in l'Armée de l'Air and was the 5th most successful of all the l'Armée de l'Air pilots:
| Date: | Time: | Type Flown: | Action: |
| --- | --- | --- | --- |
| 17.05.40 | 17:35 | MS-406 | shared Me 109, SW of Stonne |
| 17.05.40. | 17:40 | MS-406 | shared Me 109, east of Raucourt |
| 18.05.40. | 14:45 | MS-406 | shared He III shared, NW of Fismes |
| 18.05.40. | 14:45 | MS-406 | shared He III, at Laon-Soissons |
| 18.05.40. | 14:45 | MS-406 | shared He III, East of Soissons |
| 25.05.40. | 10:40 | MS-406 | Me 109 probable, North of Grandpré |
| 26.05.40. | 12:30 | MS-406 | He III damaged, Tannay, North of Sedan |
| 03.06.40. | 12:05 | MS-406 | shared Hs 126, North of Sommanthe |
| 08.06.40. | 16:40 | MS-406 | Ju 87, SW of Rouen-Boos airfield |
| 10.06.40. | 05:10 | MS-406 | shared Ju 88, at Châtillon sur Bar |
| 10.06.40. | 16:30 > 17:45 | MS-406 | He III, West of Buzancy |
| 12.06.40. | 11:15 | MS-406 | shared Hs 126, at Dommartin-od-Coq |
| 15.06.40. | 11:00 > 13:45 | MS-406 | shared Do 17, at St-Menehould, Bar-le-Duc |
During his combat on 26 May, his Curtis H-75c came under attacked by a Luftwaffe aircraft. It's gun-fire passing through the cockpit canopy causing his goggles to shatter, injuring his face. Despite this, he managed to fly safely back to base at St Dizier airfield.
When the German invaded France, the rapidity of their Blitzkreig caused GC I/5 to frequently have to change their airfields as they retreated westward. By 20 June they had moved three times and were now at La Salanque airbase near Perpignan in southern France. Later that day they evacuated from mainland France and flew their aircraft to Maison Blanche airbase in Algeria.
When France capitulated, the Czechoslovak airmen were released from their l'Armée de l'Air service. On his release on 4 July, Alois and the other Czechoslovak airmen at Maison Blanche travelled by train for four days to Casablanca, Morocco. From here, on 9 July, they boarded the 'Royal Scotsman' and were taken to Gibraltar from where, on 21 July 1940 they sailed on the 'David Livingstone' which arrived in Cardiff on 5 August 1940.
RAF:
On arrival to England he was initially billetted at the Czechoslovak transit camp at Cholmondeley, near Chester, before being transferred to the Czechoslovak Airmens Depot at RAF Cosford. On 16 August Alois was accepted into the RAF Volunteer Reserve at the rank of P/O. On 5 September he was posted to the newly formed 312 (Czechoslovak) Sqn who at that time were based at Duxford and equipped with Hurricane I's.
Re-training for Hurricanes commenced immediately and on the following day Alois made his first flight in a Hurricane. On 26 September, 312 Sqn moved to Speke airfield, at Liverpool, where their role was the defence of Liverpool and its docks. The squadron was declared operational on 2 October.
Alois made his first operational flight in the Battle of Britain two days later, flying Hurricane H1926 when six Hurricanes were scrambled from Speke with the flight lasting 55 minutes. He was to make a further seven operational flights during that battle, the most notable being on 8 October when he achieved combat success.
The Fastest 'Kill':
That day 312 Sqn achieved its first combat success in what is considered to be the quickest 'kill' of the Battle of Britain – 11 minutes!
On 8 October 1940, at 16:30, the squadrons Yellow Section were ordered to take-off for a routine defensive patrol over Hoylake, to the West of Liverpool. Alois, as Yellow 2, was flying Hurricane L1926, with Sgt Josef Stehlík (Yellow 3) and F/Lt Dennys Gillam (Yellow 1) were taking-off in their Hurricanes. Gillam and Alois were already airborne, but the Merlin engine of Stehlík's Hurricane was reluctant to start causing a slight delay in his take-off.
During this time a lone Ju 88, M7+DK from 2/KGr806 based at Caen, in Northern France, was approaching Speke airfield, flying at 1,200 feet on course to attack the Rootes Factory by Speke airport, which was producing aircraft. The weather forecast given to its pilot, Oberleutnant Helmut Brückmann indicated that there would be cloud covering their route, ideal for avoiding contact with RAF fighter aircraft. This was his 36th operational missions and his fifth to the Lancashire area around Liverpool
Stehlík's reluctant Hurricane engine finally started allowing him to make a belated take-off. Whilst still only at an altitude of 1,000 feet anti-aircaft fire, about 4km away at Birkenhead, caught the attention to the three Hurricane pilots. They immediately went to attack the enemy aircraft and Stehlík, with his Hurricane still retracting its undercarriage, got in the first burst from his guns.
Despite heavy and accurate machine gun gun-fire from the Ju 88 rear gunner, the three Hurricanes pressed on with their attack. Their accurate machine gun gun-fire resulted in both engines of the Ju 88 to catching fire causing it to make a forced-landing on the left bank of the River Mersey.
All three Hurricanes were slightly damaged with Alois's engine exhaust manifolds shot up, Stehlík fuel tank pipe line damaged and F/Lt Gillam's windscreen being smashed.
The Ju 88 pilot, Oberleutnant Helmut Brückmann, was uninjured. Wireless Operator, Unteroffizier Helmuth Weth, was slightlyinjured on landing. The Ju 88's navigator, Leutnant Herbert Schlegel, was killed by a machine gun bullet in the head while still in the air. Sonderfuhrer Horst Lehmann, who was in the central underside gondola under the cockpit acting as rear-gunner, had detached the underside gondola from the aircraft at a height of about three feet just before the aircraft crash-landed.
After crashing both Brückmann and Weth left the aircraft to see if they could help the badly injured Lehmann – he had broken many bones in his body and legs in addition to major stomach injuries. All three Luftwaffe airmen were captured, without resistance to become PoW's. Lehmann was taken to hospital for treatment and was unable to leave hospital for many months, the severity of his injuries causing him to be re-patriated later in the war back to Germany.
Alois's Combat Report for this shared 'kill': I was Yellow 2 and started close behind Yellow leader, staying about 20 yds behind. On turning over the river Yellow leader started to climb sharply and looking round, I sighted the e/a. I gave full gas, turned to port and flew about 60 ft below the e/a from ¼ but could not fire on account of Yellow 3. I turned and climbed and attacked e/a from rear and above (about 2 seconds at 100 yards). Immediately afterwards I saw Yellow 1 attack aircraft from below. I broke away slightly to right and saw e/a smoking white from starboard engine and gliding downwards. I followed at 1200 – 1500 feet distance and approached, but could not fire at once as yellow 3 was attacking. I then fired a short burst and experienced return fire from the upper gunner. E/a then flew level at a height of 200 feet and I attacked from the stern and gave a third short burst and saw the e/a fall flat on the ground and slew around to port. It lies on a meadow at the edge of the waterborne Ballon Barrage.
Alois was appointed Flight Commander of 312 Sqn's 'B' Flight on 17 November 1940 and promoted to the rank of Flight Lieutenant on 1 March 1941.
Subsequently, Alois was to achieve further combat success:
| Date: | Aircraft: | Serial No: | Action: |
| --- | --- | --- | --- |
| 09.07.41 | Hurricane IIb | Z3660 'N' | Me 109F damaged NE France |
| 09.07.41. | Hurricane IIb | Z3660 'N' | Me 109F probable north of Montreuil, France |
| 03.06.42. | Spitfire Vb | AB382 'J' | Do 17 probable 10m NE of Cherbourg |
| 23.06.42. | Spitfire Vb | BM592 'AV' | Fw 190 8m E Start Point |
On 1 May 1942, he was promoted to the rank of Wing Commander and appointed Commanding Officer of the newly formed Czechoslovak Wing – 310 Sqn, 312 Sqn and 313 Sqn – stationed at Exeter, Devon. Their role was to provide fighter protection to Allied bombers on bombing raids, known as 'Ramrod's or offensive fighter sweeps, known as 'Rodeo's, over Northern France. Their first operation was 'Rodeo' 11 on 1st June when 11 of 310 Sqn Spitfires participated in a uneventful sweep over Northern France between Cap de la Hauge and Cherbourg.
Last Flight:
Alois was killed on the evening of 23 June 1942 whilst returing from Ramrod 23 – the escort of Boston bombers on a raid on Morlaix, France. The Allied formation was intercepted from behind at 19:35 near Île-de-Batz, France, by Luftwaffe Fw 190's fighter aircraft from JG 26, based at from Morlaix airfield, France. In the resultant dog-fight, flying over the English Channel back to England, the escorts, commanded by Alois, successfully defended the Boston bombers and destroyed two Fw 190s, but seven Spitfires were also shot down. One of those was flown by Alois. His Spitfire MK Vb BM592 'AV' was seen diving into the sea, about 8 miles southeast of Start Point, Devon, with guns firing as if the pilot was killed or injured.
Despite an extensive search by air-sea rescue vessels his body was never recovered. He was 33 years old.
W/Cmdr Alois Vašátko DFC, is commemorated on panel 64 at the Air Forces Memorial at Runnymede.

Medals:
Distinguished Flying Cross
1939 – 45 Star with Battle of Britain clasp
Air Crew Europe Star
Defence Medal
War Medal
Válečný kříž 1939 and 2 bars
Za chrabrost and 2 bar
Za zásluhy I.stupně
Pamětní medaile se štítky F–VB
Légion d'Honneur au grade de Chevalier
Croix de Guerre avec 7 palme and 3 Stars; 1 gold and 3 silver
The esteem regard that the Czechoslovak Air Force had for Alois, can be ascertained, that on 11 November 1949, despite his homeland being under Communism, he was awarded the highest Czechoslovak decoration: the Military Order of the White Lion 1st class.
When democracy returned to Czechoslovakia after the Velvet Revolution in November 1989, other honours followed. On 7 March 1992, he was promoted, on 7 March 1992, he was promoted, in memoriam, to the Czechoslovak Air Force Rank of Major General. On 9 May 1992, he was awarded, in memoriam, the Military Order of Milan Rastislav Stefanik Order 3rd class.
Remembered:
313 Sqn returned to Ruzyne, Prague in August 1945 and in September 1945, was redeployed to Planá airfield at Ceský Budejovice as part of the 2nd Air Division of the Czechoslovak Air Force. On 3 March 1948, whilst during the Communist era, its 4th Regiment was awarded the honorary title of 'Letce Aloise Vašátka' [Airmen of Alois Vašátko] and at that time was the only air unit named in remembrance of an airman who had served in the RAF during WW2.
In 1945 after Germany surrendered, two Czechoslovak postage stamps featuring his portrait were issued by Česká pošta, the Czechoslovak Post Office. The first has a face value of 50 hellers and the second has a face value of five Czechoslovak crowns.
Czech Republic :
Čelákovice:
A commemorative plaque is at his birthplace at No. 13a/284 Čelákovice.
The street where that house is now also named "Vašátkova".
Prague – Černý Most:
In 1991, a street in the Černý Most suburb of Prague 9, which has streets named after numerous WW2 Czechoslovak airmen who served in the l'Armée d'Air or the RAF, a street was named "Vašátkova" in his honour.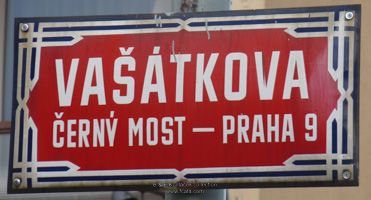 Prague – Dejvice:
He is named on the Memorial for the fallen Czechoslovak airmen of 1939-1945, at Dejvice, Prague 6.

Prague – Klárov:
In November 2017, his name, along with the names of 2507 other Czechoslovak men and women who had served in the RAF during WW2, was unveiled at the Winged Lion Monument at Klárov, Prague.
Solnice:
Týniště nad Orlicí:
In Týniště nad Orlicí, where he grew up,He is named on a memorial plaque for the fallen Czechoslovak RAF airmen from that District.
In Týniště nad Orlicí[1] where he grew up, a street was named "Vašátkova" after him.
Great Britain :
He is commemorated, along with the other 2938 Battle of Britain aircrew, on the Christopher Foxley-Norris Memorial Wall at the National Battle of Britain Memorial at Capel-le-Ferne, Kent:

He is also commemorated on the London Battle of Britain Memorial: