On 10 July, the 82nd anniversary of the start of the Battle of Britain.
2938 Allied airmen flow in that battle which was from 10 July 1940 to 31 October 1940, 88 of whom were Czechoslovak pilots. The names of all these Allied airmen are commemorated on on the Christopher Foxley-Norris Memorial Wall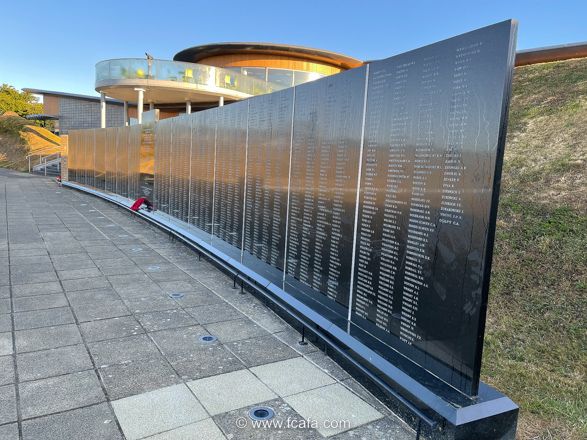 By 31 October 1940, the last day of that Battle, 544 of those airmen had been killed, eight of them were Czechoslovaks.
 

 

AMBRUŠ, Ján P/O
310 Sqn

 

 

BARTOŠ, Jindřich P/O
C de G
312 Sqn

 

 

BERGMAN, Václav P/O
C de G
310 Sqn

 

 

BERNARD, František Sgt
C de G
238, 60 Sqns

 

 

BREJCHA, Václav Sgt
43 Sqn

 

 

BURDA, František P/O
C de G
310 Sqn

 

 

CHÁBERA, František Sgt
C de G
312 Sqn

 

 

ČÍŽEK, Evžen P/O
C de G
1 Sqn

 

 

CUKR, Václav Sgt
C de G
253 Sqn

 

 

DOLEŽAL, František P/O
C de G
1 Sqn

 

 

DUDA, Josef F/Lt
C de G
312 Sqn

 

 

DVOŘÁK, Alois Sgt
310 Sqn

 

 

DYGRÝN, Josef Sgt
85, 1 Sqns

 

 

FAJTL, František P/O
C de G
1, 17 Sqns

 

 

FECHTNER Emil P/O
DFC
310 Sqn
† 29/10/40

 

 

FEJFAR, Stanislav P/O
C de G
310 Sqn

 

 

FOGLAR, Václav Sgt
245 Sqn

 

 

FOIT, Emil P/O
85, 310 Sqns

 

 

FRANTIŠEK, Josef Sgt
DFM and bar, C de G
303 Sqn
† 08/10/40

 

 

FÜRST, Bohuslav Sgt
310, 605 Sqns

 

 

GÖTH, Vilém, P/O
510, 310 Sqn
† 25/10/40

 

 

HANUŠ, Josef Jan P/O
C de G
310 Sqn

 

 

HANZLÍČEK, Otto Sgt
C de G
312 Sqn
† 10/10/40

 

 

HESS, Alexander S/Ldr
DFC, C de G
310 Sqn

 

 

HIMR, Jaroslav P/O
56, 310 Sqns

 

 

HLAVÁČ, Jaroslav Sgt
C de G
310, 56 Sqns
† 10/10/40

 

 

HLOBIL, Alois P/O
C de G
312, 238 Sqns

 

 

HORSKÝ, Vladimír Sgt
310, 238 Sqns
† 26/09/40

 

 

HRADIL, František P/O
310, 19 Sqns

 

 

HRUBÝ, Otakar Sgt
C de G
111 Sqn

 

 

HUBÁČEK, Josef Sgt
C de G
310 Sqn

 

 

HÝBLER, Josef P/O
310 Sqn

 

 

JANOUCH, Svatopluk P/O
C de G
310 Sqn

 

 

JAŠKE, Josef P/O
C de G
312 Sqn

 

 

JÍCHA, Václav Sgt
C de G
310, 1 Sqns

 

 

JIROUDEK, Miroslav F/Sgt
C de G
310 Sqn

 

 

KAŇA [Kania], Jozef F/Sgt
303 Sqn

 

 

KAUCKÝ, Jan Sgt
310 Sqn

 

 

KEPRT, Josef Sgt
C de G
312 Sqn

 

 

KESTLER, Oldřich Sgt
111 Sqn

 

 

KOMÍNEK, Josef Sgt
310 Sqn

 

 

KOPECKÝ, Miroslav Sgt
C de G
310, 111 Sqns

 

 

KOPŘIVA, Josef Sgt
310 Sqn

 

 

KÖRBER, Karel Sgt
32 Sqn

 

 

KORDULA, František P/O
310, 1, 17 Sqns

 

 

KOUKAL, Josef Sgt
310 Sqn

 

 

KRÁTKORUKÝ, Bedřich Sgt
1 Sqn

 

 

KREDBA, Miroslav P/O
310 Sqn

 

 

KUČERA, Jaroslav Sgt
245 Sqn

 

 

KUČERA, Jiří V. Sgt
C de G
310, 238 Sqns

 

 

KUČERA, Otmar Sgt
111 Sqn

 

 

KUTTELWASCHER, Karel Sgt
C de G
1 Sqn

 

 

MACHÁČEK, Jiří P/O
310, 145 Sqns

 

 

MALÝ, Jaroslav F/Lt
310 Sqn

 

 

MANSFELD, Miloslav Sgt
111 Sqn

 

 

MAREK, František Sgt
C de G
310, 19 Sqns
† 14/09/40

 

 

MRÁZEK, Karel P/O
310, 43, 46 Sqns

 

 

PAVLŮ, Otto Sgt
1 Sqn

 

 

PÍPA, Josef Sgt
43 Sqn

 

 

PLZÁK, Stanislav Sgt
C de G
310, 19 Sqns

 

 

PRCHAL, Eduard Sgt
C de G
310 Sqn

 

 

PŘÍHODA, Josef Sgt
1 Sqn

 

 

PTÁČEK, Rudolf Sgt
43 Sqn

 

 

PŮDA, Raimund Sgt
310, 605 Sqns

 

 

ŘECHKA, Josef Sgt
C de G
310 Sqn

 

 

ROHÁČEK, Rudolf P/O
310, 601, 238 Sqns

 

 

RYPL, František P/O
310 Sqn

 

 

ŠEDA, Karel Sgt
C de G
310 Sqn

 

 

ŠIKA, Jaroslav Sgt
C de G
43 Sqn

 

 

ŠLOUF, Václav Sgt
C de G
312 Sqn

 

 

ŠTEFAN, Jan Sgt
1 Sqn

 

 

STEHLÍK, Josef Sgt
C de G
312 Sqn

 

 

ŠTĚRBÁČEK, Jaroslav P/O
310 Sqn
† 31/08/40

 

 

STŘIHAVKA, Jaromír Sgt
85, 310 Sqns

 

 

TRUHLÁŘ, Jan Sgt
C de G
312 Sqn

 

 

VAŠÁTKO, Alois F/O
C de G
312 Sqn

 

 

VELEBNOVSKÝ, Antonín P/O
85, 1 Sqns

 

 

VESELÝ, Vlastimil P/O
C de G
312 Sqn

 

 

VINDIŠ, František Sgt
310 Sqn

 

 

VOPÁLECKÝ, Josef Sgt
C de G
310 Sqn

 

 

VRÁNA, Adolf P/O
C de G
312 Sqn

 

 

VYBÍRAL, Tomáš P/O
C de G
312 Sqn

 

 

VYKOUKAL, Karel P/O
C de G
310, 111, 73 Sqns

 

 

WEBER, František P/O
310, 145 Sqns

 

 

ZAORAL, Vladimír P/O
310, 501 Sqns

 

 

ZAVORAL, Antonín Sgt
310, 151, 1 Sqns

 

 

ZIMA, Rudolf P/O
310 Sqn

 

 

ZIMPRICH, Stanislav P/O
310 Sqn
_______________________________________________________________