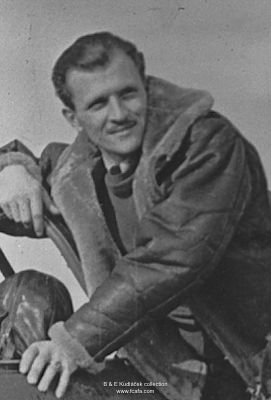 Raimund PŮDA
…………….* 18.08.1912., Brník, Kolín, Czechoslovakia.
…………….† 17.03.2002., Henly-on-Thames, UK.
Pre WW2
Raimund Půda was born on 18 August 1912 at Brník, near Kolín. He was the only son of Jan, a forester, and Františka. On completion of his elementary education, he attended Technical School in Prague where he trained to be an aircraft mechanic. After finishing his course, he was employed at the Letov aircraft factory at Prague-Letňany airfield. This close connection with aviation inspired him to become a pilot.
In 1930, aged 18, he was called up to undertake his compulsory two-year military service. Because of his previous aviation experience, Raimund was selected to join the Military Aviation Academy, at Prostějov, for his basic flying training. He completed the course in August 1932 and was posted to the 1st Air Regiment at Prague-Kbely airbase. In the Summer of 1935, he was selected for fighter pilot training at Prostějov, and after the course was posted to 43rd Fighter Squadron of the 1st Air Regiment.
His above-average ability as a pilot resulted in him being selected to join the Czechoslovak aerobatic display team for the 1937 European International Aerobatic Championships at Zurich. There he won the Solo Aerobatic contest and the Czechoslovak team convincingly won the championship.
He remained in the Air Force until 18 September 1938 when he left to join ČSA – České Aerolinie, the state airline – as a commercial pilot. On 15 March 1939, under threat of imminent invasion from Hitler, and with no help from her allies, Emil Hácha, the Czechoslovak President, had little choice but to cede to their demands and ordered the Czechoslovak military to remain in their barracks and not resist the occupation. The occupying Germans disbanded all military and civilian aviation in the country with all personnel being dismissed. By this time Raimund had accumulated a total of 1250 military and civilian flying hours.
But just four days later, on 19 March 1939, former senior officers of the now-disbanded Czechoslovak military had started to form an underground army, known as Obrana Národa [Defence of the Nation]. Obrana Národa also worked in co-operation with Svaz Letců, the Airman Association of the Czechoslovak Republic. One of their objectives was to assist as many airmen and soldiers as possible to get to neighbouring Poland where they could be formed into military units to fight for the liberation of their homeland. These two organisations provided money, courier and other assistance to enable airmen to escape to Poland. Usually, this was by crossing the border from the Ostrava region because of the close proximity of the 'new' Polish border since Poland had occupied the Český Těšín region of Czechoslovakia on 10 October 1939.
Having been denied the chance to resist the occupying Germans, Raimund was one of the many Czechoslovak airmen and soldiers who saw it was their duty to go to Poland from where they could fight to achieve the liberation of Czechoslovakia. He and Josef Hubáček, a fellow pilot from his Air Force days and member of the Czechoslovak aerobatic team in Zurich 1937, both left their wives behind as it was not possible to take them, and caught the train from Prague to Ostrava and from there, on the night of 18 July 1939, they successfully hid aboard a coal train which was leaving from Ostrava to Katowice, Poland. Having successfully crossed the border to Poland, they jumped-off the moving train at a designated point, walked through a forested area and came across a recently harvested field with haystacks. They hid in one for the rest of the night. The following morning they set off to a nearby cement factory, as had been pre-arranged by Obrana Národa, where they would be met and helped with their onward journey to Krákow where they would report for duty at the Czechoslovak Consulate.
Poland
However, the Polish Authorities, who recognised the new puppet State of Slovakia, showed little interest in the Czechoslovak military who were escaping across their border in groups and would not allow independent Czechoslovak units to be established on its territory as they were concerned about antagonising neighbouring Nazi Germany. Only after lengthy negotiations between Czechoslovak Diplomats in France and Great Britain, and the French government, did the French agree to permit 4,000 Czechoslovaks into the French Foreign Legion – French law did not allow for foreign military units to be on its territory in peacetime, and the Czechoslovak escapers would be required to join the French Foreign Legion for a five-year period with the agreement that, should war be declared, they would be transferred to French military units. The alternative was to be returned to occupied Czechoslovakia and face German retribution for escaping – usually imprisonment or execution with further retribution to their families.
The Czechoslovak escapees were billeted at Maly Bronowice, a former Polish army camp outside Krakow, while arrangements were made for their transportation, by sea, to France. Nearly two weeks later, at 04:00 on 27 July, Raimund, with 546 other Czechoslovak escapers, left Maly Bronowice and travelled by train to Gydnia, on the Polish Baltic coast where they boarded the 'Chroby', a Polish ship, on 29 July and sailed to France.
France
On 31 July, the 'Chroby' berthed at Boulogne, France, and the Czechoslovak escapees disembarked onto French soil. After some food, they boarded a train for the thirteen-hour journey to Paris. They arrived there at 17:30 and were taken by coaches to the French Foreign Legion's recruitment barracks at Place Ballard, in the South West of Paris, to undergo medical checks, whilst the necessary documentation was prepared for their enlistment into the Legion pending their transfer to the Legion's training base at Sidi bel Abbes, Algeria. During this time they attended French classes and any free time was usually spent in Paris exploring the sights and practising their newly learnt French with the girls they met. Before that process could be completed, war was declared and Raimund and the other Czechoslovak airmen were transferred instead to the l'Armée de l'Air at their recruitment centre at Dugny, near Paris.
On 11 September 1939, at the rank of Corporal-Chef [Staff Sergeant], he was transferred to Centre d'Instruction de Chasse for re-training on French MS-406c aircraft at Chartres, one of the l'Armée de l'Air training airbases and to learn basic French. On 2 December 1939, having completed 16 hrs of training he was posted to GC II/4 who were based at Xaffévillers, near Nancy, and equipped with Curtis H-75 fighter aircraft.
When WW2 was declared he was released from his Foreign Legion Service and transferred to l'Armée de l'Air. He arrived at their training base at Chartres on 11 September October 1939, to train on French fighter aircraft and learn more French. There he completed 16 hrs retraining and, on 2 December Raimund, was posted to GC II/4, with other Czechoslovak pilots.
On 10 May 1940, the Germans invaded France, and during the Battle of France, with this unit, Raimund flew over 73 operational hours and achieved three confirmed kills for which he was awarded the Croix de Guerre avec Palmes:
Date
Time<
Curtis 75
Achieved
Action

16/05/40

13:00

H75 -88

Ju 86

destroyed near Berry au Bac

20/05/40

17:00

75 -88

HeIII

destroyed, shared victory near Betheniville.

28/05/40

17:00

H75 -88

Do17

destroyed near Betheniville.

11/06/40

05:30

Hs126

destroyed, shared victory near Attigny.
The rapidity of their blitzkrieg, however, caused GC II/4 to have to frequently change their airfields as they retreated westward and by 17 June they were at Perpignan-Labanere airfield in south-west France. When France capitulated on 20 June, GC II/4 flew their aircraft to Maison Blanch, a l'Arme d'Air airfield in Algeria and the following day to Oran la Senia airbase, Algeria. It was there that they learned that Winston Churchill, the British Prime Minister, appealed to all the evacuated Czechoslovak airmen to come to Britain and continue the fight from there. The l'Armée de l'Air released the Czechoslovak airmen from their service so that they could make their journey to Britain. The Czechoslovaks travelled for fourdays by train to Casablanca from where they boarded the 'Gib-el-Dersa' which sailed, at 15:12 on 29 June 1940, to Gibraltar, arriving at 11:00 on 30 June. Here they changed ships to the 'Neuralia' and sailed on 2 July, in a convoy of about another 30 ships, for Liverpool, arriving on 12 July 1940. Like most of the Czechoslovaks, Raimund's path first led to the Czechoslovak resettlement camp at Cholmondeley Park, near Chester.
RAF
The Battle of Britain was now in progress and there was an urgent need for fighter pilots. As a trained pilot he was quickly admitted to the voluntary reserves of the RAF, with the rank of Sergeant, on 5 August 1940. He subsequently was transferred to the Czechoslovak RAF Depot, Cosford. On 17 August 1940, he was posted to the newly formed 310 (Czechoslovak) Sqn based at RAF Duxford and equipped with Hurricane Mk I fighter aircraft. Here the Czechoslovak airmen converted to the Hurricane as well as taking three English lessons per week. The Squadron was declared operational on 17 August making its first sortie that day. Raimund made his first operational flight, one of two that day, on 26 August in Hurricane P3889, thus qualifying him as a Battle of Britain pilot.
During the Battle of Britain he achieved two confirmed shared kills:
Date
Time
Hurricane
Aircraft
Action

15/09/40

12:05

V6619 'V'

Do17z

destroyed East London.

18/09/40

17:15

P3889 'S'

Ju88

destroyed over Thames Estuary.
On 18 October, with Bohumír Fürst, he was posted to 605 Sqn (County of Warwick) in 11 Group of Fighter Command and was based at RAF Croydon They were equipped with Hurricane Mk I aircraft. There he made seven operational patrols, of which were made in one day on 26 October. Bothe Raimund and Fürst returned to 310 Sqn, at Duxford, on 28 October. At 10:30, on 5 November, twelve of 310 Sqn's Hurricanes took-off to join up with 19 and 242 Sqns to patrol the Canterbury Dover section at 22,000 feet. There they were caught by surprise when Me 109s from 6/JG26 dived out of the sun and attacked them. Caught unawares, and without firing any of their guns, five of 310 Sqn's Hurricanes were lost in that attack, including Raimund, flying Hurricane V6619. He was forced to bail out after sustaining severe damage to his oxygen system and control surfaces during combat. He landed unhurt and his aircraft crashed at Drill Hall, Sittingbourne.
Raimund's recollection of that incident "We were flying above the clouds when we were attacked by a number of Me 109s. In the combat that followed, my Hurricane was badly damaged and I had to bail out. I saw that I was falling towards the middle of the River Thames, where many pilots had previously drowned. Fortunately, the wind turned and instead I was blown over land where I landed about three hundred metres from the shore. As I packed my parachute, I suddenly felt a sting in my back. I didn't pay attention, but when the pricking repeated, I turned, and behind me stood an English farmer with a pitchfork. My English did not convince him that I was not a German parachutist but on the contrary a Czechoslovak pilot, a member of the RAF. He took me to the police, where everything was finally explained."
Raimund ceased operational flying on 18 January 1941 when he was posted from 310 Sqn to No 1 Central Flying School, at RAF Upavon, Wiltshire, for training as a military flying instructor. He was promoted to the rank of F/Sgt on 1 March 1941 and completed his training course on 21 March 1941. His next posting was to No. 9 Service Flying Training Course (9 SFTS) at Hullavington, Wiltshire, to train new pilots. Whilst there he was commissioned at the rank of P/O. His next posting, on 23 January 1942, was to No 1 Signal School (1 SS) at RAF Cranwell and he stayed there until 6 August 1942. The next posting was to No 3 Elementary Flying Training School (3 EFTS) at RAF Shellingford, Oxfordshire, where he was a flying instructor. He was promoted to the rank of F/O on 25 December 1942.
He returned to non-instructional flying on 1 October 1943 with a posting to 24 Sqn at RAF Hendon. The squadron was in the RAF's Transport Command and specialised in the transport of VIPs throughout the UK in Dakota DC3 or Hudson aircraft. On 2 October 1944, he was transferred to the Czechoslovak Transport Pool and to the Czechoslovak Inspectorate in London and two days later to the Czechoslovak Ministry of National Defence.
Post WW2
He returned to Czechoslovakia to find that many of his family had been persecuted by the Germans during the war. Initially, he remained in the Czechoslovak Air Force, in their Transport Regiment, until his demob on 1 February 1946. He then returned to civilian flying, re-joining ČSA as a pilot flying their national and international routes, usually in DC3s or Ju52 aircraft. Following the Communist take-over in February 1948, the Czechoslovaks who fought for the Allies in WW2 were regarded as being tainted by capitalism and thus 'undesirable' in the new Czechoslovak regime. Many were dismissed from the military, demoted, stripped of their Czechoslovak decorations, arrested, imprisoned and subjected to other forms of persecution and degradation. For the former RAF airmen who were now employed by ČSA, their position was very slightly different. During WW2 there had been no aviation training in Czechoslovakia, and so post WW2, when ČSA was rebuilding its airline and operating routes, the only trained pilots and aircrew were those who had served in the RAF. Thus these airmen were needed in the interim whilst new 'politically reliable' personnel were trained to take their place.
In April 1948, as one of the most senior pilots with ČSA, he was selected to attend the first world meeting of commercial pilots which was held in London. Whilst there, he decided not to return to Czechoslovakia following that meeting and instead remained in the UK. Raimund wanted to resume his flying career, but his Czechoslovak commercial pilot's license was not valid in the UK. He tried to sit the UK's Civil Aviation Authorities exams to obtain a UK commercial pilots licence, but it was unsuccessful as his English was not up to the standard they required.
By the Summer of 1948, numerous former RAF airmen were escaping from Czechoslovakia following the Communist take-over and had made their way to England hoping to rejoin the RAF. To try and facilitate these returning Czechoslovaks, the RAF would accept their applications, which were reviewed by a panel to ascertain whether the applicant could be accepted back into the RAF and in what capacity. Raimund applied to rejoin the RAF and was accepted back as a pilot at his former rank of F/Lt. Many other of the Czechoslovak former RAF applicants were not so fortunate, only being offered lower ranks or lower trades than in WW2, whilst others were not receiving any offers.
Raimund re-joined the RAF on 1 October 1948 and re-trained onto jet fighter aircraft and participated in Operation Becher's Brook; the flying of Sabre IV jet fighters from Canada to England. In the New Year's Honours list of 1953, he was awarded the Queen's Commendation for Valuable Service in the Air. Subsequently, he flew de-Havilland Vampire jets from England, delivering them to operational units in the Far East.
During his flying career, he flew a total of 7,000 hrs, in 82 types of aircraft, ranging from biplanes and seaplanes to jet fighters.
On retiring from the RAF he entered private commerce until his final retirement in 1973. Following the 'Velvet Revolution' in November 1989, when the Communist regime in Czechoslovakia was overthrown, he was promoted to the rank of Colonel, in retirement, in the Czechoslovak Air Force and subsequently, to Major General on 8 May 2000.
He died 17 March 2002 at Henly-on-Thames, UK, aged 89.
For his wartime service, in three Air Forces, he had been awarded the following medals:
3 Československý válečný kříž 1939 [Czechoslovak War Cross]
2 Za chrabrost [Gallantry facing the enemy medal]
Za zásluhy I.stupně [Merits medal 1st Grade]
Pamětní medaile československé armadý v zahraničí F a VB [Memorial Medal of Czechoslovak Foreign Army with France and Great Britain Bars]
The 1939-1945 Star with Battle of Britain Clasp
Atlantic Star
Air Crew Europe Star
Defence Medal
War Medal
France:
Croix de Guerre avec palme
Remembered :
A memorial plaque to commemorated him is at his former family home at Brník: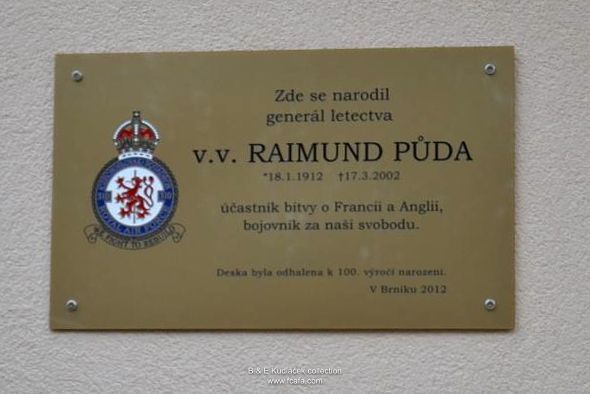 In the Černý Most District of Prague 14, a street is named in his honour:
In November 2017, his name, along with the names of some 2500 other Czechoslovak men and women who had served in the RAF during WW2, was unveiled at the Winged Lion monument at Klárov, Prague.
In England, he is commemorated, along with the other 2938 Battle of Britain aircrew, on the Christopher Foxley-Norris Memorial Wall at the National Battle of Britain Memorial at Capel-le-Ferne, Kent:

He is also commemorated on the London Battle of Britain Memorial.