Albín NASSWETER
…………….* 21.01.1919. Prague.
…………….† 17.06.1941. Dover, UK.
Pre WW2
Albín Nasswetter, was born on 21 January 1919, in Prague, Czechoslovakia. His father was a Doctor and shortly after Albín was born, the family moved to Dolany, near Olomouc, in the Moravia region of Czechoslovakia.
On completion of his education, he worked as a technical clerk but aspired to follow in his father's footsteps and study medicine. He also became interested in aviation and he joined the Hanácký Aeroclub at Olomouc where he learnt to fly gliders. For his compulsory military service at 18 he joined the Czechoslovak Air Force and was selected for pilot training. When the Germans occupied Czechoslovakia on 15 March 1939, he had achieved 73 flying hours.
Poland
Upon occupation, the Czechoslovak Air Force was disbanded by the Germans and all personnel dismissed. Germanisation of Bohemia and Moravia began immediately. But just four days later, on 19 March 1939, former Senior officers of the now-disbanded Czechoslovak military had started to form an underground army, known as Obrana Národa [Defense of the Nation]. Obrana Národa worked in co-operation with Svaz Letců, the Airman Association of the Czechoslovak Republic. One of their objectives was to assist as many airmen and soldiers to get to neighbouring Poland where they could be formed into military units to fight for the liberation of their homeland. These two organisations provided money, courier and other assistance to enable airmen to escape. . Usually, this was by crossing the border from the Ostrava region into Poland. Albín was one of the many Czechoslovak airmen and soldiers who saw it was their duty to go to Poland from where they could fight to achieve the liberation of Czechoslovakia. A total of 29 of his fellow pilots from the Hanácký Aeroclub also managed to escape from Czechoslovakia, and to reach England where they joined the RAF: only 10 of them would survive the war.
With the help of those two organisations, Albín successfully managed to covertly cross the border into Poland and reported to the Czechoslovak Consulate at Krakow, from where he was transferred to Małe Bronowice, a former Polish Army barracks on the outskirts of Krakow which was being utilised as a temporary transit camp for the escaped Czechoslovak military. Albín, along with 546 other escapees went by train to Gdynia, on the Polish Baltic coast. There they boarded the 'Chroby', sailing on 29 July and arriving at Boulogne on 31 July that year.
In France
In France, the Czechoslovaks were required to join the French Foreign Legion for a five- year period, as foreign military units per not permitted in France in peacetime. With his fellow escapees, Albín went by train to Paris, reporting for duty at the French Foreign Legion's Recruitment Centre. On 9 September, when WW2 was declared he was, released from his Foreign Legion Service and transferred to l'Armée de l'Air at their Recruitment Centre at Bourges airbase, about 200 km south of Paris. On completion of his basic training and having learnt some French, he was posted, on 25 January 1940, to their Fighter training airbase at Avord where he trained on NA-57, MS-225, D-500, D-501, and D-570 training aircraft, completing 120 flying hrs.
The rapid German Blitzkreig forced the Allied frontline back, and by mid-June the French capitulation was imminent. Albín and his fellow Czechoslovak airmen were discharged from their l'Armée de l'Air service on 16 June, and they made their way to La Verdon sur Mer, on the Atlantic coast near Bordeaux. There, on 19 June, with other evacuees, they boarded the 'Ville de Liege' which then sailed to England, arriving at Liverpool on 25 June.
RAF
On arriving in the UK, once security checks had been completed, he was accepted into the RAF VR, at the rank of AC2 and transferred to the Czechoslovak Depot at RAF Cosford, where he undertook RAF training and English lessons. Albín was posted to 52 OTU at Aston Down for fighter pilot training, where he achieved his RAF pilots wings in April 1941. On the 22nd of that month, at the rank of Sgt, Albín was posted to 1 Sqn who were deployed at RAF Croydon and equipped with Hurricane IIb fighter aircraft. At that time the squadron was engaged in intruder operations over occupied northern France and had eight other Czechoslovak pilots on its complement.
His first flight with 1 Sqn was on 24 April when he flew Hurricane Z2810 on a sector reconnaissance flight with fellow Czechoslovak F/O Antonin Velebenobsky. Albín flew further training flights and convoy patrols during the next few weeks.
On 21 May 21, 1 Sqn participated in Circus 10, which was providing bomber escort to 27 Blenheim bombers from 21, 82 and 110 Sqns, on a raid on the power station at Gosnay, about 75 miles south-east of Calais. The Blenheims took off at 15:47 and at 17:00 they rendezvoused, with the Kenley Wing which was comprised of 1, 258 and 302 Sqns. An additional 10 other RAF fighter Squadrons also provided cover for that operation. At about 17:45, the Blenheims were approaching the target, when Luftwaffe Messerschmitt Bf 109f's from III./JG 3, based at St Pol-Brias airfield, attacked from above, diving through the RAF top cover fighter escort which included 1 Sqn. In the ensuing combat, two Bf 109s were claimed to have been shot down by Sgt Bedřich Krátkoruký (Z3165) and Sgt Karel Kuttelwascher (Z3160) with five others damaged by S/Ldr Richard P. Brooker, DFC, F/Lt Antonín Velebnovský (Z3241), P/O Raymond, Sgt Albín Nassvetter (Z2390) and Sgt Josef Dygrýn (Z2628). Albín had seen a Bf 109f attacking Red 1 from below and turned in immediately giving two short bursts from his guns and saw pieces fall off the Bf 109f. Three other Bf 109f then chased Albín back over the French coast, where he was met by Spitfires who escorted him home.
On 16 June, he failed to return from a patrol over the English Channel. For that patrol, 12 Hurricanes from 1 Sqn took-off from Redhill at 17:31 to provide top-cover for a Lysander on Search and Rescue duty looking for pilots shot down mid-channel from the previous Circus 13 aimed at the docks in Boulogne. Nine of those Hurricanes were piloted by Czechoslovaks (P/O Liška, P/O Kopecký, Sgt Dygrýn, Sgt Novák, Sgt Příhoda, Sgt Plášil, Sgt Pavlů, Sgt Nassvetter and Sgt Novotný). Spitfires from 91 Sqn were also providing top-cover. Albín was flying as Yellow 2, in Hurricane Z3460, when, around 17:50, they attacked five Bf 109 fighter aircraft, from from I./JG 26 and from 8./JG 26 Schlageter, which were escorting a Luftwaffe He 59 seaplane, also on Search and Rescue duty. The attack took place at 3000 feet about 10 miles South of Folkestone and lasted for about 20 minutes. The He 59 and 3 Bf 109s were shot down for the RAF loss of 1 Spitfire, flown by P/O D. H. Gage, and 1 Hurricane, flown by Albín. Around 17.50 Albín was shot down by Bf 109 from I./JG 26 Schlageter. With his Hurricane in flames, he bailed out and landed in the English Channel.
"We flew in a circle … and Germans fitted alternately between us" recalls Nassvetter's friend Sgt. Josef Novotny at a later date. He continues "I was circling in my aircraft and I latch onto one of the Messerschmitts. Behind me was another enemy fighter and he was destroying me, however, he was being shot at by Albin who was further back still. We were four one after another. Albin was hit … he went down on his parachute and landed on water. I spotted him aboard his dinghy and noticed that his hand was raised. I thought, Albin is good. I led a fast boat to his dinghy, which pulled it out, and then I covered the boat. However, he was on fire and had severe burns. He died last night, and I never saw him again."
An Air Sea Rescue launch from Dover was quickly on the scene and rescued Albín taking him back to Dover where he was taken to hospital. That night he succumbed in hospital to the burn injuries he had received.
On 21 June 1941, Sgt Albín Nassvetter was buried in grave no. H-31, at St. Luke Churchyard, Whiteleaf, Surrey (grave no. H-31). he was 22 years old.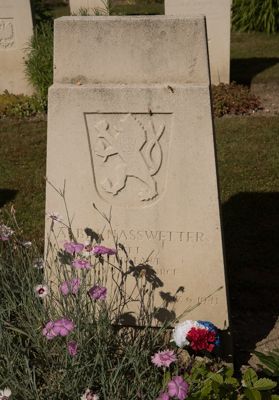 Remembered
Czech Republic :
Dolany
Olomouc
Prague – Dejvice
Prague – Klarov

Great Britain :
Nutfield: